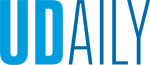 UD junior receives 2022 UDAA T. Muncy Keith Spirit Award
Article by Megan Maccherone Photo by Lauren Simione October 18, 2022
Brian Chansky honored for his enthusiasm and dedication to the UD Student Alumni Ambassadors
Brian Chansky, a Class of 2024 marine science major with a minor in organizational and community leadership, received the T. Muncy Keith Spirit Award on the field amid a break in the action of the Towson-Delaware football game at Delaware Stadium on Oct. 1, during Parents and Family Weekend.
Presented annually by the University of Delaware Alumni Association, the T. Muncy Keith Spirit Award is a $1,000 scholarship that goes to a UD Student Alumni Ambassador who dedicates the most time and effort to the organization's programs, events and initiatives. These ambassadors are undergraduate students selected for their outstanding achievements and leadership on campus as they foster school spirit, strengthen connections among alumni and students and help educate peers about the importance of philanthropy.
Chansky was one of the Student Alumni Ambassadors who completed many of his volunteer hours by working at events such as the Twilight Induction Ceremony, Homecoming, Grad Fair and, his favorite event, I Heart UD Giving Day, the University's largest annual day of giving.
"I was able to spread my UD cheer with as many people as I could, share with them the UD Bucket List and free UD swag — overall just get people excited about being a Blue Hen," he said about participating in I Heart UD Giving Day.
His proudest achievement, however, was recruiting new ambassadors during the Involvement Fair in his new role as vice president of membership this fall.
"I interacted with as many students walking by our table as possible," Chansky said. "In just three hours, I had pretty much lost my voice, but I had also received 80 responses from students interested in becoming a Student Alumni Ambassador or wanting to know more about the organization."
Chantal Whitehead-Scott, who facilitates the UDSAA meetings and initiatives, noted that Chansky has rarely missed a meeting, whether it was for the general body or the executive board.
"Brian is a very passionate and energetic student who wants to make these opportunities through the UDSAA the best that they can be, for the organization and for all UD students who participate in the events and programs," Whitehead-Scott said. "He creates such a welcoming environment for new members and any student he interacts with. It's been a pleasure watching Brian make his mark on the UD community."
To learn more about the UD Alumni Association awards, visit https://www.udel.edu/alumni-friends/resources/scholarships-awards.