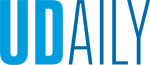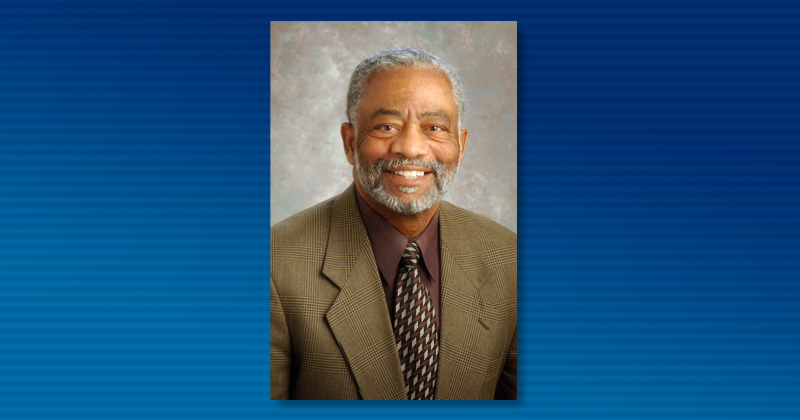 In Memoriam: James E. Newton
Article by UDaily staff Photos by OCM Photography and courtesy of University Archives and Records Management June 23, 2022
Campus community remembers long-time faculty member, mentor and artist
James E. Newton, an award-winning artist, a leader in Black American studies and a revered mentor at the University of Delaware for more than three decades, died on May 24, 2022, just days before he was to be awarded an honorary degree from the University. He was 80 years old.
"On behalf of the entire University community, I extend our deepest condolences to James Newton's family and friends and to the many alumni and colleagues whose lives he touched during his 33-year UD career," UD President Dennis Assanis said. "As an early leader of the Black American Studies Program, now the Department of Africana Studies, Dr. Newton was a guiding force in advancing diversity, equity and inclusion, which today is a key priority of our institution. We are all indebted to him."
Dr. Newton joined the UD faculty in 1972 as an assistant professor of education, and the following year he became associate professor and director of the Black American Studies Program.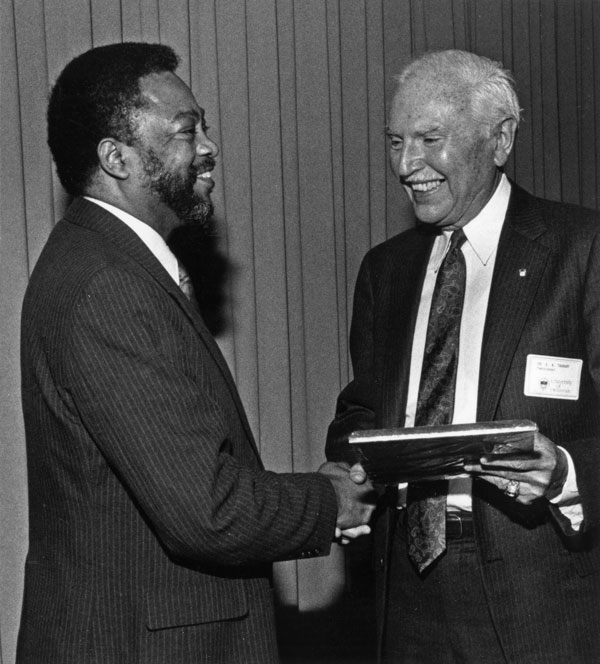 In his book The University of Delaware, A History, John Munroe called Dr. Newton, a "happy choice" to serve as one of the first leaders of the then fledgling program. Where earlier directors had been unsuccessful, Munroe noted that, under Dr. Newton's direction, the program "acquired stability and respectability."
During his UD career, Dr. Newton also chaired the University's Commission to Promote Racial and Cultural Diversity and and served as a member of the U.S. Commission on Civil Rights Delaware State Advisory Committee.
His many University honors included the Excellence in Teaching Award, the Black Student Union Faculty Award and an award for teaching excellence from the Mortar Board honor society, among others.
Dr. Newton retired in 2005, and then continued to teach as supplemental faculty until 2016.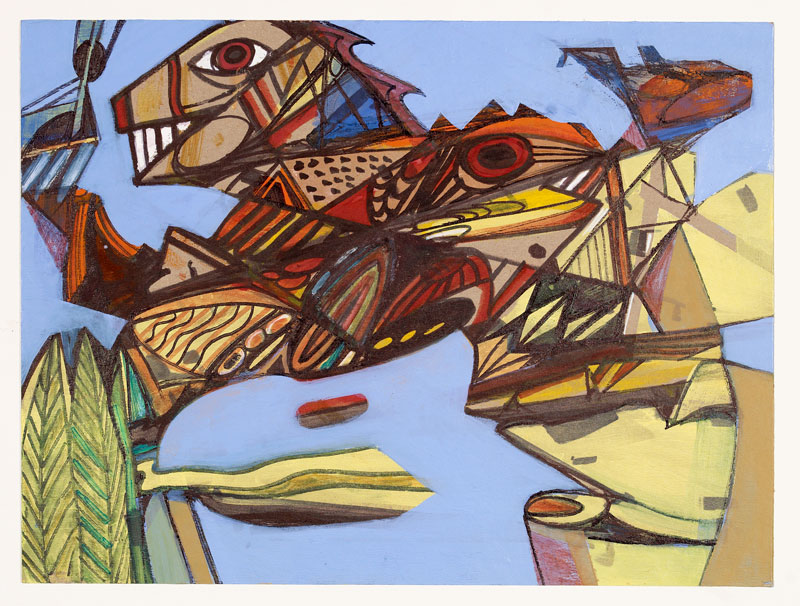 In 2009, an exhibition of Dr. Newton's artwork was presented in Mechanical Hall on the campus. Entitled "James Newton: The Art of Delineation," the exhibit highlighted the techniques and images through which Dr. Newton addressed the themes of self, race and legacy from the 1960s through 2008, tracing ideas that followed him for more than four decades of teaching, art making and life.
The Department of Africana Studies annually gives the James E. Newton Student Award to a student majoring or minoring in Africana studies who exhibits the qualities of excellence in community service and scholastic achievement embodied by Dr. Newton.
Earlier this year, an agreement was reached with the University of Delaware Library, Museums and Press that a wealth of material that Dr. Newton had gathered throughout his life – articles, leaflets, books and literature relating to the struggle for social justice in Delaware and the struggles for change at UD – would become part of the library's collection on behalf of the Department of Africana Studies.
On May 19, UD's Board of Trustees voted to award Dr. Newton the University's highest accolade, an honorary doctor of humane letters degree. This honor is reserved for individuals who reflect, in their personal and professional achievements, the University's mission and who serve as exemplars for UD's students, alumni, the University community and the world. Dr. Newton's degree will be presented to his family in a ceremony later this year.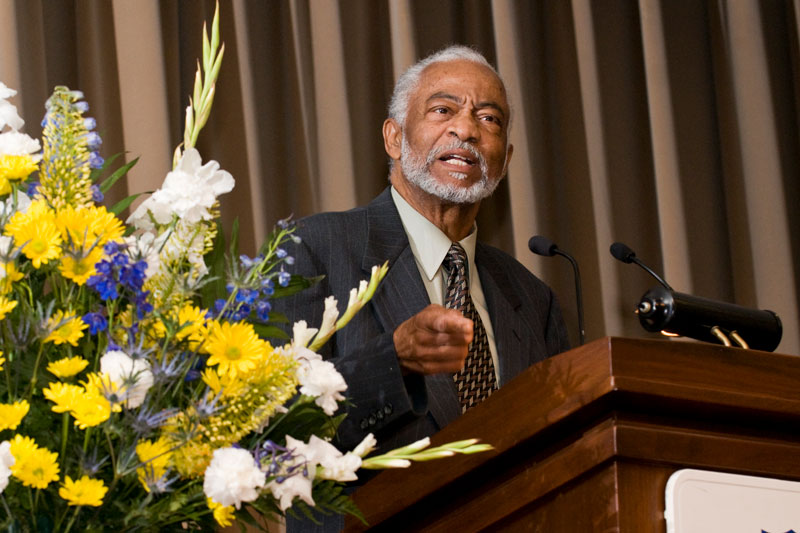 Remembering Dr. Newton
Many of Dr. Newton's colleagues and friends shared memories of him.
The constant star… "Dr. Newton fought to make Black American Studies (BAMS) and its values find a footing at UD, to educate all of the students (white and Black) who went through UD. As expected, he paid special attention to Black students. He was the constant star to all those Black students who walked through the corridors at UD and felt as if they were in a foreign unwelcoming land. Dr. Jim Newton was the guide, instructor, the one able to decipher the mysteries of academia, the one who interceded on their behalf; the one who insisted that they had to study, work hard and excel even with all the challenges. He remained committed to opening doors at UD. He continued to challenge UD to expand the  hiring of African American faculty and staff and enrolment of students. There are thousands of students spread across this country and beyond, who in one way or another, sat at the feet of Dr. Jim Newton to be taught, tutored, guided, affirmed and informed…. He will be remembered by all of us whose lives he touched and made better. He remains in our minds and, more importantly, he remains in our hearts. In this way, therefore, Dr. Jim Newton still lives and he will always live."  – W.O. Maloba, chair and professor, Department of Africana Studies, and Edward L. Ratledge Professor of Africana Studies and History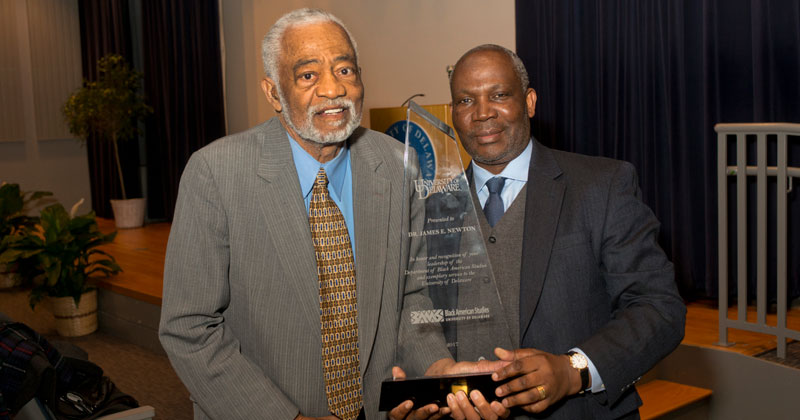 Embrace excellence… "I was so fortunate to have been able to share my educational and professional journey with Dr. James E. Newton for almost 50 years. Starting in my junior year at UD, I took two Black American studies classes with Doc. He called me to task when he felt I was not giving my best effort in one of his classes. That was a definite wake-up call for me. I also knew that given his involvement in the community, as well as the fact that he had met my mother, it would not be surprising that he would run into her somewhere and "happen to mention" that I was a good student but could do more.  It was because he cared that he wanted the best. In addition to his formal role as educator, he also assumed the role of mentor to scores of Black students and professionals—demanding that regardless of our position that we reject mediocrity and embrace excellence. Many will tell you that it was Dr. Newton who helped them navigate through the many challenges we faced in our quest for that degree. He was so excited when he learned that I would be returning to campus years later, first as an assistant dean and later a continuing faculty member. I would run into him both on and off campus, and no matter where it was, he always had a 'Newton gem' to share with me. But even when we became colleagues, I could/would not call him 'Jim'—he was always 'Doc.'As I thought about what Doc meant to many of us, I focused on one of his pieces that I own which was purchased during a visit to his home. It is an artist proof called 'Bird Sanctuary. The title seemed so appropriate: A sanctuary is a safe space that provides protection from danger or a difficult situation thereby promoting the survival of those needing protection. Doc was very aware of our need for 'sanctuary' as students and employees trying to co-exist in a place that was not always welcoming or supportive of 'different birds.' Whether in his office, walking across campus, sitting in his office or anywhere in the community, he would always listen and challenge us to consider 'the big picture.' He also always reminded us that no matter the challenges, we were to keep our eyes on the prize while also embracing the importance of building and maintaining a sense of 'community.' There are so many people who have their own Newton stories—but what they all have in common was his value as a caring, compassionate, knowledgeable and highly respected educator, artist and man. -- Norma Gaines-Hanks, retired associate professor of human development and family sciences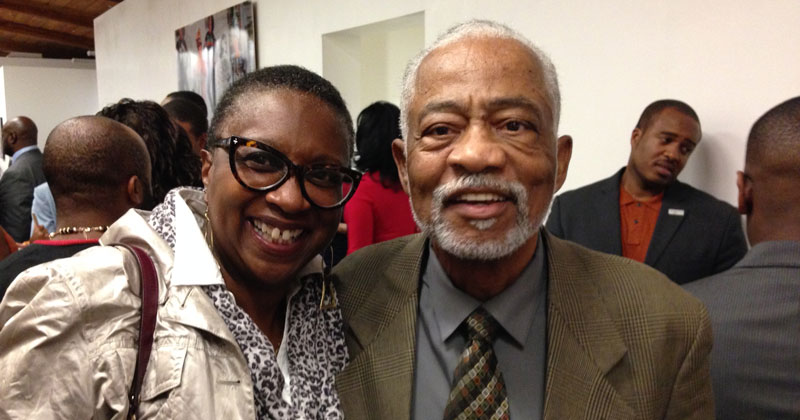 Changed the University for the better… "Jim Newton changed the University of Delaware for the better. He was a highly accomplished artist, a creative thinker and an award-winning engaged scholar. He was recognized on campus and in the wider community for his contributions to multicultural enrichment, civil rights and racial justice. He was a tireless advocate for the University to fully embody the values of diversity, inclusion and educational equity. He helped develop and led the Department of Black American Studies, now Africana Studies. As chair of the Commission to Promote Racial and Cultural Diversity, he advocated numerous changes to UD policies and programs to increase student and faculty diversity. His greatest influence was as a teacher and mentor. He was an outstanding teacher and received the University's Excellence in Teaching award. He was a dedicated faculty adviser for the Black Student Union. For more than three decades, Black students relied upon Professor Jim Newton as their trusted mentor and their always-available advocate and guide to learning and success." – Dan Rich, professor emeritus in the Biden School and University provost from 2002-2009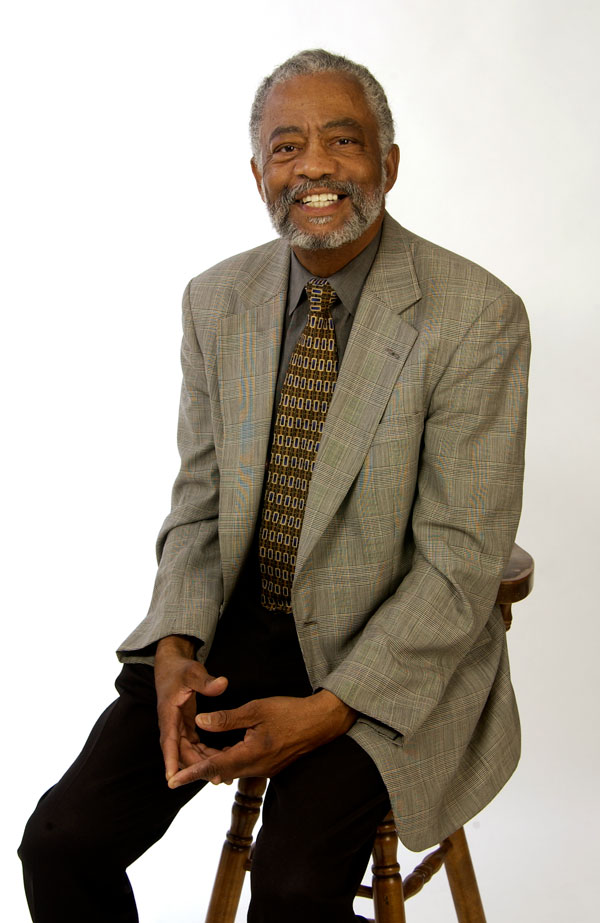 Mentor to generations of students… "James Newton was a formidable presence on the University of Delaware's campus. He was a scholar, colleague, friend and mentor to generations of students at the University. He was an inspiration to African-American and other students of color who were often isolated in UD's student population. Dr. Newton led what is now the Department of Africana Studies. He fought to secure the recognition of Black studies at a time when many in the higher education establishment were skeptical of the academic legitimacy of such programs. Many years elapsed before the program achieved department status as what is now Africana studies. This could not have happened without Dr. Newton's tireless efforts. He will be missed. -- Leland Ware, Louis L. Redding Professor of Law and Public Policy
His impact is immeasurable… "Dr. Jim Newton's impact on the University—its students, faculty, and staff—is immeasurable. As both a mentor and a colleague, he strongly supported the work of those of us advocating for a more just institution. Personally, he helped guide me at an early stage of my career and was always a strong supporter. The University has been left a better place because of his presence. -- Margaret Andersen, Rosenberg Professor Emerita of Sociology
An anchor for Black life at UD… "Jim Newton was an anchor for Black life at UD for over 35 years. He was dedicated to his students, his colleagues, his art and his community. He was wise and was always eager to share his wisdom with those who would listen. He gave generously of his time and talent and, always, centered excellence and opportunity at the forefront of his life's work. I was honored to continue his legacy with Black American Studies and owe Jim much for holding that space with dignity and honor for so long." – James M. Jones, Distinguished Professor Emeritus of Psychological and Brain Sciences and Africana Studies
One of the most modest men I have ever met… "My friendship with Dr. James Newton had so many layers: our love for history, sports and most of all the people in our surroundings. He had true understanding of teamwork. He was one of the most modest men I have ever met. The examples of his modesty were so many. He rarely talked about his accomplishments as an artist, scholar and athlete. Few people knew that his college track coach at North Carolina Central University was Dr. LeRoy Walker, past president of the U.S. Olympic Committee, or that he was the first Black student to earn an MFA at the University of North Carolina. He was truly a pioneer and set the bar for us all. He showed me the true meaning of modesty through his actions. At his recent funeral service, I saw his living legacy in several public school teachers who had taken the summer Black history classes he taught for teachers. – Ron Whittington, retired University administrator who now teaches in the Honors College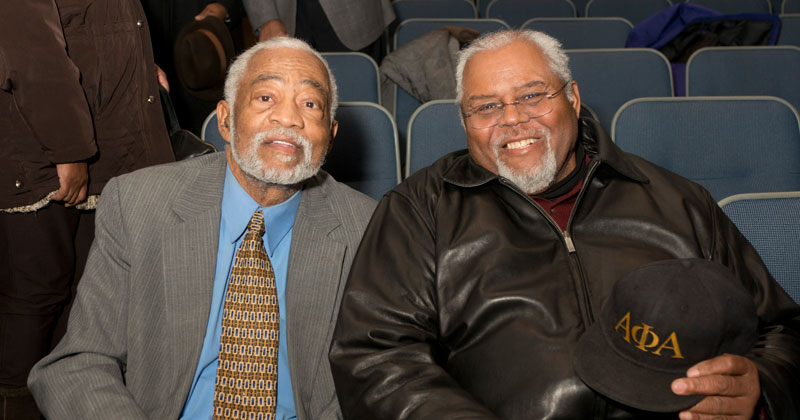 UD alumnus and former trustee Tony Allen, who is now president of Delaware State University, paid tribute to Dr. Newton in an opinion piece posted on Delawareonline. He recounted the importance of Dr. Newton's mentorship in his own life, as well as that of many other Blue Hens.
Allen wrote that Dr. Newton "often spoke of the importance of Black excellence as a bridge to the future. He reminded us that just as Dubois, Booker T., Tubman, Malcolm, Martin, Fannie Lou and Redding had stood in the gap for us, we, too, had that responsibility for others. He expected tremendous comprehension of the academic material and even more from us as growing young Black citizens. It was as if he knew that trials would come early and often at the institution. So, he taught uncompromising decorum and coached articulate responses to abuse of power … and Black Pride, always Black Pride."
About James E. Newton
Born in Bridgeton, New Jersey, James E. Newton earned his bachelor's degree in art and German from North Carolina Central University and his master of fine arts degree from the University of North Carolina Chapel Hill, where he was the first African American to receive an MFA. He received his doctorate in curriculum development in Black studies and education from Illinois State University.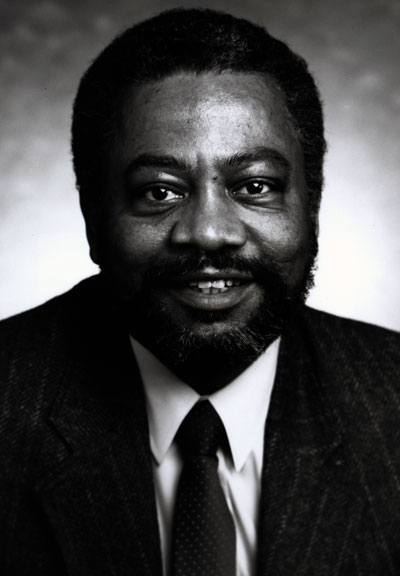 He was the author of several books, including the The Principles of Diversity: Handbook for a Diversity-Friendly America  and A Curriculum Evaluation of Student Knowledge of Afro-American Life and History, he coedited The Other Slaves: Mechanics, Artisans and Craftsmen. He also was the author of numerous articles on multicultural education, African American art and diversity. He was inducted into the National Honor Society of Phi Kappa Phi.
Active in the community, Dr. Newton served on the board of many organizations, including the Walnut Street YMCA, Delaware State Arts Council, Delaware Art Museum, The Tatnall School, Public Allies and others. He was also a member of Kappa Alpha Psi fraternity for more than 50 years.
In 2012, he received the James H. Gilliam Sr. Chairman's Award from the Metropolitan Wilmington Urban League, which recognizes pioneers for outstanding contributions and leadership in the fight for civil rights and a more equal and inclusive America.
Dr. Newton is survived by his wife of 54 years, LaWanda; his daughters, Regina, Walidah and KaWansi; grandchildren Sean, Imevar, Nahlia, Isis and Indigo; siblings Charles, George, Mary, Margaret, Katherine, Ann, and Jeffrey; and a host of nieces, nephews, cousins and friends.
To read his obituary or leave online condolences, visit Evan W. Smith Funeral Services.