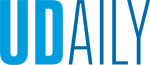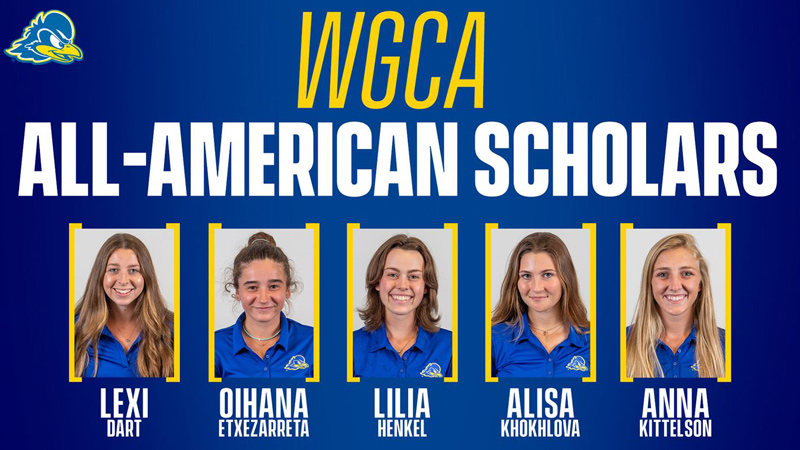 Academic and athletic achievement
Article by Athletic Department Photo illustration by Athletic Department July 06, 2022
Five Blue Hens named All-American Scholars by Women's Golf Coaches Association
University of Delaware women's golfers Lexi Dart, Oihana Etxezarreta, Lilia Henkel, Alisa Khokhlova and Anna Kittelson have been named Women's Golf Coaches Association (WGCA) All-American Scholars for the 2021-22 season, the organization announced Tuesday, July 5.
Dart, who earned the award for the third consecutive year, competed in all 11 tournaments for the Blue Hens and ranked fourth on the team with a 76.52 average round. She finished fifth at the Colonial Athletic Association Championship to earn a spot on the CAA All-Tournament Team, and was named to the National College Athlete Honor Society. Dart is a junior from Churston, Devon, England, and she is majoring in landscape architecture.
Etxezarreta, who earned the honor for the second year in a row, was named second team All-CAA after leading Delaware with a 75.13 average round. She won the Kingsmill Intercollegiate individual title, and tied for second place at the Nittany Lion Invitational with a seven under par 209. Her opening round 65 at the PSU tournament tied for the lowest round in UD history. Etxezarreta is a sophomore from San Sebastian, Spain, and is majoring in animal science.
Henkel competed in eight tournaments as a freshman, ranking fifth on the Blue Hens with a 77.04 average round. Named the CAA Women's Golfer of the Week on Feb. 23, she tied for fifth place at the Reynolds Lake Oconee Invitational and tied for seventh at the Nittany Lion Invitational. Henkel is a first-year student from Grand Rapids, Michigan, and is majoring in engineering.
Khokhlova participated in all but one invitational during the year, while her 75.52 stroke average was second lowest on the team. She was the Blue Hens' top finisher in three events, and posted seventh place finishes at the Kingsmill Intercollegiate and Rivertowne Invitational. Khokhlova is a first-year student from Moscow and in the University Studies program.
Kittelson competed in eight tournaments for UD, averaging 77.18 shots per round. She finished eighth at the Kingsmill Intercollegiate, was named to the National College Athlete Honor Society and earned the team's 302 Award. Kittelson is a senior from Boise, Idaho, and is majoring in history.
Golfers must have a minimum cumulative GPA of 3.50 to earn the prestigious award.
To learn more about UD Athletics, visit bluehens.com.