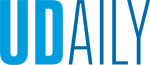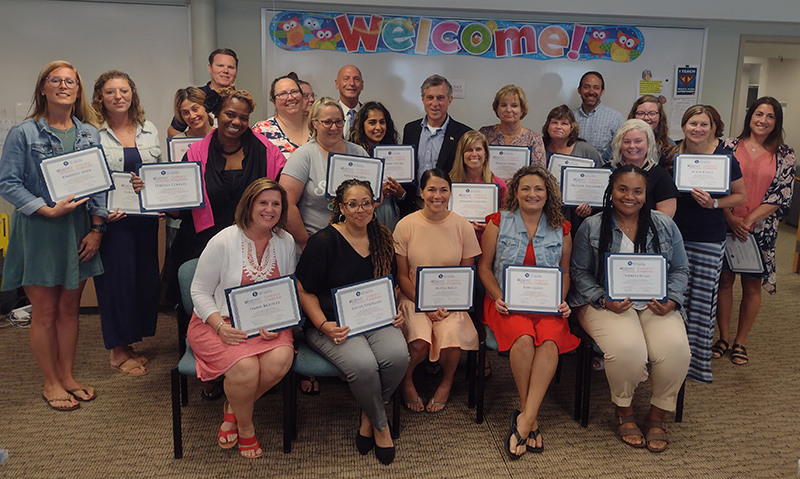 Boosting civics knowledge
Article by Sarah Pragg Photos by Kristie Marmo July 19, 2022
UD Democracy Project provides civics and history support for Delaware's fourth grade educators as state shifts standards
On a Friday morning near the end of June, Fran O'Malley posed a question to a classroom of students. "Can you think of an example of 'freedom from' and 'freedom to' in our democracy?" he asked.
The students thought for a moment and then raised their hands to offer answers, "Freedom from having our photos taken on private property?" "Freedom to protest?"
O'Malley's question was part of a lesson plan he developed for the new fourth-grade social studies curriculum in Delaware, and the students in his class were actually fourth-grade educators taking part in the 24th annual Democracy Project Summer Institute for Teachers, hosted by the University of Delaware's Institute for Public Administration (IPA), June 21-24. IPA is a research and public service center in UD's Joseph R. Biden, Jr. School of Public Policy and Administration.
"Delaware is shifting its social studies curriculum and assessments in Grade 4 to focus exclusively on civics and history standards beginning in the fall of 2022," said O'Malley, social studies curriculum specialist and program director for IPA's Delaware Center for Civics Education. "We designed this special edition of the Democracy Project Summer Institute to offer fourth-grade teachers and specialists professional learning and resources to prepare for this transition."
Twenty-four fourth-grade educators participated in the institute from all three counties and 14 school districts including public, charter and parochial schools. Sponsored by the Delaware Department of State, the institute offered a deep dive into Delaware's civics and history standards and guided practice with standards-based lessons featuring heightened attention to Black history.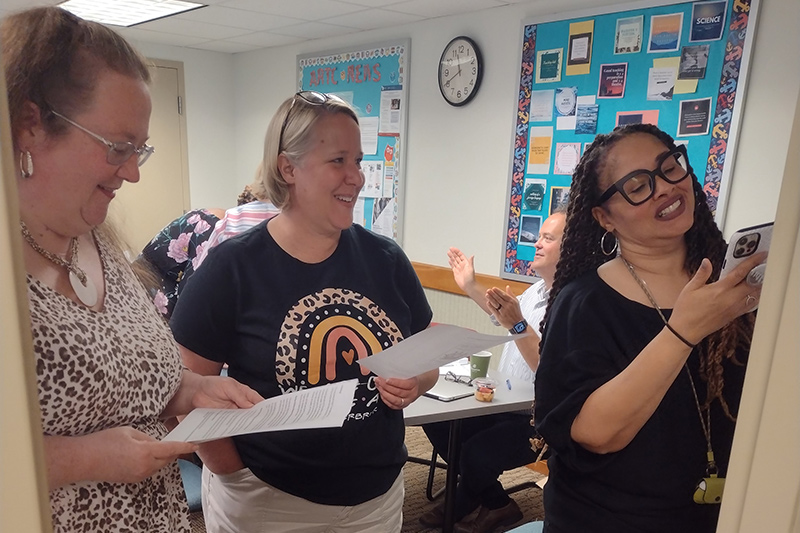 Amy Carlson, a teacher at William B. Keene Elementary School in Christina School District, knew this summer institute would be an ideal opportunity to prepare for the next school year. "Knowing that there would be changes in what we teach in fourth grade, I wanted to take this time to be prepared for what's coming," Carlson said. "And knowing that Fran was teaching it, I knew it would be quality."
In collaboration with the Delaware Department of Education (DDOE) and the Delaware Social Studies Coalition, O'Malley has been working to develop instructional materials for the Grade 4 curriculum that address the new standards. The lessons will be available to every public and charter school, and district, in the state.
Delaware's museum community consulted and helped secure resources for the new lessons, while a cohort of Grade 4 teachers from throughout the state have been offering feedback to improve the lesson plans. O'Malley continued to seek feedback from the teachers who participated in the summer institute.
"I like that other teachers have taught a few of the lessons, and the fact that Fran asks for our feedback and uses it," said Sonya Sheppard, a teacher at New Castle Elementary School in Colonial School District. Sheppard appreciated the opportunity to learn side-by-side with educators from throughout the state and "hear the perspective of others teaching in the same position." She plans to bring what she learned during the institute back to her team.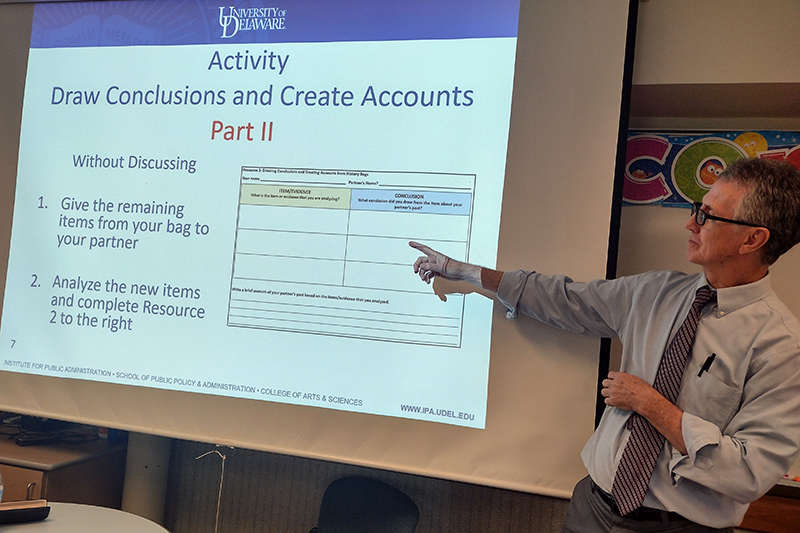 When Alicia Kurtz, a teacher at Cedar Lane Elementary School in Appoquinimink School District, was asked about her favorite part of the institute, she replied, "All of it! The deep dive into the standards, the examples of model lessons and the knowledge of the changes that are coming."
Kurtz came to the institute to strengthen her understanding of the civics and history standards at the fourth-grade level and learn tangible ways to address House Bill 198, which requires each school district and charter school to establish and implement a curriculum on Black history for students in kindergarten through Grade 12.
In partnership with DDOE, O'Malley is creating instructional resources for Grade 4 aimed at implementing HB 198. He has been supported by Associate Professor Rachel Hicks and Assistant Professor Brandon Stanford in UD's Department of Africana Studies, both of whom have offered guidance on ways to approach Black history and feedback on sample lessons.
During the summer institute, visits to the National Museum of the American Indian and the National Museum of African American History and Culture in Washington, D.C., helped the educators to further expand their knowledge of the histories of marginalized peoples.
A crucial element of the summer institute is demystifying the roles and responsibilities of government by introducing the teachers to a variety of government officials. Presentations from U.S. Sen. Tom Carper, Gov. John Carney, Justice Collins J. Seitz Jr. and Secretary of State Jeffrey Bullock helped deepen understanding of Grade 4 civics concepts such as separation of powers, federalism and due process. IPA Senior Fellow Ed Freel, former Delaware secretary of state and co-founder of the Democracy Project, also provided his insights into the civics challenges that face America today.
Matthew Mathias, a teacher at Newark Charter Intermediate School, applied for the institute to gain a "clearer sense of what the state expects kids to understand." For Mathias, the highlight of the institute was the opportunity to hear from high-profile state government leaders. "That's incredible," he said, "Secretary of state, governor, senator, chief justice, I mean, those are people you can't get to ordinarily."
In a show of appreciation for the teachers, Carney and Bullock stood for a photo with each teacher as they received their institute certificates. For participating in the program, the teachers also received a $300 stipend, the new series of model lesson plans, a collection of civics and history books that offer additional resources to supplement the curriculum, and 30 hours of professional learning credit that can be used for recertification.
In his closing remarks, Carney noted the vital role teachers play in inspiring Delaware's youth: "You are cultivating an understanding of how our system works and hopefully inspiring involvement in civics and government."
O'Malley and the Delaware Center for Civics Education will continue to work with DDOE and the Social Studies Coalition of Delaware in the coming year to develop and deliver teachers with resources and professional development aligned to the standards shifts and HB198.
About the Joseph R. Biden, Jr. School of Public Policy and Administration
Named for the University of Delaware's most distinguished alumnus, the 46th president of the United States, the Biden School is committed to preparing students with the knowledge, skills and values needed to engage in research and public service that will improve the quality of life in communities around the world.
The Biden School's combination of interdisciplinary, nonpartisan research and empirically based analysis guides faculty, staff and students to inform effective decision-making and policy and to improve leadership and administration.
The school houses three undergraduate programs, six master's degree programs, four graduate certificates and five doctoral programs focusing on energy and environment, social determinants of health, disasters and recovery, education and social policy, and nonprofit and public management and leadership. The school is also home to seven research and public service centers, including the Biden Institute, a research and policy center that works to address the most pressing domestic policy problems facing the nation.