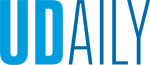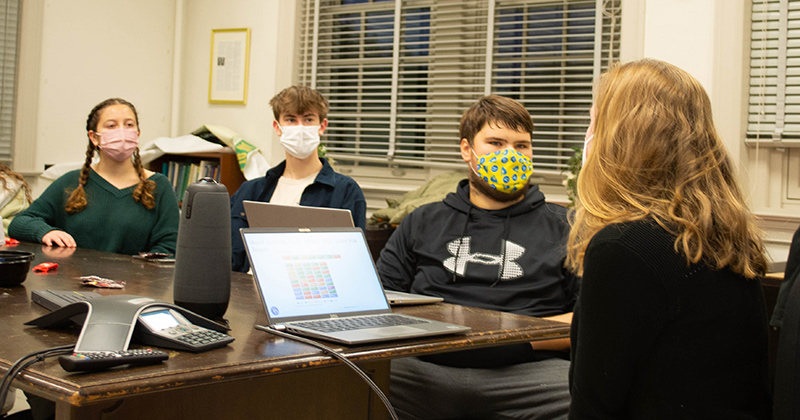 Climate Scholars
Article by Adam Thomas Photos by Mark Jolly-Van Bodegraven and Kathy F. Atkinson January 04, 2022
Students in new enrichment program learn and work on climate change challenges
Regardless of a student's area of study at the University of Delaware, chances are that in the future, they are going to see their field impacted by climate change. It is, arguably, the biggest challenge facing future generations on planet Earth.
To help guide the world to a more sustainable future, UD welcomed the inaugural class of Climate Scholars, an enrichment program offered by the University for students in any major to add climate change study and action to their college experience. During the fall of 2021, the first 21 students participating in the program came to campus from a diverse range of backgrounds and regions, with many different areas of study.
The goal of the program is to help these students understand the challenges and nuances involved with climate change, as well as have those students engage with the community to create solutions for the changing climate.
Jules Bruck, professor and director of UD's Landscape Architecture program in the College of Agriculture and Natural Resources, and Dana Veron, associate professor in the College of Earth, Ocean and Environment, are the directors of the Gerard J. Mangone Climate Change Science and Policy Hub. They serve as the faculty leaders of the Climate Scholars program, one of the Climate Change Hub's first projects.
"We were excited to finally be able to put this program into place and respond to the demand we're seeing from students who, regardless of what they're majoring in, want to be able to respond to the intrinsic challenge that climate change poses to our current society," said Veron.
First-year student Maya Feinstein is an example of the kind of engaged student selected as a Climate Scholar, already serving as one of two undergraduate representatives on the UD sustainability council. Feinstein said that being named a Climate Scholar and seeing UD's interest and investment in solving the problem of climate change was a deciding factor for her when it came time to pick a university.
"I got accepted into the Climate Scholars program before deciding to go to UD, and I was so excited about that," said Feinstein, who is a member of the Honors College. "Just the fact that UD had this program, it was honestly a deciding factor because it's a great new program, and it seemed like a lot of momentum was happening at the University of Delaware surrounding these issues of climate change."
The Climate Scholars join the ranks of other enrichment programs at UD such as the Cybersecurity Scholars, Grand Challenges Scholars and World Scholars, among many others, which helps to enrich a UD student's experience in that particular area of study.
During the four-year program, the Climate Scholars must complete course requirements such as a three-credit course on the fundamentals of climate change and a capstone project that addresses a climate challenge. They also meet once a week for an informal Tea and Cookies get-together where they can discuss the latest developments and observations on climate change with their Climate Scholar peers.
Priya Thamburaj, an environmental science major, Honors Student and a World Scholar, said that she was excited to be a Climate Scholar because the program covers all the various aspects of climate change and does not focus solely on science.
"I don't want to learn just the science aspect of climate change," said Thamburaj. "I also want to learn about policy and economics and human rights and arts and all of the different facets of the issue. It was good to see a program that combined all of that, and that it included people from all different majors."
This year's class got an added benefit as the first-year common reader book chosen for the incoming freshman was "Under a White Sky: The Nature of the Future" by Elizabeth Kolbert, a book that deals directly with the damages wrought by climate change.
The Climate Scholars not only read the book, but they also had a chance to meet virtually with Kolbert for a discussion. Thamburaj said that it was an amazing opportunity to hear the voice behind the words, and Feinstein said that having the chance to speak with Kolbert was inspiring.
The opportunities for Climate Scholars to have direct connections with speakers continued later in the semester as well, when they joined Anthony Bebbington, the 2021 John R. Mather Lecturer, for breakfast before his talk.
Both Thamburaj and Feinstein said they are eager to continue to learn more about climate change as they continue their studies at UD.
"Climate change is probably the most important issue that we face right now," said Thamburaj. "If it's a global problem, you can't just have one discipline working on it. In order to get some action done, you need people from different disciplines coming together, and it's a wonderful time to have a program dedicated just to climate."
Gerard J. Mangone Climate Change Science and Policy Hub
Serving as the central resource at the University of Delaware and the region for anyone concerned with climate change and its impacts, the Gerard J. Mangone Climate Change Science and Policy Hub unites scholars and engages policymakers and community leaders. The Hub spearheads and supports projects in education, research, innovation, and community solutions by approaching climate change challenges from multiple disciplines so that together we can discover and implement practical solutions for a more sustainable tomorrow.