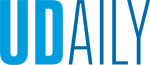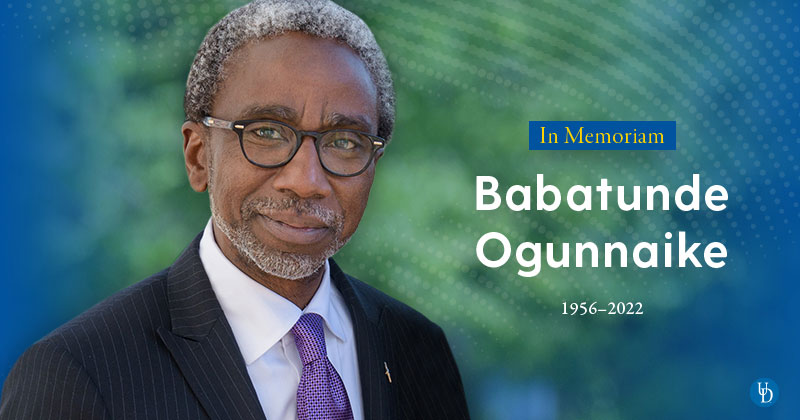 In Memoriam: Babatunde A. Ogunnaike
Article by Karen B. Roberts Photo illustration by Joy Smoker February 25, 2022
Campus community remembers chemical engineering professor, former dean
Babatunde A. Ogunnaike, William L. Friend Chair of Chemical Engineering and former dean of the College of Engineering at the University of Delaware, died on Feb. 20, 2022.
"The passing of Tunde is a tremendous loss for our whole community, and Eleni and I join the entire University of Delaware in expressing our grief and condolences to his wife, Anna, and their family and many friends," said President Dennis Assanis. "Tunde was a brilliant scholar, a passionate teacher, a dedicated leader, a talented poet and a terrific human being. In my office, I keep a framed copy of the beautiful poem, titled 'Dawn at the Well of Inspiration,' that Tunde composed and delivered at my inauguration ceremony in 2016, and I absolutely treasure it. I will remember Tunde forever."
A native of Nigeria, Dr. Ogunnaike earned his bachelor's degree in chemical engineering from the University of Lagos, Nigeria in 1976. He went on to receive a master's degree in statistics and doctoral degree in chemical engineering from the University of Wisconsin-Madison, in 1981.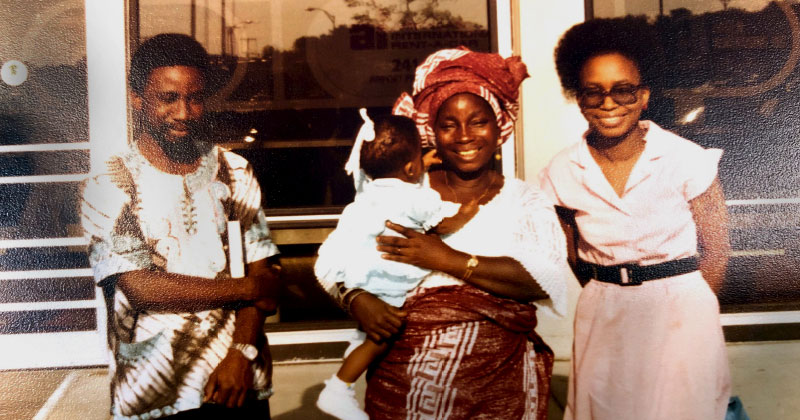 He spent six years as an assistant professor at the University of Lagos prior to joining the DuPont Co. in Delaware in 1989, where he pursued a successful 13-year research career.
Dr. Ogunnaike joined UD as an adjunct professor of chemical engineering in 1996. He subsequently became a full-time professor at UD in 2002 and was appointed William L. Friend Professor, a named professorship, in 2004. He served as dean of the College of Engineering from 2011 to 2018, following posts as deputy dean (2010) and interim dean (2011) in the college. He also was a professor in the Delaware Biotechnology Institute. Additionally, he was an affiliated faculty member at the African University of Science and Technology, Abuja, since 2008, and had been a visiting professor at the University of Wisconsin-Madison.
Highly esteemed in his field, Dr. Ogunnaike was a member of the National Academy of Engineering, the Nigerian Academy of Engineering and the National Academy of Inventors, and a fellow of the American Association for the Advancement of Science, among many other honors.
"Our college lost a pre-eminent scholar, colleague and leader in the passing of Babatunde Ogunnaike," said Levi Thompson, dean of the College of Engineering. "Many of us counted him as a friend and mentor. Personally, I came to appreciate his wisdom and wit. On a number of occasions, Tunde provided the encouraging words needed to help me through a difficult situation. I will miss his spirit."
Dr. Ogunnaike distinguished himself both as a scholar and practitioner. He was an expert in process control, modeling and simulation, systems biology and applied statistics. He possessed a robust knowledge of both industrial and academic applications of chemical engineering. For example, Dr. Ogunnaike's model-based process control advances, which he developed while at DuPont, today affect several commercial processes. Equally, his textbooks have been used to educate and train thousands of engineers across the globe in systems control and instrumentation.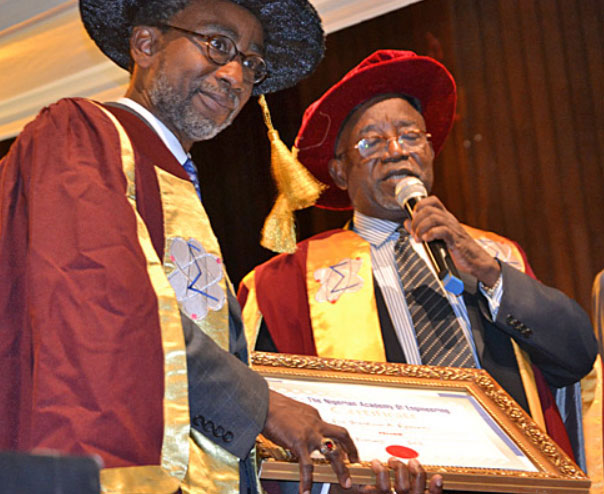 Eric Furst, chair of the Department of Chemical and Biomolecular Engineering, said, "Professor Ogunnaike was a remarkable person to know and to work alongside. He was a friend, a mentor, a tremendous scholar and an enormously dedicated and inspiring teacher. His own personal standards held us to a high bar of work and, at the same time, collegiality."
In addition to being an accomplished engineer, Dr. Ogunnaike was also a poet. Prior to arriving in the United States to attend school, as a 21-year-old, he contributed words as part of a competition that were later used in the Nigerian national anthem.
On learning of his death, the Daily Post in Nigeria reported on Feb. 22 that Nigerian President Muhammadu Buhari noted that Dr. Ogunnaike's contributions to the national anthem "showed his patriotism and dedication to the wellbeing of the nation in the living words that daily reinforce the faith and spirit of Nigerians" … and that "as a scholar and administrator, Ogunnaike's long hours of research, spanning into years, enhanced knowledge and understanding, and prepared generations for greater works."
Leading and helping to forge the future
Over his nearly 40-year career, Dr. Ogunnaike worked tirelessly to advance the field of engineering, at UD and elsewhere. Rachel Segalman, Edward Noble Kramer Professor and chair of chemical engineering at the University of California, Santa Barbara, noted, "Tunde was a long-time member of our Engineering Advisory Board, always present with a helpful suggestion and warmth for faculty, staff and students."
Dr. Ogunnaike also was a dedicated alumnus of University of Wisconsin-Madison, his alma mater, where he served on the chemical and biological engineering advisory board.
"Tunde was a member of our family and noted for his tremendous service to our department and to the field. He was always able to contribute to any discussion with a kind confidence that I found inspiring," said Eric Shusta, Howard Curler Distinguished Professor and R. Byron Bird Department Chair of Chemical and Biological Engineering.
Most recently at UD, Dr. Ogunnaike served as director of the Grand Challenges Scholars Program, a framework that allows UD undergraduate engineering students to explore and immerse themselves in pressing societal issues, such as climate change, renewable energy and cybersecurity, through academic and extracurricular activities.
He was equally adept at pushing forward the field that he loved on a national stage. In 2020, Dr. Ogunnaike served with leaders from other top universities on a National Academies of Sciences, Engineering and Medicine committee to set a vision for the next 30 years of chemical engineering research, education and industrial innovation. The study will serve as a guidepost as others in the field forge new ground in the decades ahead.
He was a steadfast supporter of the University, too. As Delaware Diamonds Society donors, Dr. Ogunnaike and his wife, Anna, supported many initiatives at UD, including Engineers Without Borders, Resident Ensemble Players and research in the College of Engineering. Their support for Harker Lab is recognized with a bench that includes a name plaque in memory of his and his wife's parents.
In 2018, the University community established the Babatunde Ogunnaike Global Engineering Student Enrichment Fund in honor of Dr. Ogunnaike's service as dean of the College of Engineering. It provides financial support for engineering students desiring to incorporate a global component to their educational experience through international travel, student research with a global or international focus, and international academic conference attendance/presentation, internships, venture development opportunities or service trips, such as through Engineers Without Borders, among other things.
At its December 2021 meeting, the University's Board of Trustees awarded Dr. Ogunnaike the Medal of Distinction, one of the highest honors the University can bestow.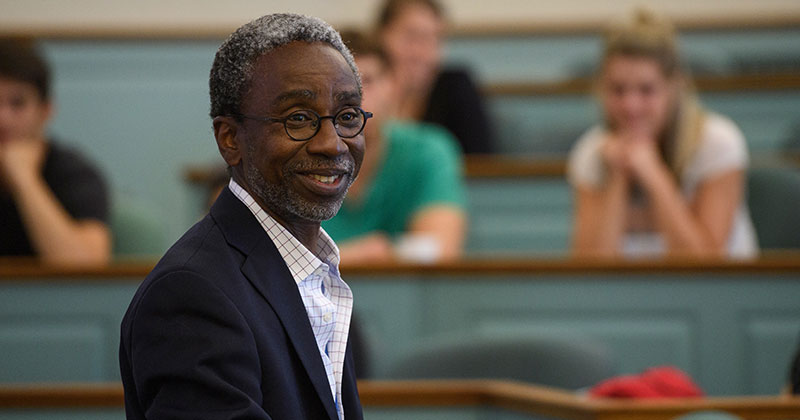 Inspiring educator, trusted mentor
More than anything, Dr. Ogunnaike took his role as an educator and mentor seriously. He dedicated time on his weekly schedule to advise and encourage students, even while serving as dean. With a twinkle in his eye, he would remind students and others that he came from a family of educators and that his mother was an English teacher. Proper grammar, whether in communication or academic literature, was expected. Errors were met with corrections and a patient explanation behind the change.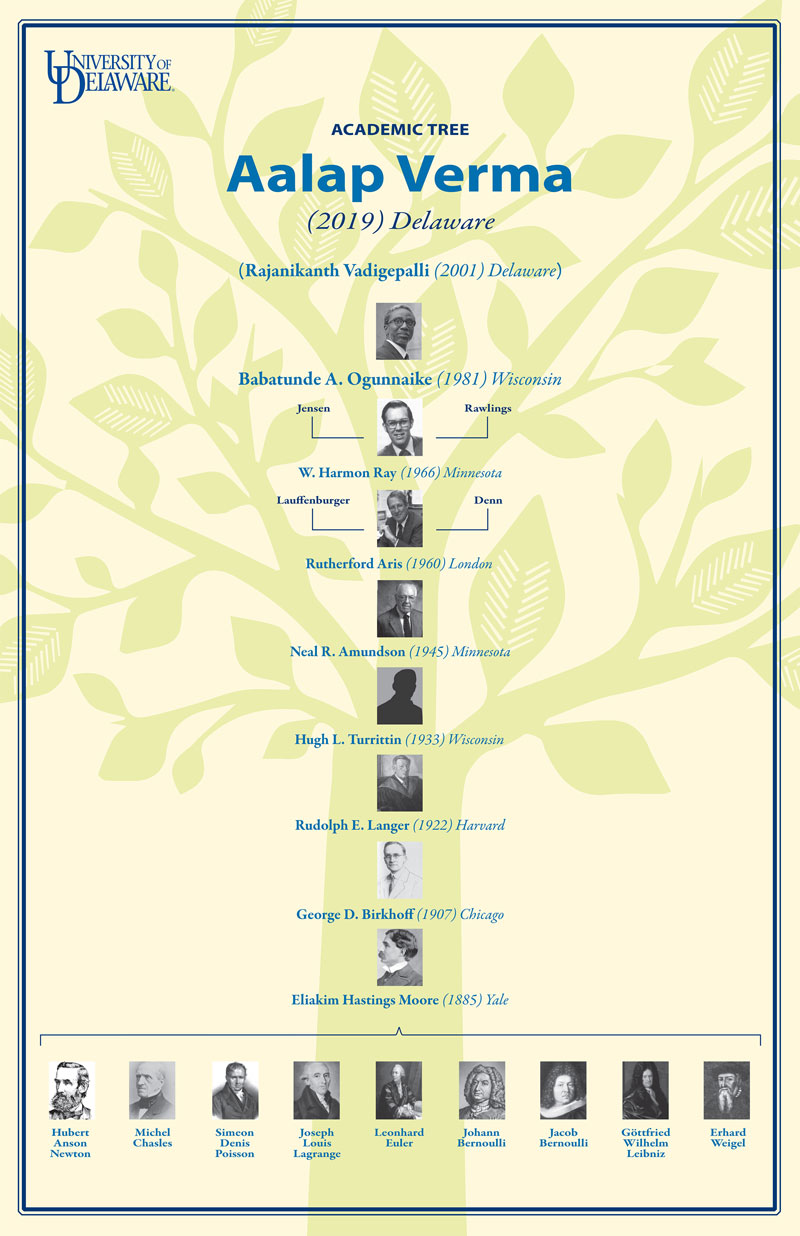 Upon graduation, Dr. Ogunnaike presented each doctoral student that he advised with an academic family tree, detailing his or her academic lineage. It was a treasured gift to help students mark their place in history, even as they pondered their future. Each tree began with the student's name, followed by Dr. Ogunnaike as adviser, then Dr. Ogunnaike's adviser and so on. The list included famous names familiar to mathematicians, physicists and engineers, including Gottfried Leibniz (1646-1716), a German mathematician credited with inventing calculus.
In a UDaily article detailing his 2012 induction to the Nigerian Academy of Engineering, Dr. Ogunnaike said that if his students only absorbed one lesson from him, he hoped that it would be to never stop learning or sharing their knowledge with others.
"Whatever you do for yourself is gone when you are gone. What you do for others' lives on forever," he said.
Dr. Ogunnaike is survived by his wife, Anna, their sons, grandchildren and an extended family. Services will be private. To read Dr. Ogunnaike's obituary, visit Doherty Funeral Homes, where condolences may be left online. The University of Delaware is planning a larger memorial service at a later date that will be open to the public.
The family requests that donations in honor of Dr. Babatunde Ogunnaike be made to the following causes that were dear to his heart: the Babatunde Ogunnaike Global Engineering Student Enrichment Fund; Ife Institute for Advanced Studies; Pancreatic Cancer Action Network or Action Against Hunger (Nigeria).
Remembering Dr. Ogunnaike
Our community has lost a giant... "Tunde was a remarkable person, and I am proud he was my friend for decades.  I asked him a few years ago to join a committee I was chairing to chart future directions for chemical engineering for the National Academies. He was a very valuable member of the report committee, and he passed away just before the report was to be released this year. Tunde's contributions can be seen in every part of the report. He had a broad and deep knowledge of our field, and his perspective and clear thinking both empowered forward thinking and constrained the growth of bad ideas. His kind spirit and easy style of collaboration made him a true joy to work with, and his fluid writing style and ability to meet a deadline made him a perfect committee member. Beyond his engineering contributions, Tunde was a remarkable teacher, mentor and friend.  Our community has lost a giant." – Eric Kaler, president of Case Western Reserve University
Dedication to clarity in communication of all forms… "Tunde's dedication to clarity in communication of all forms was incredible and one of the most transformative aspects of my education from him as my Ph.D. mentor. It didn't matter whether he was teaching, writing a paper, composing an email or giving a research talk. One's work and science doesn't matter at all if nobody can understand it. These lessons are something that will continue to live on as I train my students to do the same." -- Marc Birtwistle, chemical engineering Ph.D., '08, and associate professor of chemical and biomolecular engineering at Clemson University
He was a shining light in the range of roles that he played… "Tunde was a shining light in the range of roles that he played, from his lectures and writing to his mentorship and engagement in the community locally, nationally and internationally. His warm smile and easy laugh always brightened my day, and I enjoyed our conversations about research, education and family. I had the pleasure most recently of collaborating with Tunde on a research project. Katherine (Kat) Wiley, a former Ph.D. student from my group, was examining how changes in the density of tissues that surround breast cancer cells regulate whether these cells grow or stop growing. Kat had engineered a 'sponge-like' material to undergo softening and stiffening, inspired by changes that happen in human tissue after injury and scarring. We observed a range of responses of human breast cancer cells in this system and thought immediately to ask Tunde for assistance, given his expertise in modeling complex systems, particularly in the context of human health. He immediately had broad insights and performed analyses that helped us understand the responses of the cells. I feel honored and privileged to have known and worked with him." – April Kloxin, Thomas and Kipp Gutshall Development Professor of Chemical and Biomolecular Engineering
He was a mentor to generations... "Tunde and I were graduate students together at Wisconsin about 40 years ago, having arrived one semester apart. There were a significant number of students who were impressively capable even then, at least half a dozen of whom have gone on to election in the National Academy of Engineering. Even in this group, however, Tunde stood out for his technical abilities, breadth of interests, motivation and, not least, for being just a wonderful human being. In his career after graduate school, he distinguished himself in many other ways, from the creativity of his research to being an outstanding teacher. He may have inherited this talent from his father, who was a school inspector in Nigeria. Even while working in industry at DuPont, he mentored a succession of postdocs and co-wrote an encyclopedic textbook that we still use today. He taught the material at UD as an adjunct professor, and his classroom teaching and his ability to encourage and influence students became legendary. Finally convincing him to move to UD permanently about 20 years ago was an enormous coup for our department, and it made us the envy of many of our peer departments around the country. At UD he was a mentor to generations of students, numerous younger colleagues, as well as the not-so-young, and he always had level-headed wisdom and sensible advice to share in his distinctively unassuming way. This extended to many levels, including UD administrators, national committees and others. Most importantly, he was a dear and warm friend and as fine a person as one could ever hope to meet." – Abraham "Bramie" Lenhoff, Allan P. Colburn Professor of Chemical Engineering
His example will continue to inspire us… "Tunde, a valued colleague, leader of both the profession and our college, and master teacher, led and inspired us by his example. He often quoted a Nigerian proverb: 'If you want to go fast, go alone; if you want to go far, go together," by which he led us through thick and thin. While his physical presence will be greatly missed, his example will continue to inspire us as we continue the journey." – Norman Wagner, Unidel Robert L. Pigford Chair in Chemical and Biomolecular Engineering
We were all his students... "Tunde was fond of African stories and invoked them with deserved pride. One that I recall was about the sense of loss felt by a village when it lost the towering tree that had stood for generations. His loss is felt today by his colleagues, students and all who knew him. For us, through the years, he quickly became that towering tree of legend. One of my fondest memories is not of Tunde directly, but of the joy he inspired in others. Tunde used to teach an industrial short course in statistics, a dry subject for most of us. The students needed to collect data for statistical analysis. They did this by measuring the fall times down the Colburn Lab open stairwell of "whirlybirds" made from strips of paper with paperclip weights. No one who walked by could resist a wide smile at the sight of adults laughing, cheering and scampering up and down the stairs like school children to retrieve and relaunch their devices. Tunde was a master of active learning long before many of us had ever heard the term. We were all his students, and we will always carry his inspiration with us." – Mark Barteau, professor of chemical engineering at Texas A&M University
His exemplary mentorship... "Among Tunde's many talents was the ability to demand, extract and cultivate greatness in everyone around him. His students are better scholars and better people as a result of his influence. For me, Tunde's impact on my life and career has been transformative, and I strive to mirror his exemplary mentorship in my interactions with each of my own students." -- Mary McDonald Staehle, chemical engineering Ph.D. '10, and associate professor and undergraduate program chair of biomedical engineering at Rowan University