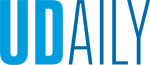 Standing with Ukraine
Article by Amy Wolf Photos by Evan Krape and courtesy of Holly Myers April 26, 2022
Members of UD Russian Club show support for Ukraine
Early on the morning of Feb. 24, Tyrus Van Dyke, a junior international relations and Russian studies double major, read the news that Russia had invaded Ukraine.
He almost couldn't believe it.
"It seemed surreal," said Van Dyke, who is also the vice president of the Russian Club at the University of Delaware. "It was a crisis that had been going on for weeks — or months, rather — at that point, and to have it actually metastasize into a conflict is something that is both very upsetting as somebody who studies Russian culture but also very interesting as somebody who studies global politics. It became apparent that it was going to become one of the most defining moments in terms of geopolitics in my life. Given it's in the region of the world that I study, I have an even closer connection to that trauma."
Like many students on campus who study Russia — including the majority of the members of the Russian club — Van Dyke expressed his support for Ukraine. Lily Markow, a senior Russian studies and criminal justice double major and president of the Russian Club, said it was important to show that the Russian Club — which provides students an opportunity to learn more about Russian culture and practice their conversation skills — doesn't blindly support Russia.
"We do have our own morals and want that to be reflected," Markow said, adding that the Russian Club isn't made up of only Russian students and students who study Russia. "We have Ukrainians and a lot of different people from a lot of different backgrounds who are part of the club, and we wanted to make sure everyone knew there is a place for them in our club."
To further show support for Ukraine, Markow and other leaders of the Russian Club organized a fundraiser to collect donations for United Help Ukraine and Nova Ukraine. On Friday, April 22, the club set up a table on The Green offering coffee, cookies, Ukrainian folk art prints, "no to war" stickers and sunflowers (Ukraine's national flower) for suggested donations, with all proceeds benefiting the two charities. It was the second fundraiser for Ukraine organized by the Russian club, with the last event in March raising over $2,000.
The fundraiser was also a chance for members of the Russian Club to educate the larger UD community about the conflict.
The war, Van Dyke said, impacts all students at UD, regardless of their majors or backgrounds, citing increased energy prices as one example.
"Of course, that's not the same as having bombs rain down on you, but it is an impact," he said, adding that many people across the globe, especially in Africa and parts of Asia, are also dealing with rising food prices.
Van Dyke added that Russian and Ukrainian students attending UD have families who are impacted by the war, whether that impact is direct attack or the stress of dislocation, economic disruption or simply worrying. 
"Those are UD students that walk around every day, and you can't see their nationality outwardly, but they exist nonetheless, so it's very important to understand it," he said. "Part of having a community is having understanding with your fellow students."
According to official enrollment numbers for the spring of 2022, the University's international community includes 18 students whose place of origin is Russia and five from Ukraine.
Professor Holly Myers, chair of UD's Russian Studies Program and the adviser to the Russian Club, said she hopes the conflict highlights for students the need to study other cultures and languages in order to comprehend how nuanced the war is and understand these sorts of events. It's not something that can be easily explained in one sentence, she said; it's something that involves a lot of history and many different perspectives to understand how this could happen between two countries that have a long history of coexistence.
Through language classes, students learn not just the language and grammar but also the culture and history of the people who speak that language. In all classes at UD, not just language classes, Myers said that professors encourage students not to regurgitate the professor's opinion but to analyze texts and work on the skills that are needed to develop an argument to support an opinion or conclusion.
"That's probably the most fundamentally important thing that an education can give you — the skills to look at a text or a set of data, analyze it, come to a conclusion, understand how you came to that conclusion and be able to explain to someone else how you came to that conclusion," Myers said. "If you want to be able to form your own opinion about what's happening in the world, then you need to have some understanding beyond the one news article that you're reading. That's increasingly important in our world."
Cassiana Desir, a senior three language major studying French, Russian and Spanish and treasurer of the Russian Club, said she is still shocked every day when she reads the news.
"It's heartbreaking," she said. "The possibility of war is very real, and I think sometimes in America we don't really think about it as much as we should. This really reminded me of the fact that war could happen at any time, anywhere, to any people, regardless of any wrongdoing or not. I think it's important to be involved in the international community, because when there's injustice anywhere, it really can spread to other places, and as members of the human community, it's important to support each other."
Nathaniel Jones, a freshman and member of the Russian Club, was happy to see the club as a whole show its support for Ukraine.
"Too many people have associated Russians themselves with the invasion, and I think it's important to show that this isn't what Russian people or the culture of Russia represent," he said. "You don't attack the people of Iraq because the Islamic State exists. You don't attack the people of Japan because of what they did in World War II. You blame the government."
Greg Tarnavskyi, a junior political science major from Ukraine, was glad to see that the Russian Club and the UD community have shown condemnation of the war. That unity, he said, is what needs to happen globally in order for the war to come to and end.
"NATO and [its] allies should keep supplying Ukraine with weapons," he said. "I don't believe this can be resolved in a diplomatic agreement. It's impossible to have diplomacy with a country that wants to exterminate another nation. It's the same as having peace talks with Hitler as a Jew."
Markow initially decided to study Russian so she could connect with her great-grandfather, who was a Holocaust survivor and was in Russia for a short time during World War II. Having heard her great-grandfather's firsthand experience, she was able to have a deeper understanding of what happened. It was difficult, she said, to not see some similarities between the horrors that he went through and the current war in Ukraine.
"It's important to understand what's happening, because even if it's not in your own country, it's still the world and we should all care for each other," she said. "Although right now it's happening in Ukraine, there's no guarantee that it couldn't happen here, and we all just need to be educated on it so history doesn't repeat itself."