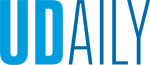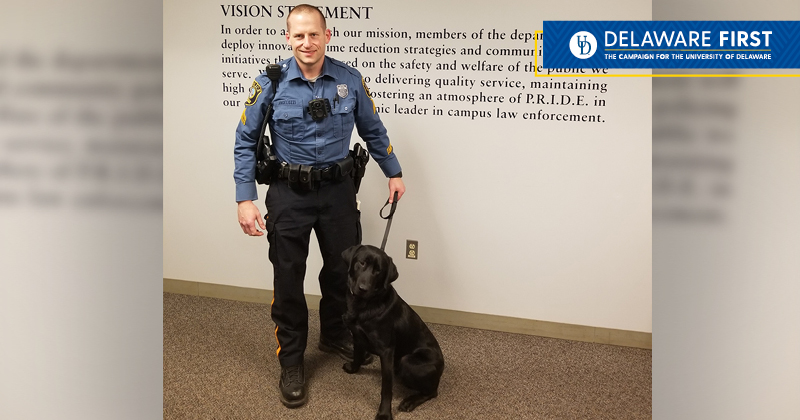 Delaware First: The gift of safety
Article by JoAnn Greco Photo courtesy of University of Delaware Police Department April 05, 2022
Blue Hen parent Robin Gordon provided critical support for a new canine officer for the UD Police Department's K-9 unit
As a mental health advocate and social worker, Robin Gordon — whose daughter Brianna is a University of Delaware senior majoring in communication — knows firsthand how dogs can be more than just loving, loyal household pets. Two of her own are trained as therapy dogs that help comfort and relieve stress for people in her hometown institutions like the Westchester County, New York, Department of Correction and several regional medical centers.
When Gordon had a chance to support a new canine officer in the University of Delaware's Police Department (UDPD), it was a "perfect fit" with her personal experiences with and love of dogs, as well as her great respect for police officers.
"Police officers risk their lives every day — they truly are heroes that deserve our support," Gordon said. "The amazing dogs that work with them have an important job to do, but they also help reduce stress in intense situations."
As a parent of a current Blue Hen, Gordon knows the important role parent and family philanthropy has at UD, enhancing and growing student programs, experiences and opportunities while bolstering the efforts of Delaware First: The Campaign for the University of Delaware. In addition to UDPD, she has given to help enhance resources and programming in the University's Wellbeing Center at Warner Hall, which serves as a holistic hub for student health and wellness. Gordon said she believes strongly in "supporting those on their path to mindfulness and wellbeing," both through the work she does every day and through her giving.
Her latest gift to support the newest member of the canine unit, Shadow, helps UDPD grow the department, building and enhancing the important work they do across campus. Without the funding and the new dog on the force, UDPD wouldn't be able to fulfill their vision for the canine unit and expand their safety measures. The unit was created about a decade ago, beginning with two German Shepherds trained in patrol and explosives detection, and the needs have changed since.
"Our goal has been to have a total of four dogs," said Chief Patrick Ogden, who oversees the University's 54 police officers and four canine officers. "Lately, as the original canines aged out, we began researching breeds and reevaluating our security needs. We were still a dog short and then, fortunately, Ms. Gordon's generosity came through for the fourth dog and its associated startup costs like fencing, kennel, leads and collars."
University funding completed the package, enabling the purchase of a specially equipped vehicle, outfitted with cameras, computers, defibrillators and a cage and cooling system for the dog. Such canines come with special training, but Ogden points out that the Delaware State Police provides a three-month course at no cost for the dogs to receive national certification. In return, the University's dogs are on call as backup to serve the state, if necessary.
As part of their training, the dogs are taught to distinguish explosive materials from others using tennis balls that pop up when they choose correctly.
"They go through this hundreds and hundreds of times so they associate detecting the smell with receiving an award," said Corporal Harley Angelozzi, the officer paired with Shadow.
Angelozzi has been with the University force since 2008 but is new to the canine unit. Shadow lives with him, his family and their American bulldog. While the experience is similar to when anyone brings a pet home, Angelozzi and Shadow also spend their days working the University grounds.
"He's with me 24/7 and most of our day is spent walking the campus as part of his exercise routine," Angelozzi said. "The students love greeting him and they all want to pet him. Labs are just so friendly, they put everyone at ease and are great for community relations."
That's not surprising to Gordon, who understands full well the mutual benefits of the special bond between canines and humans.
"It's a win-win-win," Gordon said. "The dogs love it, the people they meet love it and their handlers and owners love it."
To learn more about the impact of parent and family giving at UD, please contact Tracy Smith at smitht@udel.edu or 302-831-7453.
About the Campaign
Delaware First: The Campaign for the University of Delaware was publicly launched on Nov. 10, 2017. The comprehensive engagement and fundraising campaign unites Blue Hens across the nation to accelerate UD's mission of cultivating tomorrow's leaders, creating solutions to grand challenges, inspiring innovations and transforming lives. The united effort will help create an extraordinary student experience at UD and extend its impact on the region and the world.
Building on the record-breaking support and generosity evidenced by the Campaign, on Oct. 7, 2021, the University announced the extension of Delaware First with a $1 billion goal to further fuel change and innovation for students, faculty, campus and the world.
For more information, call 302-831-2104 or email campaign-info@udel.edu.