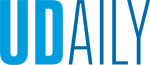 Live from Newark
Article by Artika Casini Photos by Evan Krape October 28, 2021
Saturday Night Live creator Lorne Michaels talks television, politics and what holds satire together
In the tragedy of King Lear, it is only the Fool — ironic, sarcastic and wise — who can speak truth to power. In the United States, the role of sardonic-but-benign truth-teller has fallen, for almost five decades now, to a weekly variety show that has become a cultural touchpoint for every generation of Americans.
On Thursday, Oct. 21, live from Newark, Delaware, Saturday Night Live creator Lorne Michaels sat down with Valerie Biden Owens, chair of the University of Delaware's Biden Institute, in the first on-campus, in-person event at Mitchell Hall since November 2019.
Speaking to a packed and masked crowd of students, faculty, alumni and friends, including former Connecticut Sen. Chris Dodd, Michaels discussed the process, evolution and creative magic that has made SNL such a resounding, 46-year success.
"It's the voice of adolescence," he said. "[We're] badly behaved and questioning things, rudely sometimes."
Or as Owens put it, "It's a nonpartisan show that represents opposition to authority."
So, what makes it work so well?
Sometimes it's an uncanny resemblance to reality, as it was when Tina Fey inhabited the role of an Alaskan governor who could "see Russia from my house."
Michaels' doorman was the first person to make the Fey/Palin connection. "He told me, 'What a gift,' and then another person used the exact same phrase," Michaels recalled. "By the time I got to the office, I called Tina and said, 'I think the audience has voted that you need to play this part.'"
Of course, not every politician has an obvious doppelgänger. "When Chevy Chase played Gerald Ford, he made no effort to look like Gerald Ford," Michaels said. But after the president's unfortunate stumble down a flight of airplane steps, clumsiness became a central part of the comedian's portrayal.
"You have to find the thing that seems like them," Michaels added. "Comedy won't work without the element of truth."
But truth alone can't sustain a show. "We may want to say things, but if it doesn't play in front of an audience, if it doesn't get laughs, then we can't."
Finding those laughs takes talent, deadlines and a carefully curated mix of creativity and chaos that begins on a Monday morning and ends at 11:30 p.m., Saturday night.
Speaking with Owens, Michaels shared the formula that has shaped the show's long-time success; one where "we go from having no show to too much show."
It starts Monday, in a meeting with all writers, cast members, musicians and designers. "What are you working on?" Michaels asks the team, and "many people lie," the producer admits. "But they have to go on record saying something," and that process alone sparks collaboration and a cross-pollination of ideas that takes the show into the following night.
On Tuesday, Michaels, the host, cast and writers all attend a dinner to "break down barriers." It works because "it's comfortable, it's in the evening, and there's alcohol."
Wednesday is deadline day. The day of a three-hour read aloud. Many jokes get no laughs, "and we look at that. We also look at what's happening in the country," Michaels said.
Owens — a veteran political strategist who famously helped her brother win his first Senate race when she was only 27 years old — noted that SNL is not unlike a political campaign.
"It seems like you're running a PT boat that has to weave and bob and pivot on a dime because of all the incoming that's happening all week, as opposed to an ocean liner that can't move," she told Michaels, who nodded in agreement.
"It's particularly scary for hosts," he replied. "Most people can't live comfortably not knowing what they're going to be doing, which is why we always say, 'Trust the process.' "
The best guests always do, despite the long hours.
On Friday, the show films three pre-recorded skits (such as the recent Squid Game parody), with the day starting around 5 a.m. When Kim Kardashian recently hosted, Michaels noted, she was up from 5 a.m., Friday morning, to 3 a.m. Saturday.
And of course, Saturday night is go time.
"The show is always in a state of becoming," Michaels said. "I always say, 'We don't go on because we're ready. We go on because it's 11:30.'"
About the Biden Institute
Established in 1961 and named in 2018 for the University of Delaware's most distinguished alumnus, the 46th President of the United States, the Joseph R. Biden, Jr. School of Public Policy and Administration prepares students with the knowledge and skills necessary to engage in research and public service activities to improve the quality of life in communities around the world. The Biden School's faculty, staff, students, and alumni create and use interdisciplinary, nonpartisan research, and empirically-based analysis to inform effective decision-making and policy and to improve leadership and administration. The Biden School partners with organizations from all sectors to discover innovative and equitable solutions to the critical challenges of our time.