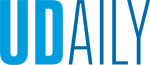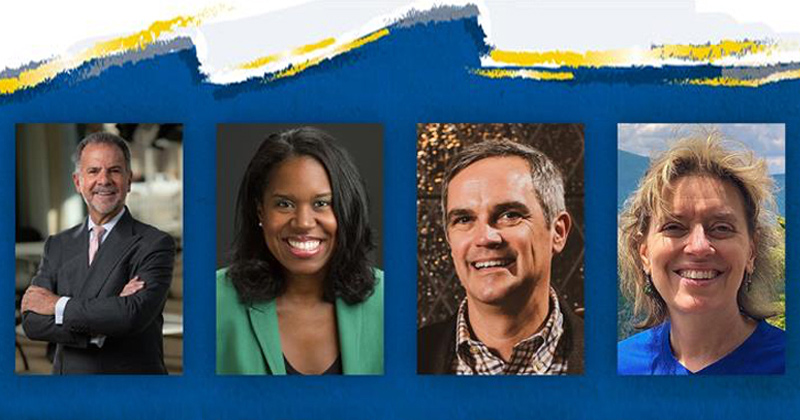 Outstanding alumni honored
Article by Megan Maccherone Photo illustration by Jess Collins May 25, 2021
UD Alumni Association recognizes Blue Hen achievements
The University of Delaware Alumni Association announced the 2021 recipients of the Alumni Wall of Fame and the Outstanding Alumni Awards who, along with recipients of the Emalea Pusey Warner and Alexander J. Taylor Awards for Outstanding Seniors, will be honored at a virtual awards celebration on Saturday, June 5, during Virtual Alumni Weekend. The UD community, friends and families are invited to attend.
Their names will be inscribed on a wall in the Alumni Circle, located near the Carpenter Sports Building (Little Bob) on campus, which honors recipients of the awards as well as alumni volunteers and leaders who have made significant impacts at the University.
Alumni Wall of Fame
In recognition of the many notable achievements of its alumni, the UD Alumni Association, in partnership with the University, established the Alumni Wall of Fame in 1984. The Alumni Wall of Fame recognizes outstanding professional and public service achievements by UD graduates. This year's recipients are Bill Marrazzo and Quinetta Roberson.
Bill Marrazzo, a 1971 graduate of the College of Engineering, is president and the longest-serving chief executive officer for WHYY, the leading public media organization serving the tri-state area. In his 24 years as CEO, he has led the development of new digital technologies with evolving video, audio and web distribution pathways, enabling WHYY to systematically grow in ranking among a large number of regional media outlets. Under his leadership, WHYY has expanded beyond public radio to podcasts and television.
Marrazzo puts an emphasis on ensuring that public broadcasting continues to play a critical role in protecting democracy, building healthy societies and providing quality entertainment and programming. Through his leadership and commitment to education, he successfully implemented the Youth Media Labs Program into the Philadelphia market, something many major markets are still hoping to accomplish. WHYY's Media Labs program is a media instruction partnership with the School District of Philadelphia which focuses on media literacy, competency and empowerment into teens.
He was the senior architect in developing the Public Television Major Market Group, a consortium of 40 of the largest public TV stations by market size in the United States. The group now represents 70% of the nation's audience.
In the past year, at UD, Marrazzo assisted Levi Thompson, dean of the College of Engineering, in transforming in-person curriculum to online learning formats at the onset of the pandemic.
"Bill provided robust, data-driven and practical feedback for instructional design in a digital world," said Jill Higginson, associate dean for Graduate and Post Graduate Education.
Previously at UD, he served on the Chemical and Biomolecular Engineering Advisory Council from 1999 to 2005. Over the years, he also has served as a guest lecturer for the department.
Marrazzo has a lifelong commitment to civic and corporate affairs. He currently serves on several corporate boards including American Water Works, Inc., the nation's largest investor-owned water and wastewater utility. In 2019, the Philadelphia Business Journal named him one of the 100 Most Powerful People in Greater Philadelphia
Quinetta Roberson, a 1992 graduate of the Alfred Lerner College of Business and Economics, is the John A. Hannah Distinguished Professor of Management and Psychology at Michigan State University. Previously, she was an endowed chair at Villanova University and a tenured professor at Cornell University. She has been a visiting scholar at universities on six continents and has more than 20 years of global experience in teaching courses, facilitating workshops and advising organizations on diversity, equity and inclusion. She currently serves as President of the Academy of Management.
At UD, Roberson delivered a TEDxUniversityofDelaware talk on "The Other Side of Bias" in 2020, a year in which the impact of biases were brought to the forefront in our nation through the events and protests surrounding the murder of George Floyd and many others.
She has published over 40 journal articles and book chapters and edited the Oxford Handbook of Diversity and Work. Her research and consulting work focus on developing organizational capability and enhancing effectiveness through diversity, equity and inclusion, and is informed by her work experiences, having worked as a financial analyst and small business consultant prior to obtaining her doctorate in organizational behavior from the University of Maryland.
Since graduating from UD in 1992, Roberson has remained active with the Lerner College and the Black Alumni Organization, and regularly gives of her time, talent and treasure. She's a frequent guest speaker and presenter at events, and together with alumnus and former University Trustee Tony Allen, who graduated from the College of Arts and Sciences in 1993 and earned a doctorate in 2001, made a $100,000 commitment to establish the Fund for Urban Education.
Outstanding Alumni Awards
The Outstanding Alumni Awards are presented annually to alumni in recognition of their exemplary work on behalf of the University of Delaware and/or the UDAA. This year's recipients are Pete Wolf III and Kimberly Zitzner.
Pete Wolf III, a 1991 graduate of the College of Arts and Sciences, is the executive director of the Philadelphia branch of Life Science Cares, an organization dedicated to fighting poverty through funding and volunteer work. Through opportunities such as clothing drives and mentorship and internship opportunities, the organization unites the human and financial resources of life science companies and industry leaders. Most recently, it paired with Onramp to provide internships for low-income and first-generation college students.
Wolf has spent more than 20 years working with life science companies as a lawyer before developing an interest in nonprofits. He has served as a consultant for Compass Pro Bono, a board member for Methodist Family Services of Philadelphia and a volunteer with Philabundance, Natural Lands and Year Up Philadelphia.
At UD, for the last six years, Wolf has served on the Advisory Board for Horn Entrepreneurship, the creative engine for entrepreneurship education and advancement at UD. Throughout his involvement in Horn he has served as a judge for Hen Hatch, which is UD's premier startup funding competition, and as a mentor to students.
After his son Andrew enrolled in the Lerner College at UD, Wolf and his wife Christine, who is also a UD graduate, joined the Parent and Family Leadership Council. They have been active members, taking part in recruitment of additional Parent and Family Leadership Council members, advocating at events and participating in stewardship calls to fellow Parents Fund donors.
In addition, Wolf is currently serving as a mentor for the College of Arts and Sciences' new mentoring program and as an adjunct professor in the Lerner College. The Wolf's philanthropy supports UD through the Parents Fund and Horn. Over the past 10 years, their support has ranged from annual operating support to creating the J. Peter Wolf III '91 and Christine Bradley Wolf '92 Scholarship during the Presidential Scholarship Challenge.
Kimberly Zitzner, a 1990 graduate of the College of Arts and Sciences, served for more than 25 years as the Catholic Campus Minister at UD through the St. Thomas More Oratory, which serves as the Catholic chapel for UD. Her devotion has made many students' college experience extraordinary through the Oratory programming and through the mentorship she has provided.
"She became a staple in many students' lives," said Francis Klincewicz, who earned his undergraduate and graduate degrees from UD's College of Engineering and was a student leader at St. Thomas More Oratory. "Although it is expected that members of any campus ministry be involved with the student body, Zitzner went above and beyond. Along with providing a 'home away from home' at UD, Zitzner sacrificed countless hours throughout the years to support both students and alumni.
"Zitzner has fostered a community of faith that transcends graduation — many alumni remain connected to the Oratory and attribute her leadership to being the person they are today and why they continue to regard UD fondly."
Another of her notable traits is her innovation. During the pandemic, Zitzner worked tirelessly and adapted to rapidly changing circumstances, embracing an online format to continue serving students, especially during such an uncertain time.
Zitzner has represented the UD religious community at many large-scale University events over the years and has served as the acting coordinator for various campus religious and spiritual gatherings, memorials and campus vigils.
She is also involved in several other volunteer roles including serving as chair of the Religious and Spiritual Life Concerns Caucus at UD and as an adviser to sexual misconduct and non-discrimination cases. Zitzner also volunteers with Water is Life Kenya, the Little Sisters of the Poor and the Newark Empowerment Center, and in 2012 received the City of Newark Jefferson Award for Public Service.
To learn more about the 2020 Alumni Wall of Fame and Outstanding Alumni Award recipients, who will also be honored at this year's celebration, you can read this UDaily article from October 2020.