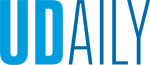 A shot to win
Article by Diane Stopyra Photos courtesy of Jessica Borcky Weinberg July 20, 2021
UD grad Sophie Poindexter takes home $302,000 in state-wide vaccine lottery incentive program
If she wanted to, 23-year-old Sophie Poindexter could buy 93,000 scoops of ice cream from the UDairy Creamery or 37,000 wall pennants from the University of Delaware Bookstore.
This is because, on Monday, July 19, the UD alumna became $302,000 richer.
"It is surreal," she said.
Poindexter, a graphic designer, is the grand prize winner of the DE Wins! inoculation incentive program. When she received her Moderna vaccine for COVID-19 in March, she was automatically entered into a state-wide lottery drawing. This week, at Wilmington's Bardea restaurant, Delaware Gov. John Carney, who received his master of arts in public administration from UD, presented the check.
"I did not even know about this initiative at the time," said Poindexter, who graduated with a degree in visual communications in May. "I just wanted to protect not only myself, but the people around me."
Among those in her orbit? Poindexter's mother, Flora, who teaches French at the University; her brother, Remi, who graduated from UD in 2012; and all of her customers at Caffé Gelato on Newark's Main Street, where she was doing social media work at the time.
Poindexter partly credits this desire to protect her community with her time on campus, which she said "definitely helped me grow as a person in this way." She specifically recalled the family-like feel of the Department of Art and Design, and how the Blue Hens here supported each other during the pandemic.
"Everyone was so giving," she said. "Our senior show is a good example. We couldn't have an actual senior show in a studio setting, so some of us came together to create a book showcasing all of the work, making sure everyone was included and everyone's personality showed through."
Now, Poindexter is hoping fellow Blue Hens and members of the wider community come together once more — this time to reach herd immunity from the coronavirus, which is achieved through vaccinations.
"Getting vaccinated is a small price to pay to be able to live your life again, and to make sure we're moving forward," she said.
In the meantime, do not worry — Poindexter does not plan on spending her award on scoops of ice cream or UD-branded merchandise… at least not all of it. Instead, a self-described saver, she hopes to invest most of the money, and maybe do a little traveling, now that she is experiencing a post-vaccine peace of mind.
That sense of freedom?
Good luck assigning a dollar amount to it, the Blue Hen said: "It's priceless."