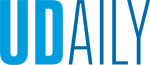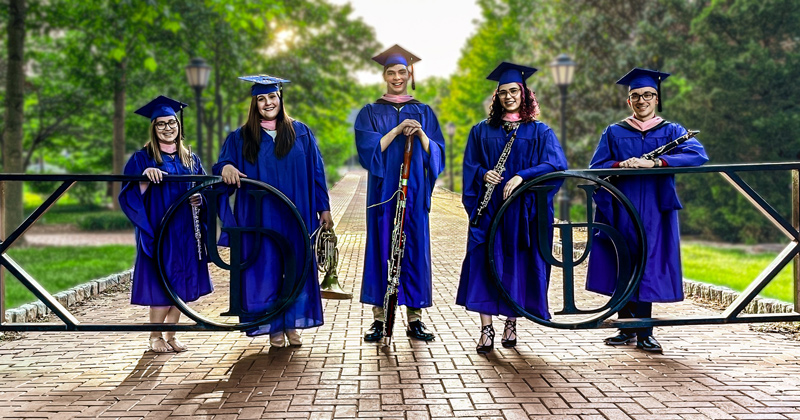 Making music
Article by Diana Milburn Photos courtesy of the artists July 07, 2021
New graduate chamber ensembles elevate School of Music
It's good to be first. Members of the Graduate Woodwind Quintet, known as 3-2-1 Winds, were beyond excited about their spring 2021 graduation as the first cohort of the University of Delaware's School of Music Graduate Chamber Ensemble Assistantships.
The 2019 creation of a woodwind quintet as UD's first generously funded, two-year master's level graduate chamber ensemble was just the first step in the School of Music's plan to distinguish itself with a first-class chamber music program during the same year it was newly-designated as the UD School of Music.
The second step in the plan was the 2020 creation of the Graduate Brass Quartet, and the most recent step was the 2021 Graduate String Quartet. Each student in the program will earn a master of music degree in performance and be supported by a very competitive stipend. During their time here at UD, they will be focusing on chamber music, which is the term used for a small number of musicians playing together in various combinations.
Elevate student success
Larry Stomberg, professor of cello and associate director of performance studies, has experience as a sought-after performer of chamber music and he helped drive the School of Music's plans.
"Chamber music is a field of musical work that is coveted for many musicians, combining the individual musical personality and virtuosity of solo playing with the collaborative spirit and shared experience of ensemble playing," he said.
Why chamber music now? Stomberg explained the impetus: "With a professional outlook for performing musicians that is increasingly difficult for orchestral performance and solo playing, the flexibility of small chamber music is an exciting and viable musical path. The teamwork, leadership, verbal/non-verbal communication and entrepreneurialism skills gained in chamber music study sets up our students for success in a variety of pursuits, in and out of music."
For all these reasons, Maria Purciello, associate professor and director of graduate studies, said the decision was made to develop graduate offerings that allow students to study and perform chamber music at a high level, becoming the next natural step in the development of the School of Music.
In their two years at UD, the 3-2-1 Winds came together to choose a name, choose repertoire to rehearse and perform and learn to run their ensemble as a small business by identifying and approaching venues, producing live and recorded concerts and marketing their performances.
"The program turned out to be something none of us anticipated," members of the Winds said in a group statement. "We ended up really focusing on developing ourselves as a group, and we have been able to create an identity that we can promote and continue to develop after graduation."
A highlight of their work together was an innovative recording that unexpectedly led to their being commissioned to record other pieces. In the fall of 2021, the cycle begins again with a new Graduate Woodwind Ensemble — this time, a piano, flute and clarinet trio.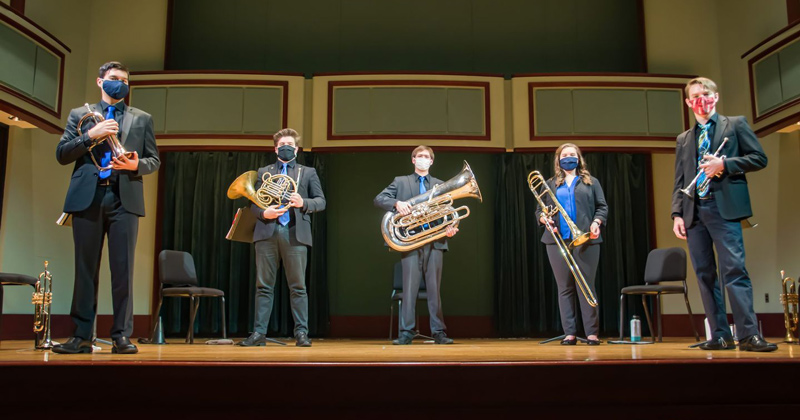 The UD Graduate Brass Quintet (GBQ), having just finished their first year together, will follow their fellow quintet with a spring 2022 graduation. The members have fared remarkably well together this year, and as trombonist Rachel Schwab said, "This year was so rewarding because we were able to learn to be flexible, adapt and get creative to accomplish our goals. Being a part of this group has given me so many experiences that I will be able to take with me into a career as a musician and educator."
The GBQ is eager to lead the way in the anticipated fall 2021 return to playing for live audiences. Plans for the Brass Quintet's last year together, and indeed all the Graduate Ensembles for the upcoming year, will include playing in venues around Newark and further afield, creating visibility for the new UD School of Music and valuable experience for the young chamber musicians. Interim School of Music Director Mark Clodfelter has been enthusiastically programming the return of live performances at UD and other venues.
"These groups are the spearhead of a developing chamber music program that promises to contribute a diverse array of offerings, both traditional and progressive, to a world that needs great music." Clodfelter said.
Calidore String Quartet welcomes the Abeos
The most recent addition, the Graduate String Quartet, will matriculate in the fall of 2021. Members were recruited, coached and mentored by the world-class Calidore String Quartet in its members' first semester as faculty in the School of Music.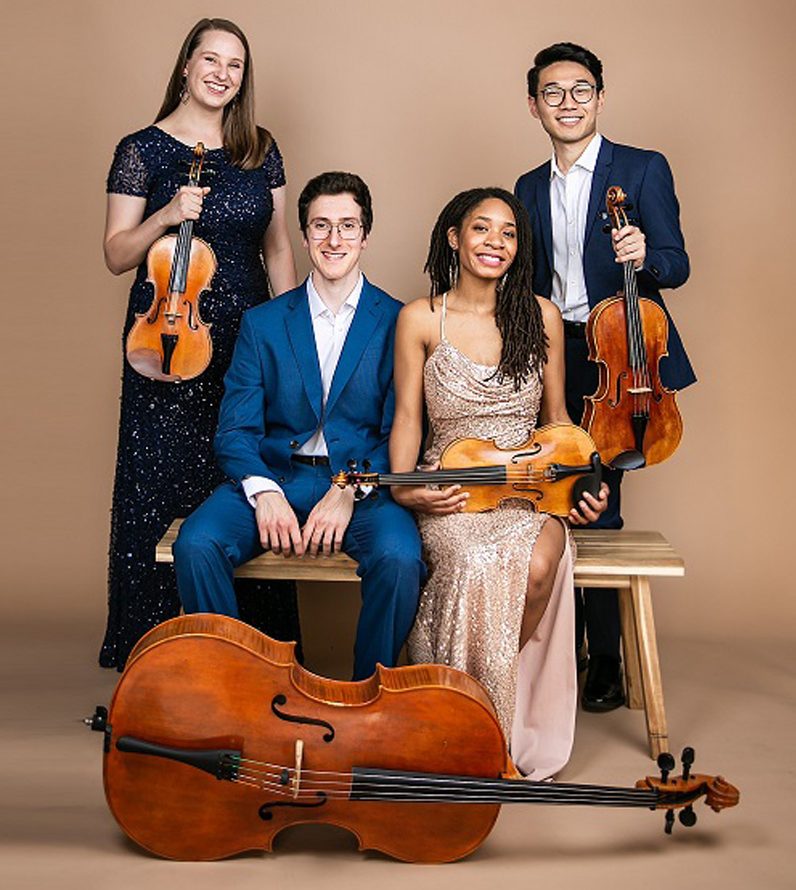 The Calidores were formed in 2010 at the highly acclaimed Colburn Conservatory of Music in Los Angeles, leading them to being mentored by the venerated Emerson Quartet. The Calidores have selected the Abeo Quartet as the first Graduate String Quartet at UD.
Abeo was formed in 2018 while its members were undergraduates at The Juilliard School. They won the silver medal at the 2019 Fischoff International Chamber Music Competition, the nation's largest chamber music competition, and have been featured in New York at the Chamber Music Society of Lincoln Center, Alice Tully Hall and on WQXR's "Midday Masterpieces."
The Abeos could have chosen Yale, Juilliard, or a host of any other schools for their master's degrees, and they have chosen UD. The recruitment of these already accomplished young musicians signals that the plan to elevate the new School of Music is succeeding.