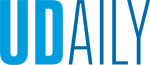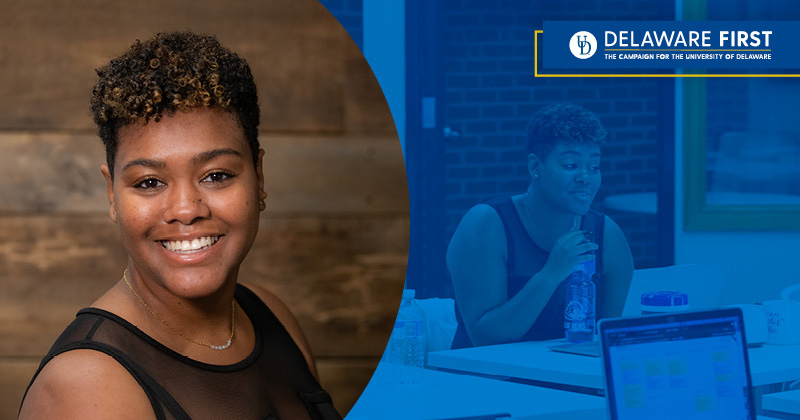 Delaware First: Cultivating an entrepreneur
Article by Christine E. Serio-Shively Photos by Lindsey Mix | Photo illustration by Heidi McDonough December 07, 2021
UD junior Lynn Roberts developed her entrepreneurial skills through donor-supported programs in Horn Entrepreneurship
Once a molecular biology major, Lynn Roberts' academic journey and interests took a drastic turn from science, technology, engineering and math (STEM) when she delved deeper into the University of Delaware's Horn Entrepreneurship.
"Starting in Horn was the biggest life game changer for me. It shifted my mindset and opened me up to a new way of thinking," said Roberts, who is now a junior majoring in global enterprise management with a minor in entrepreneurship and biology. "It was a big power shift in a way, helping me find freedom in what and how I work on projects."
Roberts' had the opportunity to really dive into the development of her startup, Common Grounds, during Horn's Summer Founders, a 12-week program designed for students with early stage startups to work on their ventures and receive a stipend, mentorship and education sessions. Common Grounds started as an event-based cultural catering service to help corporations expand their diversity, equity, and inclusion goals by utilizing companies owned by individuals from underrepresented groups while creating cultural connections in the community.
Roberts entered the developing company into Hen Hatch, UD's startup funding competition, and made it to the semifinals.
"During Hen Hatch, there was feedback about the sustainability of Common Grounds with a focus just on events and catering," Roberts said. "So I took that feedback, built off of the initial concept behind Common Grounds and pivoted to expand and develop Yuda."
Still in the beginning stages, Yuda is a platform where corporations can become members and startup vendors owned by diverse individuals can become providers. Company members use the platform to secure services ranging from professional development and community building activity leaders to caterers and event planners. The platform is meant to be a one-stop shop for all vending needs while allowing companies to support areas including, racial advocacy, LGBTQ+, gender equality, culture and environmental and sustainability.
"Yuda addresses the issue of large companies needing to meet diversity, equity and inclusion standards with vendors while giving small startups owned by people from underrepresented groups the needed connections in the companies," said Roberts. "So it's really about providing resources for corporations and visibility for smaller, diverse-owned vendors. It also holds company partners accountable for being true to their missions of supporting diversity, equity and inclusion."
Tate Rarick — who graduated from UD in 1993, served as a Hen Hatch judge and Horn Advisory Board member — said he was impressed by Roberts' flexibility and initiative.
"The fact that Lynn took the feedback on Common Grounds from the Hen Hatch competition and pivoted to Yuda, shows she has learned some key lessons in the environment of continuous improvement — not just to stick with one idea, but to take the feedback and adapt to come back stronger," said Rarick. "Developing that mindset is beneficial for students regardless of whether or not they start their own company or go to work for an existing company. An entrepreneurial education really develops skills companies are looking for and not a lot of people have, teaching students how to create, to innovate, to creatively problem solve so they are getting a skillset that is useful to any company."
In addition to his hands-on involvement as an adviser, board member and other roles, Rarick and his wife have provided philanthropic support for various areas at UD through Delaware First: The Campaign for the University of Delaware, including several Horn programs like Summer Founders. He said he believes the summer program gives students like Roberts a unique opportunity to live the everyday life of an entrepreneur.
"Summer Founders gives students a chance, aside from distractions from schoolwork, to really move their venture forward and gives them exposure to what it's really like to be an entrepreneur full time," Rarick said. "There are not many periods in life when you can do that — take two to three months to solely work on your venture and take an idea to the next level. Whether they're researching customer response, ways to generate more revenue, etc., it's really a living laboratory giving them substantial time with resources behind it."
Roberts agreed that the Summer Founders program has been instrumental in her academic journey. In addition, she is part of Delaware Innovation Fellows, following an individualized course of study to develop her passions, creativity and entrepreneurial mindset. Roberts is feeling prepared for life after UD through the coursework and her internship at BioTek reMEDys, a company led by another Horn supporter, UD graduate alumnus and Board of Trustee member, Chai Gadde.
"The lessons I am learning every day give me the freedom to follow a path of innovation and entrepreneurship," Roberts said. "I see myself eventually starting my own company or working on an innovation team, preferably on a global scale."
To learn more about the program, read the Horn Entrepreneurship website. To support the entrepreneurial programs, read about making a gift.
About the Campaign
Delaware First: The Campaign for the University of Delaware was publicly launched on Nov. 10, 2017. The comprehensive engagement and fundraising campaign unites Blue Hens across the nation to accelerate UD's mission of cultivating tomorrow's leaders, creating solutions to grand challenges, inspiring innovations and transforming lives. The united effort will help create an extraordinary student experience at UD and extend its impact on the region and the world.
Building on the record-breaking support and generosity evidenced by the Campaign, on Oct. 7, 2021, the University announced the extension of Delaware First with a $1 billion goal to further fuel change and innovation for students, faculty, campus and the world.
For more information, call 302-831-2104 or email campaign-info@udel.edu.