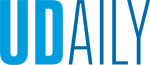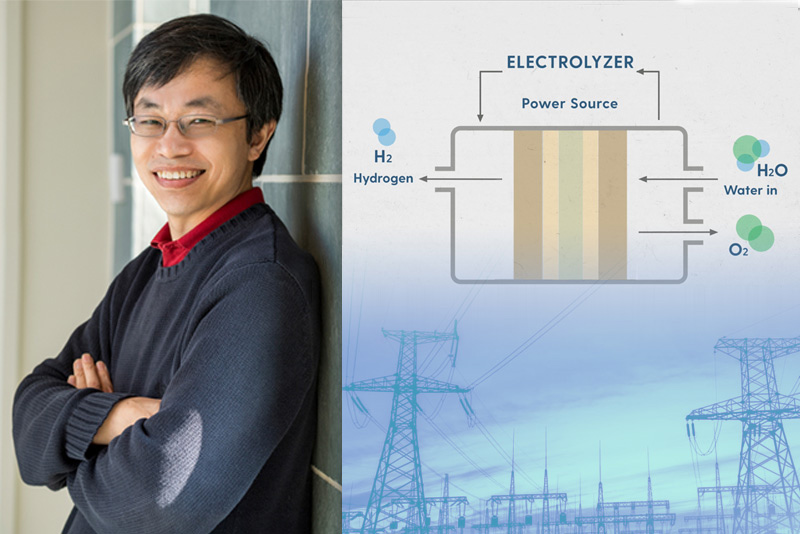 Green energy technology
Article by Karen B. Roberts Photo illustration by Jeffrey C. Chase, photo courtesy of Colin Post April 20, 2021
UD spinoff selected for Shell GameChanger Accelerator program
It's no secret the carbon emissions that result from using fossil fuels to produce energy are problematic for the planet.
One way to make a dent in reducing these greenhouse gas (GHG) emissions is to find renewable ways to power the American manufacturing industry, which today is largely fueled by petroleum and natural gas.
According to the United States Environmental Protection Agency, industry currently accounts for about 22% of total GHG emissions in the U.S. Left unaddressed, the American manufacturing industry is on track to become the largest source of GHG emissions within the next 10 years.
So, how to fix the problem? Power the industry with sustainable green hydrogen.
As Earth Day approaches, a promising startup that grew out of University of Delaware research is on the cusp of making this possibility a reality.
Versogen, a UD spinoff company led by Professor Yushan Yan, is one of three startups selected for the fourth cohort of the Shell GameChanger Accelerator (GCxN) program.
GCxN is a collaborative effort between Shell's incubator program, Shell GameChanger, and the U.S. Department of Energy's National Renewable Energy Laboratory (NREL) to "advance emerging clean technologies with the potential to dramatically alter the future global energy landscape." The highly selective program provides participating companies with access to financial resources, including up to $250,000 in non-dilutive funding, state-of-the-art facilities and world-class technical experts.
Versogen, formerly known as W7energy, grew out of federally funded work by Yan, the Henry B. du Pont Chair of Chemical and Biomolecular Engineering. That UD research led to patented membrane technology with the potential to advance more affordable fuel cells and clean hydrogen production, among other things.
Today, the Versogen team is leveraging the technology to decarbonize heavy, hard-to-abate industries by producing low-cost green hydrogen at scale using a new class of low-cost electrolyzer technology they have developed.
Electrolyzers are units that break water down into its chemical components using electricity. Versogen's device uses the UD-patented membrane and earth-abundant materials to make hydrogen directly from water, eliminating the carbon dioxide left behind as a byproduct in current systems. The electricity required to catalyze, or spark, the reaction is generated from wind and solar, too.
Yan said the team's device has the potential to substantially reduce industrial carbon emissions in an environmentally responsible way.
"The company's latest expansion into electrolyzers is driven by the fast-growing business opportunities in green hydrogen for deep decarbonization of sectors of our economy beyond transportation," said Yan. "Our cohesive team shares a vision to become the global leader in leveraging the sustainability and versatility of hydrogen to achieve a carbon-neutral society."
Paying it forward
Versogen is located at Delaware Innovation Space at the Experimental Station in Wilmington, Delaware, the business incubator that is a public-private partnership of the state of Delaware, DuPont and UD. In addition to Yan, the startup has 11 employees, many of whom are Blue Hens.
The UD connections don't stop there. Colin Post, a senior mechanical engineering major with an interest in sustainable energy technology, is one of three UD undergraduate interns working at the company. Harrison Chuma, a senior chemical engineering major, and Garrett Moran, a senior chemistry major, also are interning with Versogen. Both Post and Chuma are in UD's Honors College.
As an intern, Post is exploring ways to improve the processing of the polymer membranes for which Versogen is known. For example, he recently built a filtration station to efficiently remove micron-scale particulate matter from the polymer material before it is turned into a membrane. Post will join Versogen full-time in June after graduation, and he will focus on improving the efficiency and reliability of the membrane casting process as the company continues to scale up production.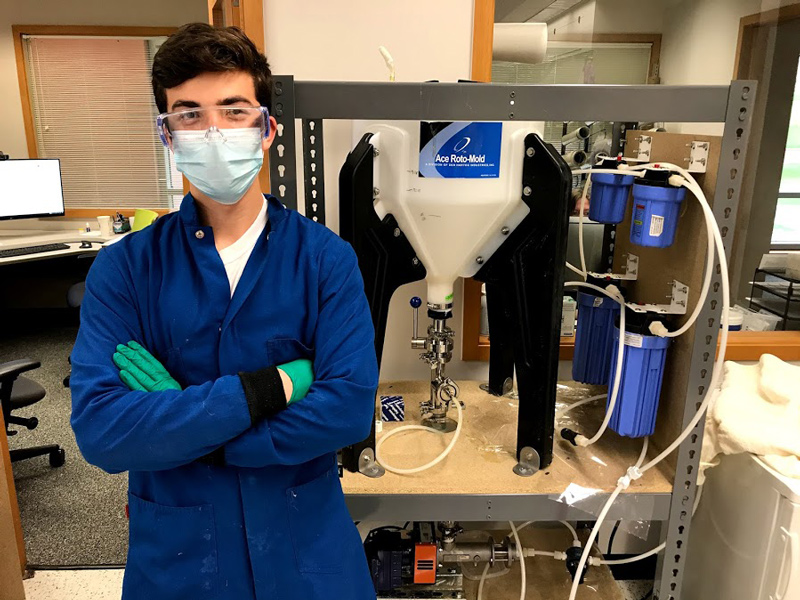 Throughout his childhood, Post said his parents, teachers and his active involvement with the Boy Scouts impressed upon him the importance of reducing, reusing and recycling wherever possible. Working for a company whose mission directly addresses climate change has been a goal for Post since he learned about renewable energy.
"Developing clean energy technology is necessary if we want to combat the effects of climate change on a global scale," said Post, who also is pursuing a minor in integrated design. "I am convinced that [green hydrogen] has the potential to drastically help in our pursuit to cut down on carbon emissions."
He credits his UD experience and the University's "many great professors" for preparing him for this next chapter in his career journey, including Jenni Buckley, mechanical engineering associate professor, and William Fagerstrom, an adjunct mechanical engineering professor in the department.
"Dr. Buckley has done an awesome job incorporating useful projects into the mechanical engineering curriculum that directly apply to the real world, and Dr. Fagerstrom's Manufacturing Processes and Systems class introduced me to the world of production in a manageable way that I have already been able to put to use," he said. "I will be sure to give all my effort to this opportunity in order to help enable a green hydrogen society."
Meanwhile, Yan's research group at UD continues to actively work on fuel cells, building on the team's nearly 20 years of research in the field. He continues to push forward other technologies, too, including methods for removing carbon dioxide directly from the air, known as direct air capture, using his group's patented membrane technologies.