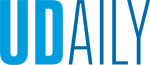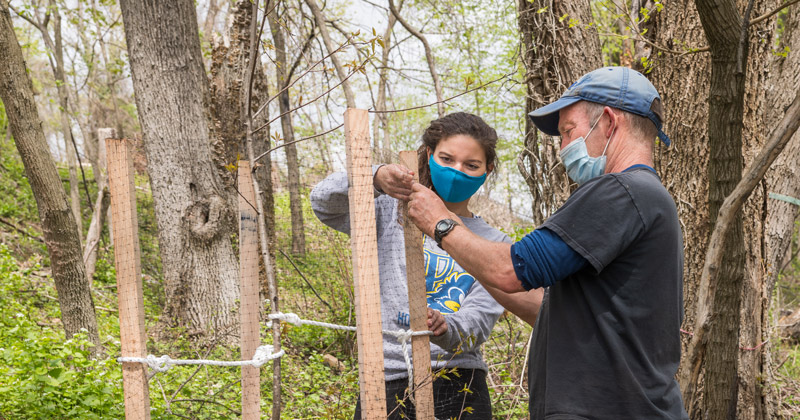 A green sanctuary
Article by Ann Manser Photos by Kathy F. Atkinson April 20, 2021
UD volunteers help transform dying urban forest into Peace Park
Efforts to revitalize a 10-acre tract of dying and ecologically compromised woods in southwest Baltimore have been described in a variety of terms in recent news articles, from the spiritual ("Our Earth is a gift from God," says the pastor whose church owns the land) to the scientific ("What we're trying to build is a climate-adapted, resilient forest," according to a U.S. Forest Service researcher).
For church and community members, the project that is transforming a damaged landscape into a peaceful and restorative green space has become a way of combating years of the kinds of environmental neglect that are common in many low-income and African American neighborhoods.
All those perspectives are shared by University of Delaware Prof. McKay Jenkins and his students who have been involved in the creation of Stillmeadow Peace Park. But for them, the project has also become an opportunity to learn firsthand about ecology and environmental justice while helping a community address both those concerns.
"The focus of the project is on environmental stewardship of the land, so this is a social as well as an ecological project," said Jenkins, who is Cornelius Tilghman Professor of English and directs UD's environmental humanities minor. "The ecological principles of diversity and restoration and balance apply to social conditions as well."
Jenkins learned about the church, Stillmeadow Community Fellowship, and its plans to revitalize its woods through an interfaith group. He began volunteering in the early stages of the project and has been inviting UD students, from classes such as environmental journalism, environmental justice and environmental humanities, to join in. The restrictions imposed since early last year by the coronavirus (COVID-19) pandemic have made arranging transportation for the students more difficult, but the work itself — with volunteers spread out over a large outdoor area and wearing masks when needed — has been able to continue, and many students are enthusiastic participants, Jenkins said.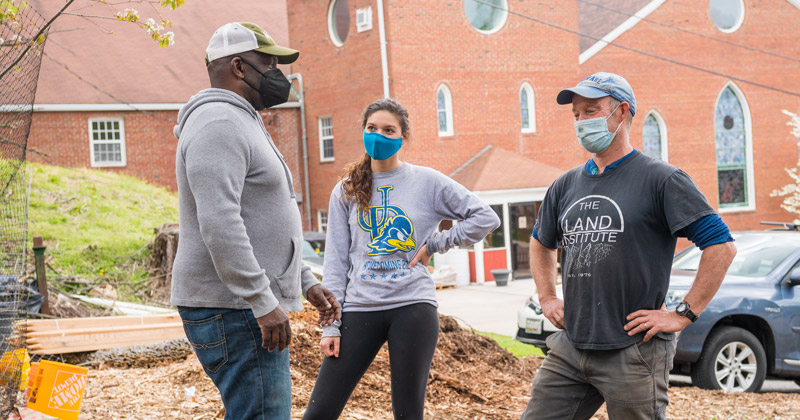 The Stillmeadow church's partners in the restoration work are the U.S. Forest Service, which is the lead agency, as well as UD's Environmental Humanities Program, Blue Water Baltimore, Interfaith Partners for the Chesapeake and other nonprofits and universities.
Work began about two years ago, when church members, community residents and other volunteers began clearing out trash that had been dumped in the wooded area. Fruit trees were planted for free picking by neighbors. The volunteers then moved on to removing the tangles of English ivy, bamboo and other invasive species that had overgrown the property.
For the Forest Service, the project is a pilot that the agency hopes will serve as a model for restoring other degraded urban forests. Researchers say that increasing the number of healthy trees in an area can improve residents' health and lives in many ways, from better air quality to a reduced risk of local flooding.
Some 60% of the trees in the Stillmeadow tract were ash, a variety that has been decimated across the U.S. by a destructive beetle known as the Emerald ash borer. Forest Service workers cut down dead and dying trees, and volunteers helped haul away the logs and debris.
Now, fast-growing willows and poplars — special hybrids designed to shoot up 6 feet a year — are being planted in an area protected by new deer fencing the volunteers have installed. The goal is an urban tree nursery of 3,000 plants that will serve forests throughout the city.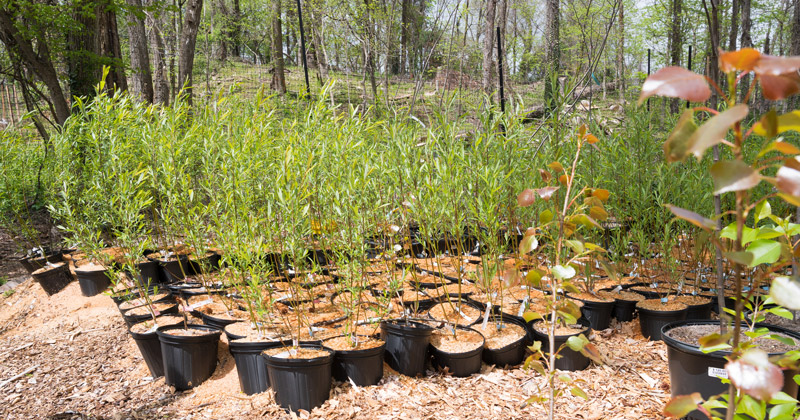 For the church, the restored area will feature walking trails, prayer circles and meditation stations, with the aim of providing a peaceful oasis of green space where visitors can enjoy the Peace Park's stream, pond and wildlife.
"We all know from research that problems such as asthma, poverty and heat islands [pockets of especially high summer temperatures] all connect to the amount of tree cover in an area," Jenkins said. "Having a renewed urban forest serves multiple purposes. People in the community here and the volunteers are all learning from each other, and everyone's awareness has increased about the importance of this kind of green space."
Students who work with the project describe it as educational, empowering, rewarding and — most importantly — an opportunity to meet church members and neighbors, including local teens and young adults, who are working hard and guiding the plans for what the park will offer.
"This park is 100% for the community, and I really see it bringing a positive energy to the city," said Sophie Phillips, a public policy graduate student who at UD is conducting research on ways that national and state parks can foster more diversity and inclusion for visitors and employees. "It will give the community a place they can go to get some fresh air, a place to participate in really awesome events and a place to learn about the environment. … This could even raise awareness of job opportunities for people of color in environmental fields, which are currently lacking in minority staff."
Val Gould, also a graduate student in energy and environmental policy, has focused their academic work on environmental justice and is writing a master's degree thesis on the Stillmeadow Peace Park and its location in the Irvington neighborhood of Baltimore.
"The neighborhood will have an accessible green space that is healthy and provides numerous opportunities for fellowship, entertainment, healing and education," Gould said. "It is my hope that the Peace Park will continue to bring Irvington residents closer together and empower the community to fight and unite against the systems that leave their neighborhood under-prepared to meet future challenges."
Another active UD volunteer, Grace Hussar, is a junior with a major in environmental studies and a minor in environmental humanities, who took a class taught by Jenkins in environmental literature. When she looked for new opportunities for hands-on experiences, she said, she found that Stillmeadow offered "the perfect combination" of environmental fieldwork and community interaction.
And, she said, she expects work at the park to continue to involve and inspire residents and volunteers on an ongoing basis.
"The goal of restoration work is to positively impact the environment and get things back on the right track," Hussar said. "The great thing about it is that it's a process, one that can and should span across generations as a collaborative effort."
More environmental justice projects
Other UD faculty members and students are continuing to work on a variety of issues related to environmental justice and the rehabilitation of areas that have been affected by such factors as industrial pollution, flooding and environmental neglect.
Projects include:
Jon Cox, assistant professor of art and design, and faculty members from other departments and colleges have been working with the Lenape Tribe of central Delaware on several projects, including the recent cleanup of a quarter-acre plot of tribal land near Cheswold, Delaware, that had been used as a dumping ground. Volunteers from UD and the community also removed invasive plants from tribal land known as the Fork Branch area, and plans call for College of Agriculture and Natural Resources students to be involved in helping to design a proposed community center and outdoor recreation area.

In South Wilmington, Victor Perez, associate professor of sociology, has long been part of community efforts in the Southbridge neighborhood to alleviate damage from pollution and flooding, made worse by sea-level rise. Now, a wetland has been restored in Southbridge, and the city plans to complete a park this summer to provide a green space for residents and help control flooding. Perez said he hopes to involve students in continuing research into what community residents want and the policies that can be in place to protect them from being displaced by what is called "green gentrification" of an area.

Perez is also the author of a chapter on environmental justice in The Delaware Naturalist Handbook, used by students in UD's new Delaware Master Naturalist Program. Blake Moore, an extension agent in natural resources who's leading the program for Cooperative Extension, said organizers were committed to having environmental justice included in the core training for the Delaware program. As the program develops and COVID restrictions ease, certified Master Naturalists expect to be involved in a variety of environmental justice issues, he said.