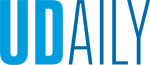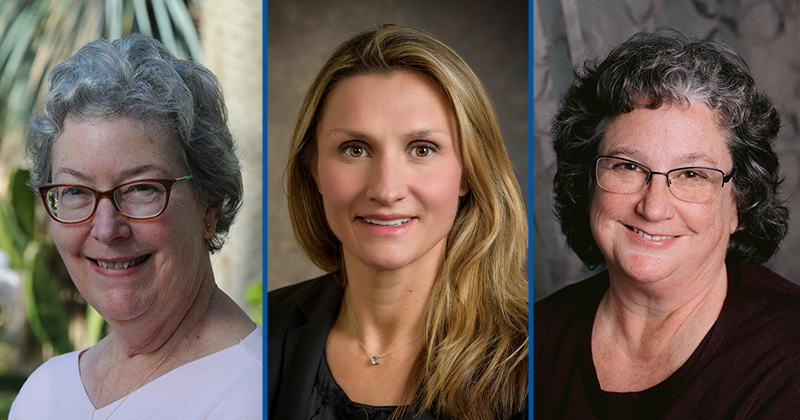 Ratledge Family Awards
Article by Diana Simmons Photos by Office of Communications and Marketing May 12, 2020
Gregory, Karpyn, Pippidis are recognized for service to the people of Delaware
The Ratledge Family Award for Delaware Public Service has been presented to three members of the University of Delaware community — Nancy Gregory, Maria Pippidis and Allison Karpyn — for their contributions to the well-being of the people of the state of Delaware.
Nancy Gregory
Nancy Gregory retired from UD in January 2020 after 26 years working in the Department of Plant and Soil Sciences and the UD Cooperative Extension. She served as director of the UD Plant Diagnostic Clinic which is affiliated with the National Plant Diagnostic Network (NPDN). Gregory holds a bachelor's degree in biology from Gettysburg College and a master's degree in plant pathology from Penn State University.
Over the course of her career, Gregory taught classes on fungi and plant disease, gave master gardener training, and addressed professional gardeners and clubs. She worked in cooperation with Delaware Department of Agriculture and USDA/APHIS on pest detection, helped create Delaware's plans for pest emergencies, and assisted Delaware clients with solutions for 600 plant samples each year.
Gregory served the NPDN as secretary, then chairperson, for the database committee review of pest entries used by universities, the USDA and the American Phytopathological Society. She led the Farm Bill "One Standard Name for Fungi" project and facilitated regional meetings of the APS Potomac Division and yearly NJDelMarVa plant pathology meetings.
Gregory has been a co-author on numerous publications and served on the CANR Greenhouse Advisory Committee. She has been active in the Delaware Nursery and Landscape Association, Delaware Invasive Species Council, Delaware Christmas Tree Growers Association, Branches to Chances through Delaware Center for Horticulture, Regional Women in Agriculture and the American Cancer Society's Reach to Recovery program.
Allison Ouellette-Karpyn
Allison Ouellette-Karpyn is interim director of the Center for Research in Education and Social Policy (CRESP) and associate professor of Human Development and Family Sciences at UD. She holds a doctorate in policy research, evaluation and measurement from the University of Pennsylvania and a bachelor's degree in public health from Johns Hopkins University. Her current research efforts include the study of food deserts, corner store programs in urban areas and in-store marketing approaches in supermarkets to promote purchase and consumption of healthier options, as well as support for the University's own community engagement evaluation.
Prior to joining UD, Karpyn served as the director of research and evaluation at the Food Trust in Philadelphia for 11 years. Because of her background in public health, and community practice, Karpyn is committed to informing policy and practice with rigorous mixed-method research designs and working to improve the translation of research to practice.
Karpyn is a supporter and leader of the University's civic engagement and community partnership efforts and serves as an active member of the University's Community Engagement Council. Locally, Karpyn served as a founding board member of Conscious Connections Inc., a community gardening effort located in one of the most disadvantaged areas of Wilmington which has worked with youth to garden four separate plots of land. She supported the development and implementation of a LIT crew initiative intended to help youth, through comic book development and local street art, to learn how to talk to peers about the dangers of tobacco. As part of a recent collective community impact project, Karpyn worked with residents and community partners to expand the work conducted at the Brandywine Zoo to health partners at Westside and the Food Bank, and farmers markets to develop a new cooperative model to promote healthy food to children using animals as examples of healthy eaters.
Maria Regina Pippidis
Maria Regina Pippidis has worked for UD Cooperative Extension since 1992 as an extension educator in family and consumer sciences. She is a Northeast Extension Leadership Development graduate. She holds a master's degree in family resources management and consumer economics from Cornell University and a bachelor's degree from UD in consumer economics.
Currently, Pippidis provides statewide, research-based financial management educational programming (money management, health insurance, retirement planning and consumer education) through community workshops, webinars and professional training. She has trained and managed volunteers across the state who support foods and nutrition education and offers programming in food preservation and food safety.
Pippidis has conducted National Issues Forums and offered programming in leadership, facilitation and conflict resolution. She partners with numerous community organizations such as the Delaware Money School, Department of Agriculture, Delaware Council on Gambling Problems, and New Castle County government to implement impactful programs. Pippidis serves on state, regional and national extension committees, and since 2006 has served as New Castle County extension director and member of the statewide leadership team. She is an Accredited Financial Counselor, Financial Fitness Coach and Certified ServSafe instructor and said she believes in the goodness of people, striving to build programming and relationships assisting them in becoming their best selves.
About the Ratledge Family Award
The Ratledge family, Delawareans who can trace their roots to the 1700s, established the award to encourage and recognize significant public service contributions with an award of $1,000 to recipients.
Recipients of the award must be members of the UD community. Faculty, staff and students are eligible.
Preference is given to members of the Biden School of Public Policy and Administration and the College of Agriculture and Natural Resources.
The award is presented to those who exemplify excellence in public service to citizens in the state, and those contributions are defined to include both paid and volunteer work.