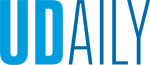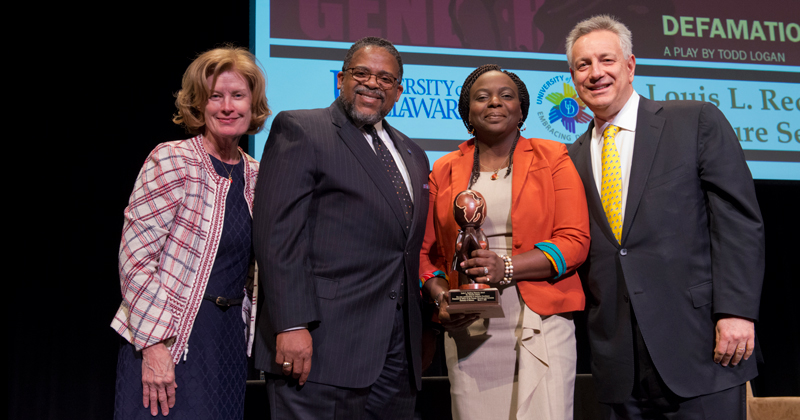 Louis L. Redding Diversity Awards
Article by Brooklynn Hitchens Photos by Lane McLaughlin May 07, 2020
Oyenike Olabisi and Melissa Lewis honored for commitment to diversity and inclusion on campus
Oyenike Olabisi, assistant professor in the University of Delaware Department of Biological Sciences, and Melissa Lewis, a UD undergraduate student, were each honored with the 2020 Louis L. Redding Diversity Award for their exceptional commitment to diversity and inclusion on campus.
The awards were presented by UD President Dennis Assanis, Provost Robin Morgan and Interim Vice Provost for Diversity and Inclusion Michael Vaughan at the annual Louis L. Redding Lecture held this spring in Mitchell Hall. (The event was held before the coronavirus (COVID-19) pandemic prompted the need for social distancing and the shift to remote learning and working.) The award was created to recognize individuals or teams whose efforts have promoted, enhanced or implemented diversity programs or activities that have resulted in a significant change in the campus climate and composition within the University community.
Oyenike Olabisi was honored for her work to promote and implement new initiatives for recruitment, retention and mentoring of underrepresented and first-generation students in STEM. Among her many achievements, Olabisi has been instrumental in the establishment of the Patricia DeLeon Undergraduate Research Award, a new initiative that will provide underrepresented students with the opportunity to engage in biological research.
In 2019, Olabisi wrote a competitive extramural grant application and secured $200,000 in funding from the U.S Department of State for the Mandela Washington Fellow Young African Leaders' Initiative (MWF-YALI) Leadership in Civic Engagement Institute at UD. She served as the academic director for 25 fellows from over 20 different countries in sub-Saharan Africa during their six weeks of residency at UD.
"I've been deeply moved by Dr. Olabisi's numerous initiatives to improve learning experiences for all of our students, promote inclusive practices on campus, and influence the national conversations in science education," said Ramona Neunuebel, assistant professor in the Department of Biological Sciences, in her nomination letter. "Her energy, focus, and drive have been inspirational, and I see her as a role model not only for students of color who aspire to successful careers in science and medicine, but also for research faculty like myself who want to implement culturally-aware mentoring for the next generation of scientists."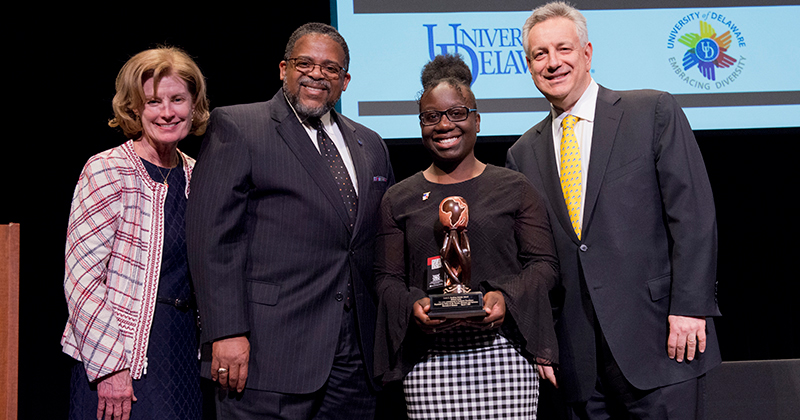 Melissa Lewis, a junior majoring in elementary teacher education, received the award for her promotion of racial and cultural awareness regarding issues of diversity and social justice in the classroom and extracurricular activities. As President of ASPIRE, a student-centered program committed to educators from diverse backgrounds, Lewis works directly with underrepresented members of the UD community, helping them become confident and successful teachers. She holds this position while balancing an 18-credit course load, a 20-hour work schedule and other academic and extracurricular commitments.
Lewis also holds a Spanish minor and is conducting research on English-language learners whose first language is Spanish, a consistently underrepresented and understudied population.
"Ms. Lewis is a remarkably thoughtful, goal-oriented student," said Stephanie Del Tufo, assistant professor in the College of Education and Human Development, in her nomination letter. "In my EDUC210 class, she excelled, consistently demonstrating an ability to think and communicate analytical questions regarding the integration of racial and cultural awareness in the classroom. These questions are a natural extension of her focus on inclusive learning."
The Louis L. Redding Lecture
The Louis L. Redding Lecture Series was developed by the Office of the Vice Provost for Diversity and Inclusion to remember the first African American attorney admitted to the Delaware Bar in 1929. A world-renowned civil rights advocate, Louis Redding led the 1954 U.S. Supreme Court case of Brown v. Board of Education. In this landmark case, he argued that issues of race and class were still embedded in American culture.
This year, the Defamation Experience headlined the lecture. The Defamation Experience is a three-phase, interactive diversity program that explores the highly charged issues of race, class, religion, gender and the law. Featuring a riveting courtroom drama by award-winning playwright Todd Logan, the premise is a civil suit in which an African American female business owner sues a Jewish male real estate developer for defamation. Guided by legal defense for both the defendant and the plaintiff and a judge, the audience gets to hear both "sides" of the story.
The twist of the Defamation Experience is that the audience is part of the performance, playing the jury in the case. The audience is asked to adjudicate and then "vote" on which person has the most compelling case based on the depositions presented. The program is followed by a facilitated discussion where the performers engage the audience on how and why they made their decisions. The experience is intended to generate honest conversation and challenge people's preconceived notions about race, class and religion, leading to greater empathy and understanding about different lived experiences.
"The Defamation Experience brought a fresh perspective on issues of diversity, equity, and inclusion," said Vaughan. "The themes derived from the program are parallel to the University's guiding principle of inclusive excellence and our commitment to fostering a climate of fairness, civility, dignity and equity on campus. Its interactive format allowed UD faculty, staff, students and members of the general public to ask tough questions and hear the viewpoints of others, which is critical because we all have very unique and diverse life experiences, cultural perspectives, identities and backgrounds."