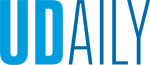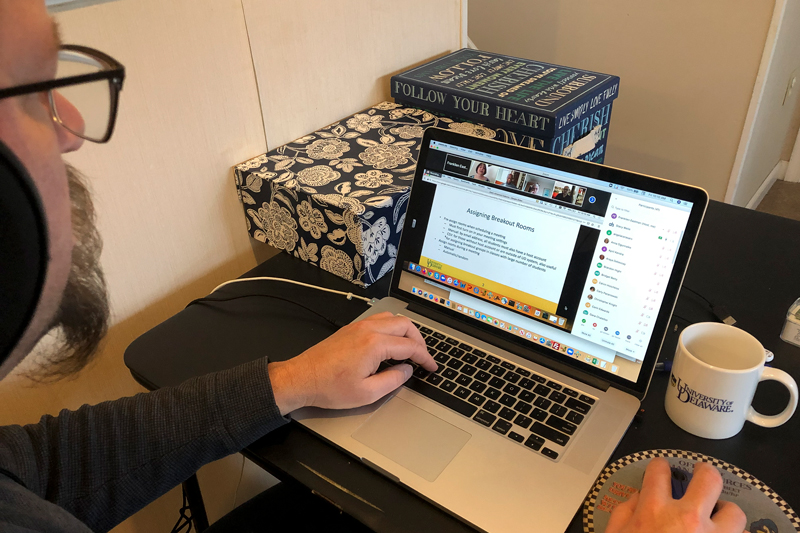 How to teach remotely
Article by Diane Stopyra Photo by Asli Eastman March 29, 2020
UD and other universities are moving to online classes as coronavirus spreads
Compare online classes to lobsters. For years, they were distrusted and/or reviled. Now, they're refined and in high demand.
Why the 180-degree turn? That's down to research in the field — academic leaders have cracked the code on engaging online learners while delivering content in meaningful ways. And never have these pedagogical advancements been more important.
With the spread of coronavirus, schools around the world are transitioning to remote teaching. To reformat their curriculum for the online classroom, University of Delaware professors have joined forces with multiple units across campus. The collaboration includes Faculty Commons, the Department of Information Technologies' Academic Technology Services, Professional and Continuing Studies and the Center for Teaching and Assessment of Learning (CTAL), to name a few. This website has detailed information for faculty.
"What drew me to UD was this sense of community," said Matthew Trevett-Smith, director of CTAL. "There's a sense of: 'We're all in this together, and we'll do whatever we can to create a positive learning experience for our students.'"
UD's commitment to institutional support of faculty during this transition won't end when classes resume after spring break on Monday, March 30. Rather, University departments will continue to assist with course design and online delivery throughout the semester (more on that below).
As part of this effort, we have distilled helpful pointers from around campus into five major tips for virtual instruction.
They apply whether online teaching is your passion or — like lobster — more of an acquired taste.
Humanize the course: Online classes have earned a reputation as cold and mechanical, but it doesn't have to be this way — virtual professors can still have a voice, a personality and a face. Experts recommend creating a short introductory video orienting students to their new online classroom and reinforcing that everyone is in this together. "It's okay to admit this is new territory for you," said Nancy O'Laughlin, learning management support manager with Academic Technology Services. "The students will respect it." Stumble over a word or two? Better leave that in. This will reinforce your humanity while giving your students tacit permission to speak spontaneously during their own online chats. Besides, no one is expecting any faculty member to be a video-editing whiz. In fact, it is best to avoid over tech-ing Canvas, UD's learning management system . Resist the urge to, say, add special effects or create a custom homepage right off the bat. "Since so many students will be new to online learning, minimalism is probably the best approach," said Trevett-Smith. "This will allow for uniformity between courses."
Communicate, communicate, communicate: And then, communicate some more. In a typical, face-to-face classroom, instructors are privy to non-verbal cues — say, looks of confusion or frustration that indicate more explanation of a task or assessment is needed. Online, you don't necessarily have this advantage, but you can make up for it by being clear, explicit and heavy on the details. Up front, articulate what your expectations are and how the course may have changed since moving online. And, for each assignment, be effusive with instructions and examples — you might consider, for instance, sharing sample work from previous Blue Hens who earned top marks. Also, let students know you are available for questions. Set reliable virtual office hours and open a section of the course site where they can submit concerns — big or small — 24 hours a day. Let them know you will check that section at least once a day during a specific time frame — and follow through. Such open communication will not only help with collective understanding of course materials, it will also help reassure students: "The remainder of the semester will be different," Trevett-Smith said. "But not less than."
Engage...meaningfully: Generation Z students are used to digesting material in a digital format, and you can use this to your advantage. Provide content — such as slides or a recorded lecture — ahead of synchronous course time. In other words, provide content before convening students all at once via Zoom, UD's video conferencing software. Research shows, according to Trevett-Smith, students will view this lecture up to five times before their virtual class period. And this frees synchronous time for a deeper exploration of the material. Pro tip: In these sessions, "be overemphatic," Trevett-Smith said. "If you typically use small hand gestures, use big hand gestures. If you typically use small vocal changes, use big vocal changes." Also, especially for students who might be craving it due to shelter-in-place orders, strive to create a sense of community. Breakout rooms in Zoom, which allow for small group discussions, are one way to achieve this.
Get help: Historically, one challenge of online learning — for both teachers and students — has been a feeling of isolation or loneliness. But you are not alone. Beginning in mid-April, Faculty Commons will host roundtable discussions every other Friday through Zoom. These conversations, open to all instructors, will focus on best practices and challenges related to online delivery. Other resources include training sessions and workshops offered by Faculty Commons as well as an online version of the Pearson Hall Welcome Bar. This is a Zoom meeting open between 8:30 a.m and 4:30 p.m. every weekday. Professors are encouraged to drop in to discuss with a consultant course-specific concerns. In addition, your colleagues are an invaluable resource — and sounding board. "A positive that has come from all this is that instructors are talking to one another about their courses in really powerful and meaningful ways," Trevett-Smith said. "Great things are coming out of this collaboration."
Be flexible: For the next few months, think of yourself as a pilot. This is the advice of Paul Hyde, a manager with Academic Technology Services. "The immediate emphasis is to transition to teaching remotely. As time permits, faculty may consider working through the full instructional design process to create an online course," Hyde said. "If you're on a plane traveling from destination A to destination B, on the map it might look as though you're moving in a perfectly straight line. But you're making adjustments along the way for meteorological conditions and other things. Teaching online is the same — you have to make adjustments along the way. It's not always a straight line." In other words, determining what is not working in the virtual classroom is just as important as determining what is, so be kind to yourself during this process. "Keep calm and teach on," said O'Laughlin. And remember: "You're going to be able to do this. You have the support in place. You're going to succeed."