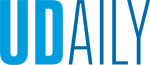 Road section temporarily closed on STAR Campus
Article by UDaily staff Photo by 1743 Holdings January 09, 2020
Construction project scheduled to last from Jan. 17 to April
A section of road on the University of Delaware STAR Campus, located just east of the water tower and west of the Health Sciences Campus, will be closed from Jan. 17 to approximately April 1, as part of a concrete removal project.

The project is being completed to ensure the safety of students, employees, tenants and guests to the STAR Campus and to protect the roadway infrastructure system. The project will primarily involve the breaking and removal of reinforced concrete building slab, underground foundations, tunnels, pits and trenches on the site.

Road closure signs will be placed in strategic locations to alert drivers to the situation. Other roads on STAR Campus will not be affected by the project.

For additional information, contact David Levandoski, associate director of 1743 Holdings, at 302-831-7502.