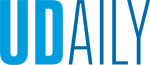 Amber Hikes, UD grad working for ACLU: youtube.com/watch?v=iomwZXuuFbs
Liberty and justice for all
Article by Artika Casini Photos by Evan Krape and courtesy of Amber Hikes | Video by Ally Quinn January 17, 2020
UD alumna Amber Hikes named first chief equity and inclusion officer for the American Civil Liberties Union
Amber Hikes is working very hard to put herself out of a job. She strives for the day when people who have historically been denied their civil rights and left out of leadership will gain their long-denied power, leaving her with no more dragons to slay or systems to dismantle.
But today is not that day. Tomorrow might not be either.
"Judging by the history of our country, and by our very significant institutional challenges, we have a long way to go before we've healed our wounds," says Hikes, a 2006 University of Delaware graduate and newly appointed chief equity and inclusion officer for the American Civil Liberties Union (ACLU).
Hers is the first position of its kind in the organization's 100-year history, giving Hikes the formidable responsibility of examining diversity and promoting equity within the ACLU and beyond. The ACLU was founded in January 1920.
The goal is a patriotic mission for Hikes, who says she believes in the power of the American people — with diverse perspectives and experiences — all working toward a "more perfect union," to borrow from the preamble to the U.S. Constitution. And in that crusade against systematic oppression and its layered, enduring legacy, Hikes is a formidable foe.
Two-and-a-half years ago, she was hired as executive director for the Philadelphia Office of LGBT Affairs, where she spent her very first days on the job addressing — and repairing — issues of racial discrimination in the city's so-called Gayborhood district. A few months later, she launched a "More Color, More Pride" flag, which added brown and black stripes to the LGBTQ rainbow and elicited an unexpected level of public vitriol. Indeed, the hate mail and death threats Hike received served as an ironic reminder of the struggle for inclusion.
Nevertheless, she persisted. Hikes would be elated to see actress Lena Waithe don the new flag at the 2018 Met Gala in New York, but she would continue her fight: strengthening anti-discrimination regulations, training city agencies and police cadets on LGBTQ competency, hosting community meetings, beefing up housing and mental health services, updating tax codes and terminologies in city paperwork, collaborating with police and prisons on gender issues, and most importantly, cultivating leadership.
Her Leadership Pipeline is a program aimed at diversifying board leadership in Philadelphia. "Beyond policy, advocacy, training, education, events, and everything else, I did not want to leave without creating a program to foster leadership in LGBT communities, which are profoundly diverse," Hikes says. "Philadelphia is 44% black — not 44% minority or people of color — but 44% black. Leadership in the LBGT community does not currently reflect that. It is not diverse by race, gender, gender identity, economics, educational attainment. There is a lot of room for growth."
And the pipeline program helped plant those necessary seeds for growth, achieving 100% board placement on LGBTQ organizations for all 20 members of the inaugural class.  
"Diversity is having voices at the table. Inclusion is making sure you're hearing those voices, and equity is making sure they have power to affect change," says Hikes, who was named 2017 Person of the Year by the Philadelphia Gay News, listed among the 100 Most Influential by Philadelphia Magazine and included in Out Magazine's 100 Most Influential People list.
Achieving true equity, she says, will require thoughtful and appropriate support from people at the helm of policy and decision-making. It will also require allies to both "move up and move back." 
"To move up means to recognize that there will be circumstances when people who share some of your identities (white women talking to other white women, straight men in conversation with straight men, etc.) say things that are harmful and violent to people who don't share your identity," Hikes says. "That could be in the boardroom, locker room, dining room, classroom, wherever, and it presents an opportunity to say, 'Hate has no harbor here. That is not okay to say in my presence.' If more people could do that, we would create safer spaces for marginalized communities. 
"To move back means to make more room for someone who hasn't had your same level of access. If not physically, then quietly pull back from a space and make sure your voice isn't the loudest in the room."   
Those are lessons she learned first at UD, where her late mother, Zenobia, served as a long-time administrator in admissions and academic affairs. Hikes was an English major in the College of Arts and Sciences. The younger Hikes credits UD's "safe, welcoming environment" with helping her come out as a queer woman, and she also recalls the underlying violence of racial rhetoric she witnessed as an upperclassman. "Not just mean words," she says, "but people throwing things or being harmed." 
But it was the administrative response — the immediate, corrective action of leaders who said, unequivocally, "UD is not a harbor for hate" — that stuck with her most.
"In a country like America, with a very complicated, challenging and painful history for marginalized groups, biased-based incidents happen," Hikes says. "They happen in communities, cities, suburbs, colleges. And it's really about what we do to address them. Seeing my professors and administrators and folks with power leverage their power to say, 'This is not what UD stands for' had a huge impact on me. It's really where my career in advocacy and activism began."