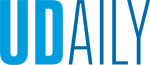 Working at UD
Article by Cindy Hall Photo illustration by Kathy Wheatley February 19, 2020
New collaboration, web page aim to increase engagement
Several departments at the University of Delaware have formed a collaboration to provide employees a more seamless, cohesive presentation of benefits and services and to increase engagement.
At the center of the effort is a new web page, Working at UD, that brings together information on campus events, courses, benefits and employee stories for a "one-stop" experience for faculty and staff.
Jared Aupperle, interim vice president for Human Resources said, "We are connecting all the unique advantages that working at the University of Delaware provides — a vibrant, stimulating campus environment, health and well-being benefits and tuition-free learning opportunities — to inspire employees to take advantage of all that we have to offer."
Employee-focused programming has expanded recently to provide more personal and professional enrichment opportunities. Employee Health and Wellbeing now includes workshops, conferences and "pop-up" experiences for financial education, mindfulness, stress management, employee recognition and creativity. Human Resources — in addition to its rich array of benefits — is adding more dynamic training and development. And the Office of Equity and Inclusion is providing education and resources to better equip employees to navigate a diverse landscape and strive for an equitable and inclusive campus community.
"We are looking to provide a fulfilling work culture with more opportunities for employees to feel connected to their colleagues and the campus community," said Beth Finkle, director of Employee Health and Wellbeing. "Engagement is an integral part of the employee experience and it starts by getting our employees the resources they need to be successful."
For further information, please visit: https://www.udel.edu/workingatud