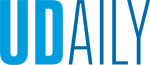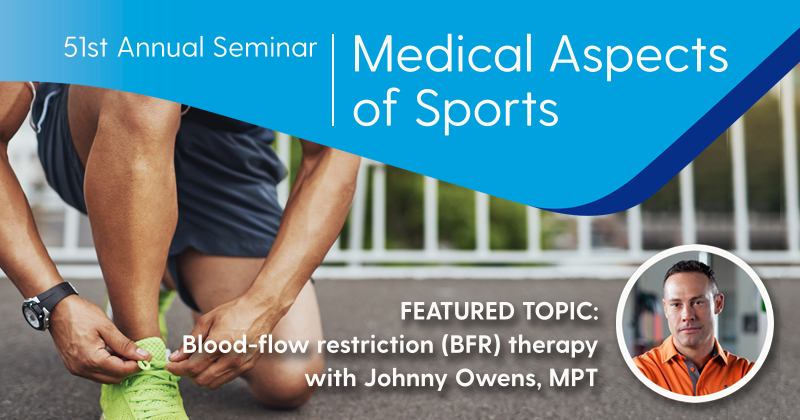 Medical Aspects of Sports Conference
Article by Nora Zelluk Photo of Johnny Owens courtesy of Owens Recovery Science February 25, 2020
New rehabilitation therapy to be discussed at sports medicine seminar
Nationally-known physical therapist and rehabilitation expert Johnny Owens will be a featured presenter at the University of Delaware's 51st annual Medical Aspects of Sports conference on Saturday, Feb. 29.
This year's seminar runs from 7 a.m. to 4:15 p.m., at the Tower at STAR on UD's Science Technology and Advanced Research (STAR) campus in Newark.
Owens, who pioneered the use of blood-flow restriction (BFR) therapy as a treatment for severely injured military service members, will deliver a hands-on workshop on BFR for postoperative muscle weakness.
Owens' game-changing rehab methodology has been featured in Sports Illustrated, 60 Minutes, Time magazine, Outside.com, ESPN and the Discovery Channel.
Therapy adopted at UD
UD recently adopted blood-flow restriction therapy as a standard treatment in both its Athletic Training Program and Physical Therapy Clinic, said Dan Watson, UD's senior associate director of sport performance, head athletic trainer, and director of UD's annual sports medicine conference.
"We were familiar with BFR," said Watson, "but last year we made a concerted group effort to evaluate the research and made a decision to adopt the treatment at UD in our clinical practice." A cohort of UD physical therapists and athletic trainers completed the Owens Recovery Science certification program last spring and have subsequently implemented the protocols in UD's physical therapy and athletic training programs with positive results.
The key benefit of the therapy lies in its applicability to patients who are too weak or injured to rebuild muscle mass through intensive weight training, the mainstay of conventional rehab protocols.
The treatment involves using a tourniquet-like system to restrict blood flow to targeted muscles, inducing an anaerobic environment that triggers muscle growth without stressing the injured joint or tissue. The technique has been in use since the 1970s as a form of resistance training, but Owens perfected it as a rehabilitation protocol at the U.S. Army's San Antonio Military Medical Center in his quest to find treatments for his patients with severe muscle injuries, including those who were in danger of limb amputation.
UD Physical Therapy Clinic
And while Owens' initial work focused on severely injured military service members and professional athletes, current research and practice is also showing benefits to other patients. "The benefit of regaining limb strength without having to over-stress a joint — for example in an older patient post-joint-replacement — is an exciting future direction for this therapy," said Watson.
"BFR has been a great addition to our clinical practice," said UD's Airelle Hunter-Giordano, associate director of clinical services for UD's Physical Therapy Clinic, assistant professor of practice in UD's top-ranked physical therapy program and part of the UD team who researched and implemented UD's adoption of BFR last spring.
"Sometimes we see cases of people with chronic pain or years of complicated histories, multiple surgeries and frustration," said Hunter-Giordano. "Prior to implementing BFR, it was often difficult to overload the muscle enough with traditional exercises to gain a strength response," she said. "For these individuals, we have seen a large impact with BFR rehab. People experience less pain while using this treatment and can finally gain the strength they need to return to their functional activities."
Sharing best practices
When the time came to plan UD's 51st Medical Aspects of Sports conference, Watson said he knew it was a great opportunity for UD to share its experience of adopting BFR rehabilitation and provide a hands-on introduction to the technique, along with other updates in sports medicine.
"We constantly try to listen to our audience," said Watson. "And as conference-goers ourselves, we want professionals from the community to be able to leave the UD event with new ideas and new knowledge that they can implement in their clinics."
As for BFR, added Watson, "It's the standard of care in the military, it's the standard of care in professional sports, it's the standard in top-tier rehab programs across the country, and now it's the standard here at UD. And by featuring it prominently at this year's conference, it's part of our mission to continue this event's 50-year legacy of providing a regional venue for sharing the best knowledge in our field."
Showcasing UD and region's expertise
"We also take a lot of pride every year in having our own alums return to UD and serve as experts at this event," said Watson. This year, Collin Francis, UD athletic training program alumnus and assistant athletic trainer for the Baltimore Ravens football team will discuss hydrotherapy rehab plans.
The Medical Aspects of Sports seminar is co-sponsored by UD's Intercollegiate Athletics Program and the College of Health Science's Department of Kinesiology and Applied Physiology, in cooperation with the Division of Professional and Continuing Studies. Other topics featured at this year's conference include injury prevention in overhead athletes, treatment for chronic exertional leg pain, Achilles tendinopathy and performance technology for injury prevention.
An interactive sports taping clinic is an annual feature of the program, with this year's demonstration clinic led by UD's Steven Browne, assistant athletic trainer.
This conference is recommended for physical therapists, team and family physicians, athletic trainers, coaches, fitness club personnel, and students or school personnel involved in physical education, recreation and physical fitness programs. The cost to attend the seminar is $215, with a group rate available for two or more registrations from one school, team or other organization.
Students are encouraged to attend this event. A student rate of $80 is available to all students, both UD students and students from other colleges and universities.
Evidence-Based Practice
This event is approved for 1.0 Evidence-Based Practice (EBP) credit and 7.0 Continuing Education Units (CEUs) to certified athletic trainers for completion of this program. UD is recognized by the Board of Certification, Inc. to offer continuing education for certified athletic trainers.
The program is also approved for physical therapy continuing education credits by the Delaware Examining Board of Physical Therapists and Maryland State Board of Physical Therapy Examiners (0.8 CEUs) as well as the Pennsylvania State Board of Physical Therapy (8.0 CEUs). Physical therapists practicing in other states should contact their state examining board to verify credit approval.
To register, or for more details about presenters and topics, continuing education credits or exhibitor opportunities, visit https://www.pcs.udel.edu/sports/.