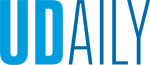 In Memoriam: Charles Rowe
Article by UDaily staff Historic photos courtesy of University Archives February 21, 2020
Campus remembers award-winning art professor
Charles A. Rowe, professor emeritus of art at the University of Delaware, passed away peacefully, surrounded by his family, on Feb. 10, 2020. He was 86.
An award-winning artist whose work was exhibited nationally and internationally, he taught at the University for more than 30 years, retiring in 1997 as professor emeritus.
In a 2016 UDaily article about being honored at the Delaware Foundation for the Visual Arts (DFVA) spring show, Prof. Rowe talked about his career, from an interest in art that began at an early age, through military service, higher education and a career as a commercial designer before deciding to teach at the college level.
His advice to students was straightforward: "I would let them know that while they might have a certain problem for which they did not know the answer, they would eventually solve it if they worked at it. If you say you 'can't,' it means that you have given up."
In the article, Prof. Rowe said his favorite artists included Rembrandt, Salvador Dali, Georges Seurat, Claude Monet, Vincent van Gogh and Andrew Wyeth. "All of these people were also great thinkers and inventors," he said.
"People ask me what I try to do," Prof. Rowe said. "My goal is to create something that will be understood in all countries around the world, forever."
Artist and mentor
Colleagues and former students have shared their reflections on his contributions to the world of art, the University and their lives.
Martha Carothers, professor of art and design and former department chairperson, said, "Charles was revered for his teaching of drawing, painting and illustration. He was known for his disciplined approach and attention to details. His airbrush and watercolor courses were very popular with students, both art majors and nonmajors. He developed a series of exceptional drawings as a result of his on-site observations at the ILC Dover manufacturing company in Frederica, Delaware. ILC makes space suits for NASA. Charles captured the human aspect of the suits with gestural three dimensionality and expressive line quality in charcoal/graphite."
For David M. Brinley, associate professor of art and UD alumnus, Prof. Rowe was a mentor. "During my time in his Illustration program in the early 1990s, Prof. Charles Rowe exposed students to the best artists in the field and taught us how to see," Brinley said. "He was experienced, and his reputation preceded him among the student cohort. Charles was strict but not harsh, a generous teacher who cared deeply about student success, establishing an enlightening class atmosphere and instilling a professional attitude. His sense of humor was cleverly embedded within his own work and can be seen in the many themes and elements of his surrealist paintings and juxtapositions. Whether it was illustration, painting, figure drawing or even his daunting Winter Session airbrush course, Charles taught the importance of striving to create your best work and to then have the courage to take it out into the world. Thank you, Charles, for inspiring so many of us and sharing your philosophy, knowledge and wisdom with students at such a pivotal age."
Another of his former students, Keith Heckert, who is now director of branding and trademarks in the University's Office of Communications and Marketing, remembers Prof. Rowe as a perfectionist. "I had Charles Rowe as my illustration professor, as well as airbrush and acrylic," Heckert said. "I recall in my acrylic painting class, Charles showed us about how much he enjoyed bright and clean colors. He sat down with his acrylic paints, each separated and not touching each other, and proceeded to dip the brush into one of the colors. He then lovingly laid it down on the paper. He then took the brush and completely cleaned it before dipping into the next color. His acrylic paintings were always bright and dimensional, due to not muddying up the color and really punching the highlights. One thing I always remember about Charles to this day is something he adamantly told us in Illustration class. He disliked us illustrating from photos because he felt it trained us much better to see highlights and shadows drawing from real life situations. When we didn't have access to the subject matter, we were allowed to use photos. He taught us when you are using multiple sources in a composition, you'd better make sure the lighting is coming from the same direction. People will notice and it hurts a legitimate work. I have noticed others' work that fails at this…like movie continuity."
Jeff Chase, senior art director in UD's Office of Communications and Marketing and another former student, said, "Prof. Rowe was a known taskmaster to all the illustration majors, yet he also opened doors to trying new media and incorporating technique. As a senior, in looking at a painting I'd made using a technique he showed the class, Charles urged me to do a series of watercolors using the specially prepared gouache ground. I did a series of animal portraits painted at a nearby zoo as a senior thesis, and we met regularly to review my progress. He was curious whether I'd truly observed the animals enough to do more than render a physical accuracy. He helped me to incorporate their habitat and behaviors and showed me the works of John Audubon. He even helped me figure out how to incorporate my songwriting and musical talents into a multimedia exhibit that served as a soundtrack. I stayed in touch after graduating and regularly had him review my portfolio my first few years out. I'm glad he always demanded our best and always made himself available for advice and critique. He was a mentor to me and was part of a UD faculty that inspired me to go on to teach and freelance."
Artist and UD alumnus Shawn Faust said Prof. Rowe made one thing clear: If you don't take your craft seriously as an artist, how can anyone else take your art seriously. "As an artist and educator myself, there is never a class I don't proudly share these encouraging words to my students," Faust said. "One of the fondest memories I have of Prof. Rowe was in 2008, when we were both exhibiting in the annual DVFA (Delaware Foundation for the Visual Arts) spring show. I remember, as I approached to greet him, after nearly 18 years since graduating, my entire body clenched up, as it regularly did when I was hanging my work for his critiques. Amazing, after all this time, I felt like it was yesterday. He extended his hand, with a great big smile and perfectly groomed beard and hair to match, he said, 'Great to see you Shawn.' 'Likewise, Prof. Rowe!' Then came the most unexpectedly calm words, 'Oh please, you can call me Charles.' I know it sounds silly, but it was silly enough to open the door toward a continued friendship. As I came to know Charles better, I realized that he was a very caring individual who dedicated his life to helping others, especially those who wanted to share in the very dreams that he was living as a professional artist. I came to understand that his demands for hard work and perseverance were no different than a doting father's dedication in protecting his children from the pitfalls of starving artists. The harder he pushed us, the more he showed his love for us. Tough love is the hardest to give, yet the most rewarding to receive. I am very grateful for Prof. Rowe's tough love."
Charles A. Rowe
Son of Alfred "Bud" Rowe and Alice "Ally" Ledbetter Rowe, he was born in Great Falls, Montana, on Feb. 7, 1934. He graduated from Great Falls High School.

His education began at Montana State University, followed by two years serving his country in Korea. He later attended Southern Methodist University before attending the School of the Art Institute of Chicago and the University of Chicago.
Prof. Rowe moved his young family to Newark, Delaware, in 1965 where he began his career on the art department faculty at UD. During that time, he completed his master of fine arts degee at the Tyler School of Art at Temple University. After over 30 years of teaching, he retired as professor emeritus in 1997.
His distinguished career included exhibiting his works in venues nationally and internationally. His artwork has been displayed in the Pentagon, the Smithsonian, the World Trade Center, the Library of Congress, the NASA Space Museum and the Louvre, with permanent displays at the C.M. Russell Gallery in Great Falls, Montana, and the State Justice Building in Helena, Montana, as well as many private collections. In 1976, Prof. Rowe was selected to exhibit with "American Painters in Paris," as part of the bicentennial celebration, and in 1981, he painted the Delaware Duck stamp.

He and his wife visited North Africa and South America, and travelled extensively throughout the United States and Europe, including a year in Spain.
His family noted that he was a man of great integrity, who loved his country and had a conviction to always do what is right. He was brilliant artist, a loving man and a gifted storyteller, who will be missed by all who knew him.
Prof. Rowe is survived by his wife of 61 years, Eugenia Dean Rowe; daughter Allison and her husband, Ed Norfleet, of Alpharetta, Georgia; son Jon and his wife, Cheryl Cutler Rowe, of Rocky Hill, Connecticu; daughter Dorian and husband, John Kleinstuber, of Bethany Beach, Delaware; and six grandchildren, Tyler and Lexie Norfleet, Megan and Caitlin Rowe, and Matthew and Mark Kleinstuber. He was preceded in death by his siblings Edithann Janetski, Robert Rowe and Ally Lou Baker.
A celebration of Prof. Rowe's life will be planned at a later date. Donations in his memory can be made to his favorite charity, Autism Delaware.
Condolences may be left online.