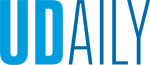 In Memoriam: David Sheppard
Article by UDaily staff Photos courtesy of University Archives and Roger Wagner August 03, 2020
Campus remembers retired biological sciences professor
David Elson Sheppard, retired associate professor of biological sciences at the University of Delaware, passed away July 28, 2020, in Glen Mills, Pennsylvania, from complications due to pancreatic cancer. He was 82.
Dr. Sheppard joined the UD faculty in 1967, teaching courses in genetics and biochemistry and conducting research in the area of the control of gene expression in bacteria. Recipient of grants from the National Science Foundation and the University of Delaware Research Foundation, he was coauthor of articles in the Journal of Bacteriology and Genetics. He also served on numerous department and University committees.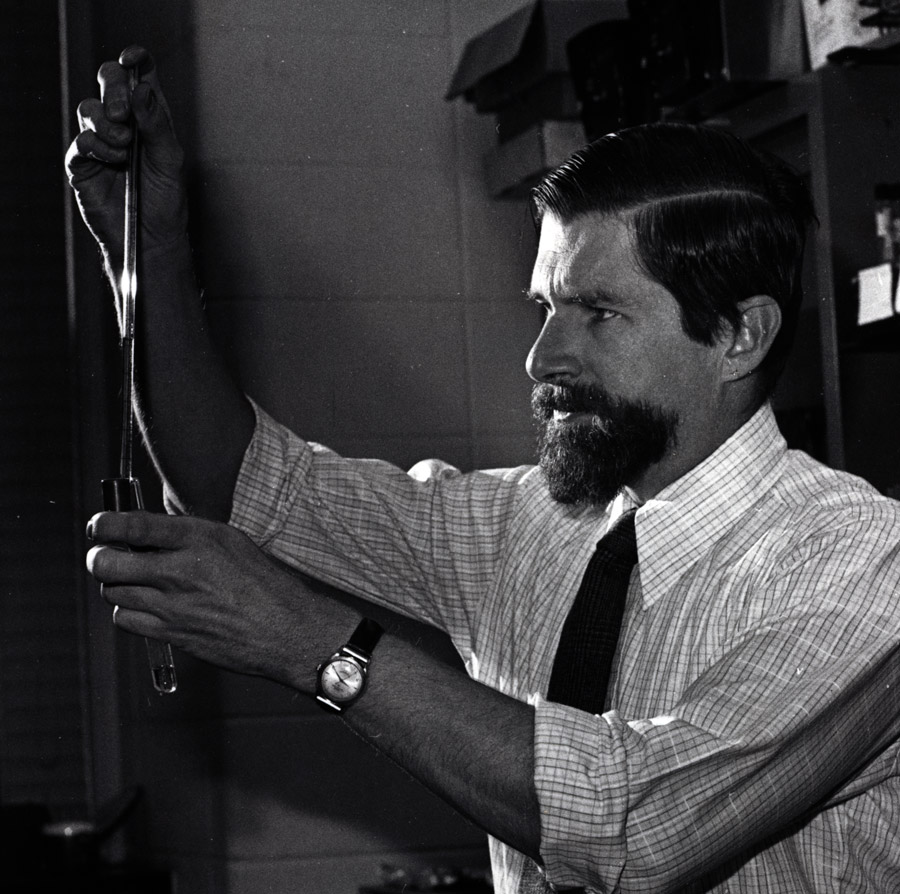 In 1971, Dr. Sheppard received the University's Excellence in Teaching Award, and his name is inscribed on a brick in Mentors' Circle, a landscaped area just west of Memorial Hall on UD's Newark campus that acknowledges faculty for their contributions to teaching excellence and mentorship of students.
Dr. Sheppard retired from UD in 2005.
Colleagues remember
Provost Robin Morgan called Dr. Sheppard's work on the bacterial arabinose operon "nothing short of outstanding." Morgan explained that "The ara operon was very unique and didn't follow the usual rules of the times. Dave had the courage and integrity to stand up for his results and present them with pride and dignity. Time proved him to be correct!"
Morgan, who previously served as chair of the biological sciences department, shared a personal story with members of the department upon learning of Dr. Sheppard's passing. "When Dave learned that I had never walked in Commencement at Johns Hopkins University, he generously gave me his original JHU academic regalia. I still have the Cotrell and Leonard cardboard box it came in, and I treasure this vintage piece very, very much. It remains to me one of the most special gifts I have ever received."
Roger Wagner, professor emeritus of biological sciences, said, "Dave Sheppard has passed and left a hole in the hearts and minds of all who knew him. He was an excellent and award-winning teacher and scholar of genetics. He contributed greatly to the design and construction of the then-new McKinly Laboratory. Dave was always the calm in the middle of academic storms and to my knowledge never spoke ill of anyone. He seemed to sense when someone needed encouragement and provided it gladly. I admire him most for his dedication to his wife, Gayle, during many years of infirmity. His loving care for her was a testimony to the character of this man.
"Dave was the center around which retired faculty and colleagues gathered for lunches  at the Scrounge and he rarely missed one of these gatherings," Wagner continued. "Until recently he was a man of robust health, felling trees in his back yard and splitting wood at our cabin in the Poconos. Dave was not a shallow man and thought deeply about things. We disagreed on many things but our loving friendship always prevailed. Dave would have been embarrassed about these things I have said about him since the last thing he would have wished would be the center of attention. God speed my good friend."
Linda Dion, instructor in biological sciences who retired from UD in 2014, said, "Dave was a wonderful colleague in the bio department. He was well respected for his research and teaching, and always gave thoughtful opinions when asked. When I joined the faculty in 1986, my office was right down the hall from his. My position in the department was just an instructor; but that did not prevent Dave from showing interest and respect, frequently dropping in to see how I was doing, or warmly receiving me if I walked down the hall to ask him a question. This kindness continued for the years I was in the department. To keep all of us retirees (and some nonretirees) in touch after Dave himself retired, he contacted us monthly to arrange a lunch; he made us all feel welcome in the group."
"Dave contributed enormously to the development of my career at UD and I am eternally grateful to him. May he rest in peace," said Patricia DeLeon, Trustees Distinguished Professor Emerita of Biological Sciences and Francis Alison Professor.
David E. Sheppard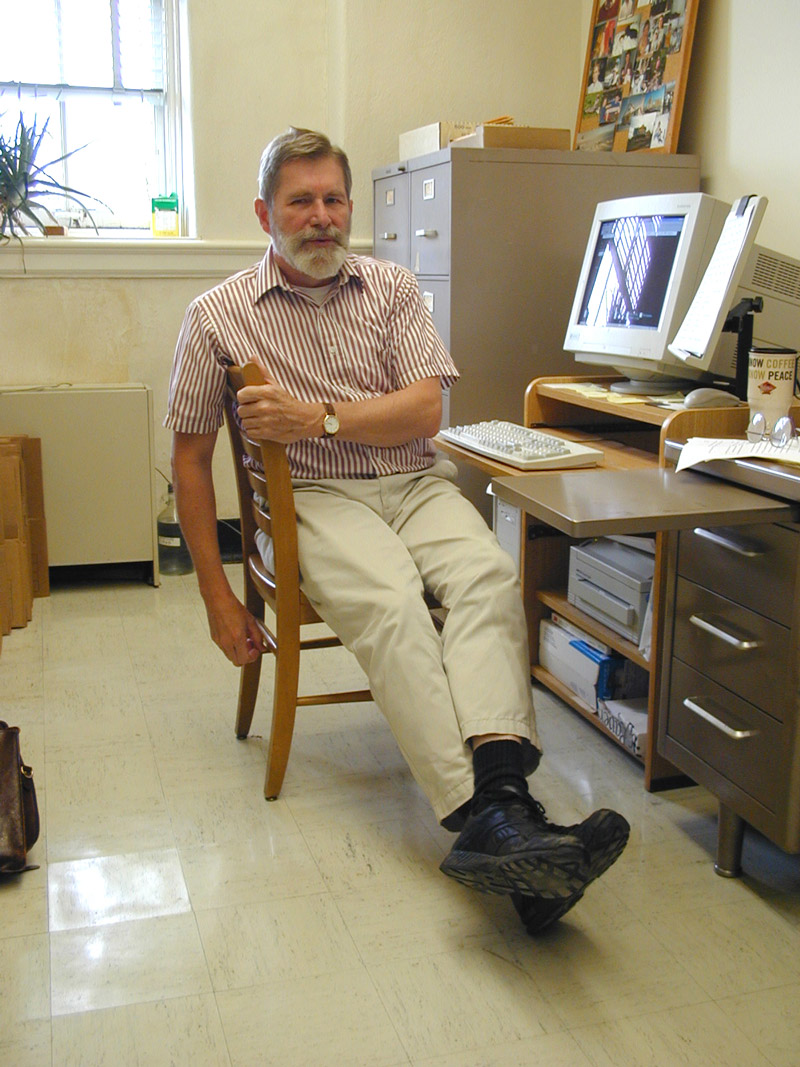 Born in Chester, Pennsylvania, he attended the Chester Public Schools through ninth grade and graduated from the Mount Hermon School for Boys in 1955. He received the bachelor of arts degree in biology from Amherst College in 1959 and a Ph.D. in biology-genetics from Johns Hopkins in 1964. He held a pre-doctoral fellowship from the Public Health Service from 1960-63, while working for his Ph.D.
Dr. Sheppard taught at Reed College from 1963-65,  held a National Science Foundation postdoctoral fellowship in biology sciences at the University of California–Santa Barbara from 1965-66 and joined the UD faculty in 1967.
He embraced the nontheological fellowship of the First Unitarian Society of Wilmington, Delaware, and was an active member for more than 50 years. He was particularly proud of his involvement in the new Unitarian congregations started by First Unitarian in southern New Jersey and the Delmarva Peninsula.
Dr. Sheppard is survived by his wife, Gayle, whom he married in 1960, and his family notes that his devotion to her was always foremost in his actions. They were together until his death. Also surviving are their children Rebecca Jean Sheppard (Christopher Michael Mark), Paul Owen Sheppard (M. Sharon Davis Sheppard) and Marc Andrew Sheppard (SJ Thoreson); grandchildren Daniel Crosier Siders, Benjamin Davis Sheppard, Joshua Paul Sheppard and Thoreson Liam Sheppard.
At Dr. Sheppard's request, no memorial service is planned at this time. Family and friends are encouraged to post photos and reminiscences at https://professorsheppard.com. In lieu of flowers, the family suggests donations in Dr. Sheppard's name to the Sheffield Scholarship Fund at Northfield Mount Hermon School. "Sheffield Scholarship Fund" should be noted in 'Gift Instructions.' Contributions noted for the fund can also be mailed to: NMH, Advancement Office, One Lamplighter Way, Mount Hermon, MA 01354.
Condolences may be sent to the family at davidsheppardestate@gmail.com.