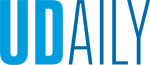 In Memoriam: Yetta Zutz Chaiken
Article by UDaily staff Photo courtesy of UD Hillel April 22, 2020
Community remembers dedicated alumna, teacher, benefactor
Yetta Chaiken, a 1943 graduate of the University of Delaware, whose generosity to and engagement with the community included important support for the University's Jewish Studies Program, passed away April 9, 2020, at age 97.
An innovative schoolteacher and lifelong learner, an avid supporter of women's rights and of the Jewish community in Delaware, Mrs. Chaiken was awarded one of UD's highest honors, the Medal of Distinction, in 1999. She and her late husband, Frank, contributed a special gift for advancing Jewish studies at the University, establishing the Frank and Yetta Chaiken Center for Jewish Studies and helping build the Hillel Student Center.
"Yetta's generosity was legendary," Polly Zavadivker, assistant professor of history and of Jewish studies and director of the Jewish Studies Program, wrote in a tribute to Mrs. Chaiken from the program and its faculty. "But she will not be remembered for that alone. She was one in a generation. She lived a century, and not only as a witness to American history but as an engaged witness—a maker of history."
Mrs. Chaiken arrived as a student at UD in 1939 and found an intellectual home in the study of history, a subject she pursued as a major and later taught in public schools in Wilmington, Zavadivker said.
"As a lifelong resident of Delaware, she dedicated nearly eight decades of her life to promoting education, civil rights, historical preservation and community-building in this state," she wrote. "In words and deeds, she inspired and enabled hundreds of people—students, scholars and many others—to preserve, teach and study the heritage of their own distinct communities."
Born in 1922 to Max and Tillie Zutz, Mrs. Chaiken was a proud first-generation American who attended P.S. du Pont High School in Wilmington and the University of Delaware.
She married her high school sweetheart, Frank "Sonny" Chaiken, in 1942. The two of them spent a lifetime of supporting the Jewish community of Delaware as well as many other causes.
Mrs. Chaiken taught history at Warner and Mount Pleasant junior high schools, where she was the first in Delaware to teach a women's studies class as well as an anthropology course to that level of student. She was active in the League of Women Voters, and, after her retirement from teaching, she began collecting oral histories of Delawareans for both UD and the Jewish Historical Society.
She and her husband had a passion for "non-touristy" travel, including many Elderhostel trips. She attended classes every semester at UD's Osher Lifelong Learning Institute, since its inception in 1980 as the Academy of Lifelong Learning.
Mrs. Chaiken loved being an active part of the Jewish community and supported its causes, including Hillel at UD and the Holocaust Memorial in Wilmington, and sponsored the Frank and Yetta Chaiken Jewish Studies minor at the University.
She had a wide expanse of friends and, even at age 97, she would visit those who were homebound, lonely or in senior living centers who had few visitors.
Mrs. Chaiken was predeceased by her husband, Frank; her brother, Harry Zutz; her sister, Lena Spivack; and her great-grandson, Justin Selekman. She is survived by her three daughters, Janice Selekman of Wilmington, Lesley Kravitz (Paul) of Fairfax Station, Virginia, and Barbara Chaiken of Durham, North Carolina; seven grandchildren; and 13 great-grandchildren.
Her most frequent lines were that she felt like the luckiest person in the world, that she lived in the best of times (although she wanted to see a woman president before she died) and that she had the most wonderful life.
Because of the restrictions imposed by the coronavirus pandemic, burial was private. A memorial service will be held at a later date. Donations in memory of Mrs. Chaiken can be made to support Hillel or the Jewish Studies Program at the University of Delaware. Please use UD's secure website, www.udel.edu/makeagift, or send contributions to: University of Delaware, Gifts Processing, 83 East Main St., 3rd Fl., Newark, DE 19716.  Make checks payable to: 'University of Delaware' and include on the memo line 'in memory of Yetta Chaiken.'