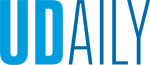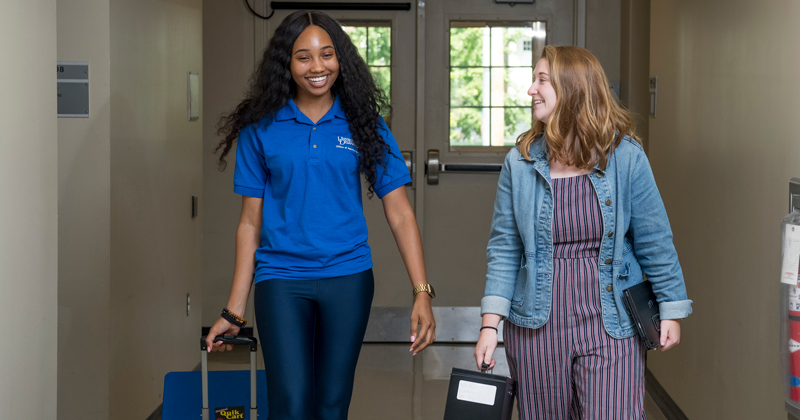 Tracking characteristics for success
Article by Karen B. Roberts Photo by Kathy F. Atkinson September 06, 2019
Colleen Mueller and Khadi Jackson shine a light on substance abuse recovery residences
Editor's note: Research, community service, internships and study abroad are part of the summer for University of Delaware students. Follow them in action in our series of profiles and stories, which will be collected on the Driven to Discover website.
Colleen Mueller is a University of Delaware senior from Old Lyme, Connecticut who is majoring in human services with a concentration in clinical services. Khadi Jackson is sophomore human services major and urban education minor from Newark, Delaware. We caught up with them to learn about the important work they are doing to understand characteristics that can potentially lead to substance abuse recovery among people living in sober living homes.
Q: What are you studying, where and with whom?
Mueller: We are working with Dr. Jennifer Carrano to determine the most effective characteristics of recovery residences to promote and support sobriety.
Jackson: Our study aims to help those who are suffering from substance abuse. Substance abuse is the overuse/misuse of drugs and or alcohol. Recovery residences, or sober living homes, are already a potentially really helpful resource that offers people a long-term, community-based treatment option with services that increase the likelihood of long-term recovery. This study is focused on tracking various characteristics that can potentially lead to substance abuse recovery among people living in sober living homes.
Q: What inspired this project and what interests you most about this topic?
Mueller: The project was inspired by the need to accurately address the problem of substance use disorders statewide and the lack of current research on the effectiveness of recovery residences. By trying to find new information, we can appropriately address the need for positive experience within sober homes and hopefully use our research to implement new strategies for increasing rates of sobriety. With the information gained from our research we hope to learn new methods for promoting the social well-being of the individual in recovery.
Jackson: What interests me most about this topic is how we get to see data that will potentially help improve the services offered to those in sober living homes. The misuse of drugs and alcohol is a huge epidemic that affects many communities. In the future I hope to work in youth and urban development. Working on this study since second semester freshman year gives me insight into my major and helps diversify my interests. I am able to see potential different career paths through the lens of this study.
Q: What is a typical day like?
Mueller: I work closely with our graduate research assistants to track study participants and make sure their survey responses are appropriately documented and to keep the project running smoothly. I like to think of myself as a helping hand on this project. Dr. Carrano and our team are always teaching me about the world of scientific research, as well as supporting my desire to try new things. I am very fortunate to have such supportive colleagues on such a potentially life-changing project.
Jackson: In addition to administrative work, such as reaching out to various people to take their surveys, uploading data and getting ready for future visits, one week out of each month I do house visits for data collection. During these site visits, I go into the sober living homes that are a part of our study and administer the surveys there. The participants gather around, typically at a table or one general location and the research assistants administer the surveys on tablets that are provided through our survey. Upon completion, participants receive a $10 gift card of their choice.
Q: What hurdles or learning curves have you overcome in the work?
Mueller: As with all new experiences, there comes a steady learning curve. This is my first time working on a research project. When I began, we weren't yet interacting with and collecting data from study participants. Once this happened, the project's pace rapidly increased. For me, it was a hurdle to understand that not all challenges can be solved in a day's work. The graduate assistants that I work closely with, Virginia Sawyer-Morris and Jhane Campbell, taught me that while we can do our best to prepare, this is an ongoing project and we work together to take any hurdles in stride.
Jackson: This study relies heavily on the participation of others for data collection. Sometimes it is difficult for us to reach participants who no longer live in the homes, but we still need their cooperation. I have learned to use incentives to get people to continue to reach out to us.
Q: What are the possible real-world applications for your study?
Mueller: The real-world applications of this study are limitless. Our main goal is to determine effective characteristics of recovery residences, for example, who benefits the most from them. We hope our results can be used to implement changes in current recovery residence homes to help support and encourage sobriety as much as possible.
Jackson: Although we live in America and have an infinite amount of opportunities, not everyone has the resources available to them to obtain those opportunities. Many underprivileged communities lack the access to sober living homes which potentially leads to problems such as the ongoing substance abuse epidemic we're studying. It is interesting to see the ways in which people's lives can be contingent upon their recovery. Although there are resources available to them, they still have to be willing to recover.
Q: How would you explain your work to a fifth grader or to one of your grandparents?
Mueller: Imagine you are a professional athlete. You eat, sleep and breathe your sport of choice, yet, you cannot seem to successfully reach your full potential. You don't know if it's your training schedule, eating habits or something else. So, you try to find out by tracking yourself and then your training results to see where you need improvement. In the same way, recovery residences must continually improve to provide individuals with substance use disorders the best care they need in order to reach their full potential.
We are creating a system for understanding how to determine positive tools and characteristics of these homes, to help establish standards and best practices that can be implemented in daily routines and recovery residences across the state – potentially even the country – for the best care. As an athlete works to compete on the highest stage of their craft, an individual with a substance use disorder works to protect their sobriety. Discovering how to help those individuals do that through recovery residences is the most important part of this project.
Jackson: This study is being done to help those who are suffering from substance abuse. Substance abuse is the overuse/misuse of drugs and or alcohol. Our study works with people who live in recovery homes in hopes that they will get better one day.
Q: What advice would you give younger kids (middle school or high school) with similar interests?
Mueller: My best advice to any student, regardless of age or interest: Ask questions. I got involved with this project by asking Dr. Carrano how I could be more involved in and educated about the topic of substance use disorders. She introduced me to this project as well as so many other incredible lessons. As scary and nerve-wracking it can be to talk to a teacher or professor or local community member, asking questions and being curious is the best way to learn new lessons. My dad has always told me that a curious mind will show you a world you never knew existed. I believe that wholeheartedly.
Jackson: When you're young, explore your options and don't be afraid to try something new. Don't be nervous about knowing what you want to do career-wise because you can use your college experience to find that passion. Once you do, take advantage of it to do something positive. The only wrong decision is no decision, therefore take hold of opportunities that will show you what it is you like to do.
Q: What do you enjoy when you are not doing research?
Mueller: When I am not working on this project, I enjoy spending time outside and cooking new dishes I've never tried. Last night, I made cauliflower korma – an Indian dish I learned about while in New York City.
Jackson: When I'm not doing research, I work at as a server at a local restaurant and otherwise try to enjoy my time off.