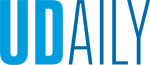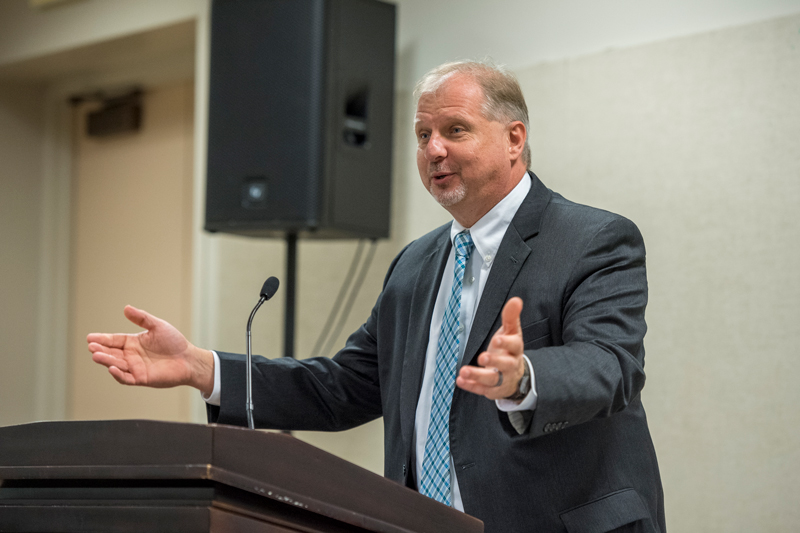 Commitment to students
Article by Ann Manser Photo by Kathy F. Atkinson October 18, 2019
Arts and Sciences Dean John Pelesko discusses role of UD's largest college
The University of Delaware's College of Arts and Sciences (CAS) encompasses some 10,000 individuals — students, faculty and staff — each with a particular dream or passion that motivates them, John A. Pelesko told the UD Association of Retired Faculty at the group's Oct. 15 luncheon meeting.
And, Pelesko said, since being appointed dean in July 2019, he has spent a lot of time learning about those passions and thinking about what those thousands of individuals share. His talk to the association was titled, "What I Learned in My First Year as Dean."
From faculty who teach and advise students to staff members who handle such tasks as information technology or communication, there are key areas of overlapping goals and interests, he said.
"I think that whenever you undertake any kind of service role at our University, your job — your responsibility — is to help make the dreams of other people come true," Pelesko said. "Our faculty and staff, our students and our alumni all bring their incredible dreams and passions to the table."
He identified a key focus throughout CAS as a dedication to helping students realize their dreams.
"There is a universal commitment across the college to student success," he said. "And we have a unique role, different from the other colleges, because we touch every single student at the University."
Regardless of major, UD undergraduates learn foundational skills such as reading, writing and critical thinking in CAS classes. The college also exposes students across the University to such broader topics as arts, culture and ethical thinking.
In other core values of the college, identified as commitments to inclusive excellence, scholarship and community engagement, "Again, the College of Arts and Sciences has a special role to play" in its impact across disciplines, Pelesko said.
"We set the tone for the whole University," he said, calling it "an awesome responsibility."
He told the audience that he also concentrates on addressing challenges, often involving time, space and money. As the college and UD have grown, the processes of operating and managing a larger institution need to be constantly assessed and improved, he said.
As dean, he said, his challenge is to learn about and help implement the best ideas for improvement, which often come from faculty, staff, students and alumni.
"The good ideas do not reside in the dean's office," he said.
More about John Pelesko and CAS
Pelesko, a professor of mathematical sciences, served as interim dean of the College of Arts and Sciences from September 2018 until his permanent appointment as dean in July 2019.
He was previously the college's associate dean for the natural sciences from 2016-18 and was chairperson of the Department of Mathematical Sciences from 2011-15.
His University-wide service includes work with the Data Science Initiative, the Honors Program Task Force and the General Education Task Force.
The College of Arts and Sciences is UD's largest college, with more than 7,000 undergraduate students, 1,100 graduate students, and over 50 academic departments, research institutes, interdisciplinary centers and programs.