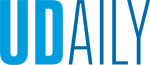 I Heart Giving Day : youtube.com/watch?v=ry7DTB9MyP4
UD supporters turn out
Article by Nadine Sabater Photos by Evan Krape May 16, 2019
Blue Hens and friends celebrate I Heart UD Giving Day
Blue Hens on campus, throughout the nation and around the world went bigger and bolder with their support for the University of Delaware on the second annual I Heart UD Giving Day.
On Wednesday, May 15, the Giving Day started with a goal of 2,750 donors, but when the goal was reached halfway through the day, it was clear that the UD community was showing their love in a powerful way this year. More than 5,000 UD alumni, friends, faculty, staff, parents and students flocked together, raising more than $945,000 for 118 UD projects close to their hearts, and participation figures are still being counted.
"The outpouring of love and support from the UD community is truly inspiring," said Jim Dicker, vice president of development and alumni relations. "It's amazing how many donors supported the day's projects. We couldn't be more grateful to all those who demonstrated their UD pride, whether it was by making a gift, posting on social media or just coming to The Green and writing a thank you note."
Donors on five continents and in 47 states made gifts to a diverse selection of projects. Some projects aimed to raise funds to support student travel such as the UD Chorale's trip to France, others focused on research such as biopharmaceutical development, while others like the Osher Lifelong Institute, raised money to continue critical programming for learners of all ages. With so many projects to choose from, donors could match their passions with causes, supporting the things they care about most.
Hourly participation challenges drove momentum, offering projects the opportunity to compete for additional funds, deepening the impact of supporters. Engineers Without Borders, one of several challenge winners, rallied together organizing their own social media campaign, emailing past donors, texting family and calling friends to secure the additional challenge dollars. The UD chapter enables engineering students to work closely with international communities and professional engineers to develop and implement sustainable solutions for safe water sources and adequate sanitation.
"Our strategy was to express how donor support makes a difference and how it'll provide people with much needed clean water access," said senior Logan Kim, the club's fundraising chair. "Most importantly though, I think just having a platform like I Heart UD Giving Day helped us raise awareness of what we're doing and let people get involved."
While UD supporters around the world showed their love, the UD community gathered on the Green to celebrate. Faculty and staff participated in interactive activities and dropped off tickets, voting on their favorite fundraising initiatives while students wrote thank you notes to donors, posed for selfies with YoUDee, tested their UD knowledge with the Class Cab and more.
"What's not to love about UD?" said senior Hannah Roberts. "It's a home away from home and everyone is so caring. I made a gift as part of the Senior Class Gift because UD has given me so much, and I love being able to give something back in return."
Far beyond the Green, alumni gathered for happy hours hosted by more than 20 different regional alumni clubs and showed off their spirit on social media. Through these events, Blue Hens of all ages connected over shared college experiences, memories of campus and all the ways it helped them get to where they are today.
"I love UD and it will forever be my second home," said Melanie Weisman, Class of 2014 who helped organize the San Diego I Heart UD Giving Day happy hour. "There's a shocking number of Blue Hens living in San Diego, and whenever I meet another alum, it's like meeting the familiar in an unfamiliar place. Today is particularly special because we get to gather together and celebrate our love for UD from afar."
More photos of I Heart UD Giving Day can be viewed in an online gallery.