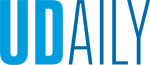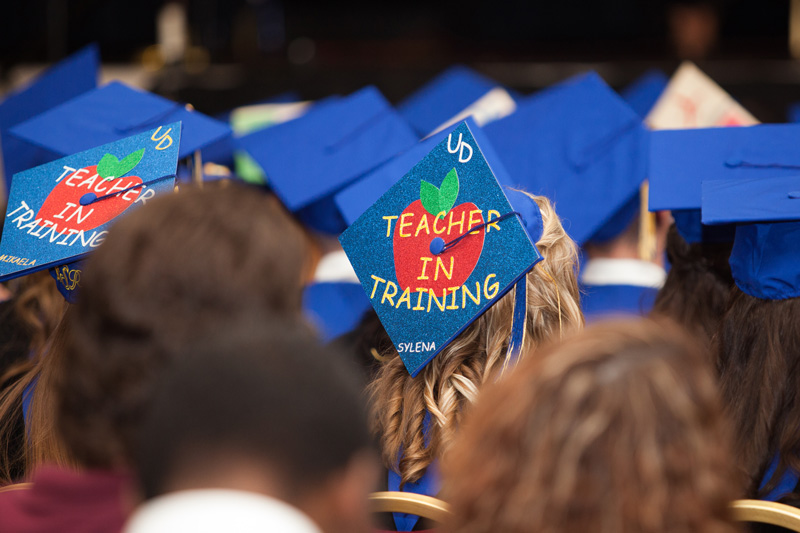 New path for teachers
Article by Ann Manser Photo by Ambre Alexander Payne and courtesy of Emily Halliday May 16, 2019
Elementary education students can begin UD degree in Wilmington
For students whose dream is to become an elementary or middle school teacher, the University of Delaware's Associate in Arts Elementary Teacher Education (AAETE) program offers a lot of advantages.
Class sizes are small, professors and advisers provide individual attention, proximity to home can ease the transition from high school to college, and the cost savings are substantial. Successful graduates of the program, which has operated in its current form at the University's Georgetown campus since 2006, are teaching throughout the state and beyond.
Now, beginning in fall semester of 2019, students will have the opportunity to take part in the same program in northern Delaware.
Teresa Rush, a UD alumna who's coordinating the program at its new location in Wilmington, has been meeting with high school students in Delaware Teacher Academy programs throughout the area to let them know about the opportunity.
"Students have been incredibly excited about the UD experience, and those who have already decided to pursue a teaching career are especially excited that they're going to have such a cost-effective way to do this," Rush said.
Those who enroll in the program in Wilmington, like those in Georgetown, will complete the first two years of coursework needed for a bachelor of science degree in elementary education as they earn their two-year associate degree. Classes will meet at UD's Downtown Center building at Eighth and King streets and will be taught by University faculty.
To continue their path to a teaching career after their two years in Wilmington, students can then move to UD's Newark campus and take the final two years of Elementary Teacher Education (ETE) coursework there. The transition to Newark is just that — a transition, not a transfer, because AAETE students have already been enrolled at UD and have taken the same classes offered on the Newark campus.
Until now, students in the Associate in Arts Program (AAP) in Wilmington could pursue an ETE degree after moving to the Newark campus, but they would have lacked several required courses and needed additional time to complete their bachelor's degree. Now, all courses required for the first two years will be offered in Wilmington.
"This program is a much more direct pathway for ETE students," said David Satran, director of the AAP. "They'll be ready for Year 3 [of their four-year degree] as soon as they come to Newark."
He called the program "a true collaboration" between the College of Arts and Sciences, which administers AAP statewide and whose faculty teach the non-education courses at the program's three sites around the state, and the College of Education and Human Development, which administers AAETE and whose faculty will teach the education courses in Wilmington. Satran praised the support provided by John A. Pelesko, interim dean of the College of Arts and Sciences, and Carol Vukelich, dean of the College of Education and Human Development.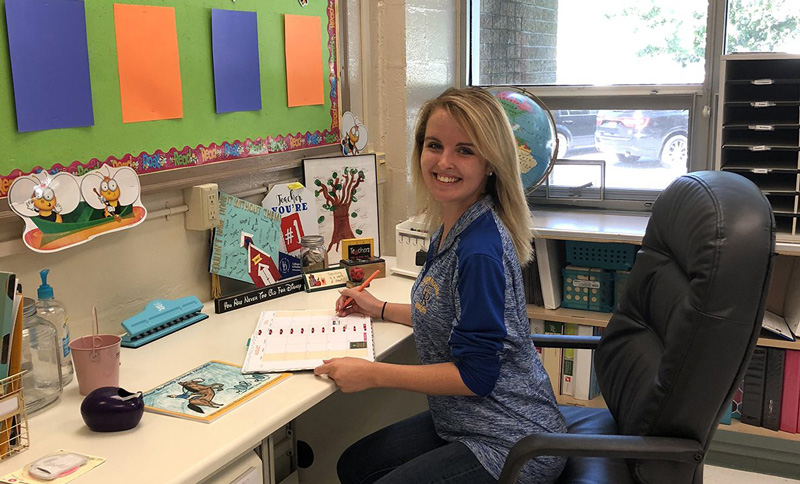 Offering the AAETE pathway in northern Delaware as well as in Sussex County is a win-win for students and for the state, Satran said.
"We hope this will help address the teacher shortage in Delaware schools by growing the pool of AAP students who will come to Newark as ETE majors," he said. "It's also a strategic effort to diversify the pool of students pursuing education degrees."
Students who completed AAETE in Georgetown have generally been successful in completing their bachelor's degrees and beginning careers as teachers, said Scott Lykens, the program's Georgetown coordinator.
He pointed out that the only difference between AAETE and earning all four years' worth of course credits in Newark is the location where classes meet.
"In other words, it is not a different program, just a unique way of offering the program," Lykens said. "The program has the same goals as the Newark bachelor of science in education (B.S.Ed.) program, which is to prepare students to be reflective practitioners who are prepared to serve a diverse community of learners."
Most students who choose the AAETE pathway do so to save money, both Lykens and Rush have found.
AAP — for AAETE students or those pursuing degrees in other fields — has lower tuition costs than the Newark campus, and students are also eligible for the state's SEED (Student Excellence Equals Degree) scholarship, which covers the cost of tuition for two years for qualified students.
Other advantages of AAETE, Lykens said, include small class sizes and proximity to home, which is important for students who have family or job obligations or who don't feel ready to live on campus when they first start college.
When the first AAETE students start classes in Wilmington this fall, they will follow a prescribed ETE curriculum and will be able to turn to Rush as an adviser. Her goal, she said, will be to ensure that each student stays on track to be ready to transition to Newark after two years and to help students choose a concentration in the ETE curriculum. Concentrations can lead to dual certification in special education, English as a Second Language, or a particular middle-school content area, such as math or social studies.
"The high school students I've visited are very enthusiastic about these advantages," Rush said. "They know that UD has a nationally ranked education program, and they know that having a dual certification opens up a lot of additional career opportunities."
Former AAETE students are some of the program's best ambassadors, administrators say.
Emily Halliday, for example, who graduated from AAETE in Georgetown in 2016 and earned her bachelor's degree in Newark in 2018, often encourages high school students to consider the cost-effective path to a teaching career.
The program, she says, saved her money, eased her transition to college and led to her current job teaching second-grade special education in Dover, Delaware.
Sylena Miller, who completed the AAETE program two years ago and will graduate this spring with her bachelor's degree, says she made the right choice by starting college in Georgetown.
"I loved the professors I had, and I really enjoyed the smaller class sizes because it allowed me to make more meaningful connections with my professors," said Miller, who has lined up multiple interviews for teaching jobs in Delaware schools next fall. "And it has made me so much better off financially now. My time in the Georgetown program just seemed to fly by."