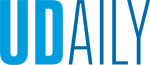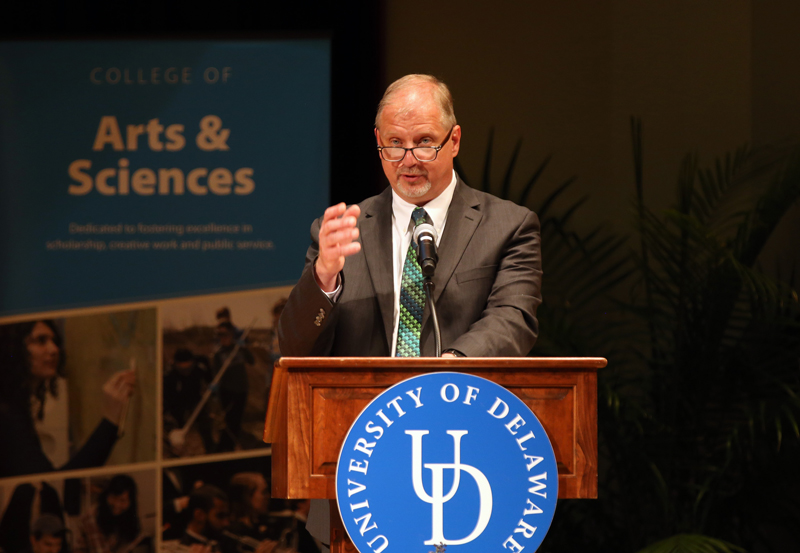 A celebration of success
Article by Ann Manser Photo by Andre Smith May 28, 2019
College of Arts and Sciences honors alumni, faculty, students
The University of Delaware's College of Arts and Sciences (CAS) honored the accomplishments of alumni, faculty and students during the 2018-19 academic year at its annual spring Celebrating Achievement and Success event on Tuesday, May 21.
Interim Dean John A. Pelesko presented college awards to five alumni — including a new award that specifically honors a young alumnus — and seven faculty members. He also recognized CAS faculty members and students who recently received University awards.
"We have a lot to celebrate," Pelesko said in front of an audience in Gore Recital Hall at the Roselle Center for the Arts. "Today, we recognize these individual honors and the ways our college as a whole continues to illuminate the minds and hearts of our students and community through academics, research and public engagement."
College Alumni Achievement Awards were presented to these recipients:
H. Nichols (Nick) Blake Clark earned his master's degree in 1975 and a doctorate in 1982, both in art history, and went on to hold positions at the National Gallery of Art and at other art institutions. In 2000, he became the founding director and chief curator of The Eric Carle Museum of Picture Book Art, where he continues to hold emeritus status. After retiring in 2014, he became founding director of The Ashley Bryan Center. At UD, Clark's support has been instrumental in the growth of the William Homer and Wayne Craven Fund for Graduate Studies in the Department of Art History.
Iris C. Gibbs graduated in 1990 with a bachelor's degree in chemistry. In 1995, she earned her Doctorate of Medicine from Stanford University School of Medicine, where today she is a professor of radiation oncology and associate dean for medical student admissions. Gibbs was the founding co-director of the Stanford Cyberknife Radiosurgery Program and helped to build world-renowned clinical programs in innovative radiation treatments for central nervous system tumors and in robotic radiosurgery. She is a fellow of numerous professional organizations, received UD's 2002 Presidential Citation for Outstanding Achievement and recently joined the CAS Dean's Advisory Council.
Gregory R. Meece Sr., who earned a bachelor's degree in English in 1979 and master's degrees in communication and in educational leadership in 1989 and 2003, has been a leader in Delaware's education system for four decades, serving as a strong advocate for public charter schools. He helped launch the Charter School of Wilmington, the state's first charter school, in 1996 and five years later established Newark Charter School, where he has been its only director as the school grew in size and prominence. He served two terms as president of the Delaware Charter Schools Network and has received its Catalyst in Education Award.
Lisa M. Reshaur graduated with a master's degree in sociology in 1995 and a doctoral degree in sociology through UD's Disaster Research Center in 1998, where she continues to support student and strategic initiatives by contributing her time, expertise and financial assistance. The general manager of Microsoft's governance, risk and compliance programs, she manages a team of 100 that also runs compliance, risk management, risk remediation and privacy for Core Services Engineering. The holder of a Six Sigma Black Belt, a certified business continuity professional and a certified risk manager, her management philosophy is focused on building high-performing teams by helping others unlock their potential.
The college's inaugural Young Alumni Achievement Award, which recognizes outstanding CAS graduates age 40 or younger, was presented to Delaware state Sen. Elizabeth (Tizzy) Lockman, who earned her master's degree in urban affairs and public policy in 2015. Lockman was elected to the legislature in 2018 and represents communities in and surrounding central and west Wilmington, one of the most diverse and densely populated districts in the state. She entered community service through Public Allies Delaware in 2004 and has long been an advocate for education reform, particularly for students living in Wilmington, through her work with the Wilmington Advisory Committee and the Wilmington Education Improvement Commission.
College faculty awards
​The college honored seven faculty members with awards for teaching, scholarship (a three-way tie), service, advocacy and faculty mentoring.
Deborah Bieler, associate professor of English who oversees the English education major, was presented the Outstanding Teaching Award for classes that were described as promoting stimulating discussions and growth in a very positive environment, while maintaining academic rigor and high standards. Beyond campus, she initiated a service learning project in which her students help prepare students at Howard High School of Technology in Wilmington for the essay portion of the SAT exam.
Melinda Duncan, professor of biological sciences, received the Outstanding Scholarship Award in honor of her prolific and internationally recognized research in the field of eye development and pathology, which has led to a significant advance in our understanding of the lens capsule and of complications that can follow cataract surgery. The recipient of two recent National Institutes of Health grants totaling $3 million, she has also mentored over 30 graduate students and postdoctoral scholars.
Rudolph Matthee, the John and Dorothy Munroe Distinguished Professor of History, also was presented an Outstanding Scholarship Award for his work as a master of early modern Middle Eastern history in a period when the Middle East was the crossroads of the world between the Atlantic and the civilizations of India and China. He is the author of six books, four of which have received prizes in Iranian or Middle Eastern history; has published 33 articles and 48 book chapters; and has delivered some 75 invited lectures.
The third Outstanding Scholarship Award was given to Julian Yates, H. Fletcher Brown Professor of English, who a few years ago received the "Enfant Terrible" Award from The Hudson Strode Program, honoring "the 12 most brilliant scholars in the world under 40" in the field of Renaissance studies. His scholarly work has been described as prolific and dazzling, with titles that range from What's the Worst Thing You Can Do to Shakespeare? to Of Sheep, Oranges and Yeast: A Multispecies Impression.
Richard Braun, professor of mathematical sciences, received the Outstanding Service Award for extraordinary work within the college, University, profession and community. Pelesko cited Braun's efforts as the driving force behind the new master's degree in data science and his leadership as graduate director in the mathematics department, founder of the student chapter of the Society for Industrial and Applied Mathematics and organizer of Mathematical Problems in Industry workshops over the past 10 years.
P. Gabrielle Foreman, Ned B. Allen Professor of English and professor of Africana studies and history, was presented the inaugural Outstanding Advocacy Award in recognition of her collaborative work in promoting, fostering and implementing an inclusive environment and celebrating multiculturalism. She was honored for her success in recruiting, advising and mentoring students and faculty, working for curriculum change and leading the way in innovative educational projects such as the Colored Conventions Project, the cornerstone of UD's "Next Generation Ph.D." initiative.
Stephanie Kerschbaum, associate professor of English, was the first recipient of the Outstanding Faculty Mentor Award for her dedication and commitment to supporting, encouraging and promoting a positive and inclusive scholarly and teaching environment. She was recognized for her contributions to the quality of life and professional development of new faculty members, both within and beyond the college's research or degree programs.
University awards
Also at the Celebrating Achievement and Success event, Pelesko recognized faculty members who recently received University awards.
Those included three faculty members and a graduate student who were presented awards at this month's Faculty Senate meeting: Salil Lachke, associate professor of biological sciences, and Susan Groh, associate professor of chemistry and biochemistry, received the University's Excellence in Advising Award, and Flora Poindexter, senior instructor of languages, literatures and cultures, received an Excellence in Teaching Award. Doctoral student Navid Mohammad Mirzaei, in mathematical sciences, received the Excellence in Graduate Student Teaching Award.
In addition to the teaching and advising awards, the Faculty Senate this month honored Deni Galileo, associate professor of biological sciences, who was presented the Jon Olson Exemplary Senate Service Award.
Pelesko also recognized two college faculty members who were appointed to named professorships at the beginning of this academic year. Andrea Sarzynski was named the Unidel Helen Gouldner Career Development Chair of the Environment in the Biden School, and Kami Silk joined UD as the department chair and Rosenberg Professor of Communication.
UD Alumni Association awards went to two CAS students this year as the outstanding woman and man in the graduating class. Bailey A. Weatherbee, who is graduating with a degree in biological sciences with minors in political science, writing and biochemistry, received the Emalea Pusey Warner Award, and Nicholas J. Konzelman, graduating with bachelor's degrees in public policy and economics and a master's degree in public administration, received the Alexander J. Taylor Sr. Award.
Celebrating Achievement and Success
The College of Arts and Sciences holds its celebration each May to mark the accomplishments of faculty and students during the academic year and to honor prominent and successful alumni.
"It has been my absolute pleasure to introduce you to some of the very best of the College of Arts and Sciences," Pelesko said at the conclusion of this year's event. "I am delighted that we could recognize the achievements of our faculty, alumni and students."
The festivities began with a performance by the UD a cappella group Vocal Point, which returned to close the program by singing the alma mater.
A reception followed the celebration, to honor the award recipients and the college's 26 newly promoted faculty members.