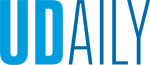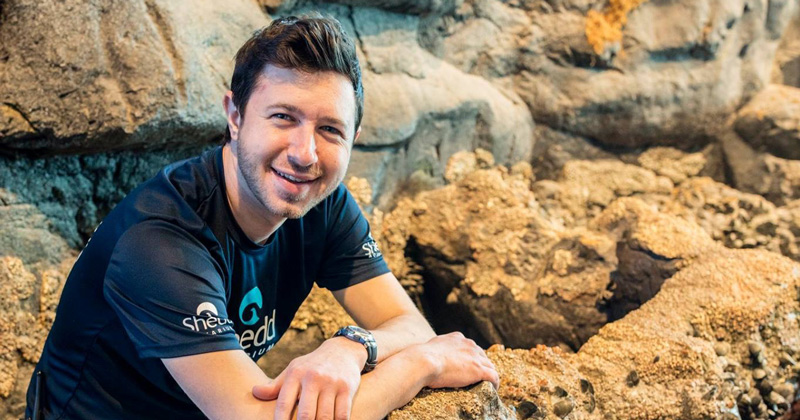 Blue Hen aquarist
Article by Adam Thomas Photo courtesy of Shedd Aquarium March 29, 2019
UD alum Jonathan Dinman lands job at Chicago's Shedd Aquarium
Growing up in landlocked St. Louis, Missouri, University of Delaware alumnus Jonathan Dinman didn't have daily access to the ocean. He did, however, get to spend summers in Massachusetts with his grandfather, and while on these summer vacations, Dinman grew fascinated by the ocean and its creatures.
Now working as an aquarist at Shedd Aquarium in Chicago, Dinman gets to work with ocean creatures and environments every day and hopes to instill his oceanic passion in those who visit the aquarium.
Dinman enrolled at UD in 2011 as a marine science major in UD's College of Earth, Ocean and Environment. He was in the program's first graduating class of students in 2015 and said his time at UD helped shape his future as an aquarist as it provided opportunities to learn research and laboratory skills, participate in a study abroad to New Zealand, and hear from professionals in the marine science field, which exposed him to careers outside of academia.
The summer after his first year, Dinman participated in the Summer Scholars program with Mark Warner, professor and associate director of the marine bioscience program. In Warner's lab, Dinman got to work on coral reef research, specifically working with aiptasia pallida, a species of anemone that can serve as a model species for coral.
"I worked on that all summer, and it was awesome," said Dinman. "I worked with live anemones, and the lab also had a live coral system so I was exposed to that larger aquarium system."
His experiences at UD allowed Dinman to intern at the World Aquarium in St. Louis, where he was introduced to animal husbandry and working with volunteers.
He also earned a competitive internship at the New England Aquarium in Boston, which is one of the largest aquariums in the country. That experience gave him an insight into how large, public aquariums work.
When Dinman graduated from UD, he went on to complete a one-year certificate program in aquarium science at Oregon Coast Community College and then served as an assistant aquarist with the Monterey Bay Aquarium in California where he learned how to culture, or raise, cephalopods, the class of mollusks including octopus and squid.
Dinman landed at Shedd in November, 2018. He takes care of the aquatic animals and the exhibits in the aquariums and likened his role as an aquarist to that of a zookeeper.
"Aquarists are responsible for keeping track of the animals' health, their nutrition, and their environment on a day-to-day basis," said Dinman. "Every day, we observe their behavior, prepare food for and feed hundreds or thousands of animals, and maintain the aquarium systems they live in, working alongside the water quality team and veterinary team at Shedd. We also scuba dive to clean exhibits and work on a lot behind-the-scenes."
As part of the special exhibits team at Shedd, Dinman works with a few permanent exhibits, such as a tide pool habitat located in Shedd's Abbott Oceanarium, and a major, temporary exhibit which is called Underwater Beauty — a conglomeration of fishes and invertebrates in sections discussing color and pattern, movement, and camouflage.
Once the two-years exhibit is finished and taken down, Dinman will work with the team to create the next exhibit.
"We have input on the animals and the exhibit specifications," said Dinman. "Then, we typically have the opportunity to build them. We get to plumb the PVC plumbing and install the life support components, and that's a really awesome aspect of the team that I'm on."
Dinman also gets to culture creatures such as brine shrimp, copepods, and small plankton that are used to help raise the animals.
He said that he loves the variety of his job and enjoys interacting with and educating the members of the public who visit the aquarium.
"The reason I'm in this industry is because I help create exhibits that millions of people look at and hopefully learn from," said Dinman. "When I did my internship in St. Louis, part of the spark was helping people who literally had never been to the ocean interact with and touch creatures they'd never seen before. Since then, I've always been working with exhibits in some aspect, and I enjoy working at a non-profit and participating in informal science education."