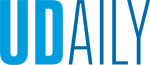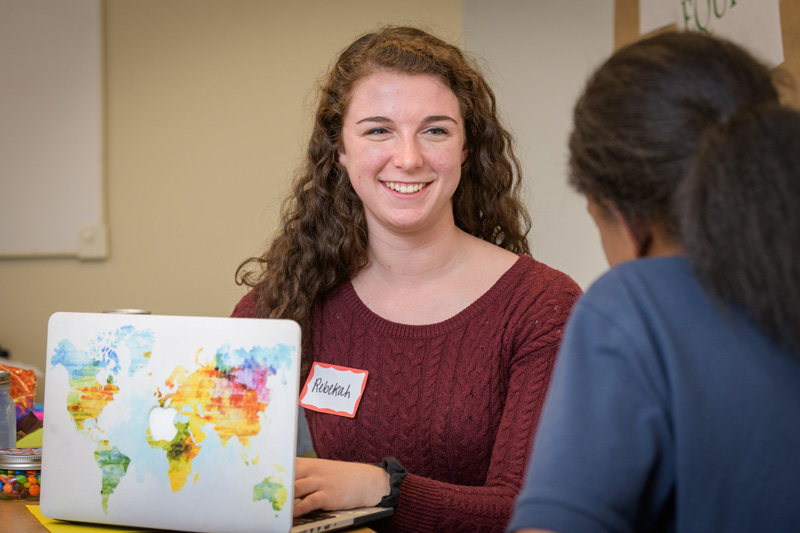 Interning for Justice
Article by Jordan Howell Photo by Evan Krape February 05, 2019
UD student spent senior year helping kids in juvenile courts
On the first day of her 400-hour internship with the School Offense Diversion Program (SoDP) at the Delaware Center for Justice, University of Delaware senior Rebekah Schrier got a cup of coffee with her site supervisor, Cindy McDaniel, before setting off to Family Court in downtown Wilmington. There, they met with middle and high school students who were facing criminal charges due to a school discipline experience.
As a Human Services major, Schrier had longed to learn about the courts, especially juvenile courts. She wanted to help at-risk youth, but she wasn't sure exactly how.
During her first year at UD, she joined buildOn at UD, a nonprofit and student organization that aims "to break the cycle of poverty, illiteracy and low expectations through service and education," Schrier said.
As an honors student at UD, Schrier was motivated to take on challenges that would enhance her personal growth. During her sophomore year, Schrier signed up for the honors section of Survey in Child and Family Services with Norma Gaines-Hanks, associate professor in the Department of Human Development and Family Sciences. For the duration of that class, Schrier devoted her studies to a research project on the educational opportunities and challenges facing young children in the foster care system.
That class, she recalls, motivated her to pursue a variety of internships, ultimately leading to SoDP and the confusing, controversial and often heartbreaking world of the juvenile justice system.
According to the Equal Justice Initiative, students who are suspended or expelled because of an arrest at school are less likely to graduate on time and more likely to drop out. Those who drop out are three-and-a-half times more likely than high school graduates to become incarcerated.
This progression, Schrier explained, can be difficult — sometimes impossible — to stop.
"I want to help kids and support them, especially those who don't have that support in other places of their lives," Schrier said. "I just want to help them to realize their own potential and get on a path for a successful and meaningful future."
For Schrier, this internship was an opportunity to impact lives.
School Offense Diversion Program
The first month of the SoDP internship was a little overwhelming, Schrier recalled. There was a lot to learn. Every Thursday, she and her supervisor headed to Family Court for something called the School Calendar. She met with assistant public defenders and deputy attorneys general, and sat in the courtroom, watching commissioners review the charges brought against students and hand down their decisions.
Schrier and McDaniel would then meet with students and their parents or guardians to discuss the program and agree to the expectations to successfully complete SoDP. Schrier would spend the next three months listening to the students' stories and validating their experiences with a focus on their academic progress and personal conduct so that they stay in school, stay out of trouble, and graduate.
"It's inspiring to see them learn more about themselves and to see the bigger picture," said Schrier. "We want to help these students thrive and graduate on time."
On their second or third visit, Schrier would sit down with a student to create a "Mindfulness Jar," which is a mason jar filled with water and vibrantly-colored glitter glue.
Schrier picked one up and shook it like a snow globe. The flecks of glitter swirled hypnotically. Over the course of several minutes, gravity slowly pulled the glitter back to the bottom.
"Take a pause," Schrier said, pointing to a pause button sketched in black marker on the lid of the jar. She's made dozens of these over the course of her internship. "It's a reminder to step back from stress or anger and to take a moment to pause and focus on breathing while the glitter slowly settles down. Once that happens, you can move on with a different mindset, grounded in clarity."
McDaniel noted that it's difficult to put into words the calming effect the mindfulness jar has on young people. "You just need to experience it," she said. "There's a lot of collective suffering that comes into this space. Mindfulness settles that down. When it starts back up again, we respond rather than react."
The results of SoDP are impressive. In 2018, 85 percent of referred students completed the program and had their records expunged.
Through this internship, Schrier has gained invaluable experience working at the intersection of Delaware's education and juvenile justice systems. But perhaps the most important lesson of all is something that's not demonstrated enough in the classroom: to live a life of empathy.
Ms. Schrier Goes to Dover
Schrier completed the internship in December, but she's not done being an advocate.
On a cold January evening, six students who were referred to the program returned to take part in a group conversation organized by Schrier as part of a short film documentary she is completing for the Blue Hen Leadership Program.
Over chips and pizza, Schrier invited the students to share their stories about school discipline and getting caught up in the criminal justice system.
Q: When you got in trouble did anyone ask you about your side of the story?
A: No.
Q: Do you think anyone cares about you at school?
A: No.
Q: What about when things aren't accurate or aren't true?
A: They don't care.
Q: When you were suspended, did you ask for your homework?
A: Yes.
Q: Did you get it?
A: No.
This is evidence of a larger, societal problem that Schrier hopes to address with her documentary. Once completed, she plans to share it with legislators in Dover, to give voice to the students and initiate a dialogue with those who have the power to make a lasting change.
"I want legislators to hear from them, not just about them," she said. And she hopes they will learn from this documentary the same lesson that she learned during her internship: that you can't judge the entirety of someone's character by one police report.
"They did get arrested, but they're not bad," she said. "It looks bad on paper, but when you sit down and talk with them you learn that there are often misunderstandings. They're all good kids."