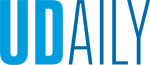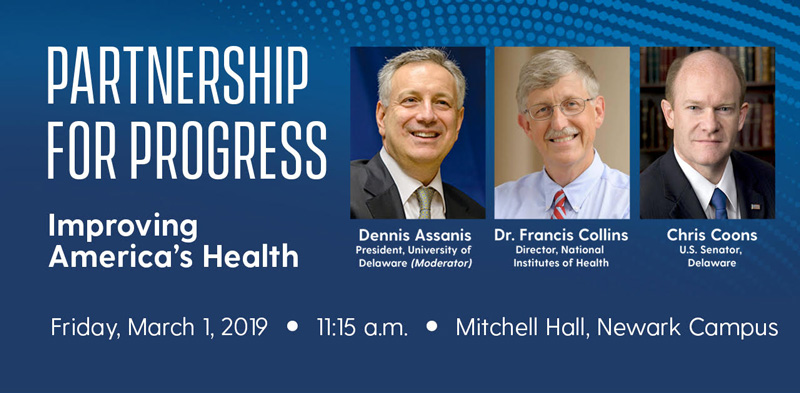 UD hosts NIH Director Collins, Sen. Coons in 'fireside chat,' March 1
Article by UD Research staff Illustration by Jeffrey C. Chase February 12, 2019
UD President Dennis Assanis to moderate discussion on improving America's health
Heart disease, cancer, diabetes, opioid addiction … what progress is being made in fighting these killers, and how can we accelerate the discovery of new life-saving treatments?
Dr. Francis Collins, director of the National Institutes of Health (NIH) — the biggest funder of biomedical research in the world — and U.S. Sen. Chris Coons from Delaware will be at the University of Delaware on Friday, March 1, for a "fireside chat" about these important topics. UD President Dennis N. Assanis will moderate the discussion.
The event, which is free and open to the public, begins at 11:15 a.m. in Mitchell Hall on UD's Newark Campus. Seating is limited — advance registration is required at this webpage. The event also will be livestreamed at the UDLive website.
As NIH director, Collins oversees an investment of more than $39.2 billion annually in medical research for the American people. More than 80 percent of this funding is awarded to over 2,500 universities, medical schools and other research institutions in every state and around the world.
A physician-geneticist (M.D., Ph.D.), Collins is noted for his landmark discoveries of disease genes and for his leadership of the Human Genome Project. He also has written several books on science, medicine and religion, including the New York Times bestseller, The Language of God: A Scientist Presents Evidence for Belief. He is an elected member of the National Academy of Medicine and the National Academy of Sciences and has received the Presidential Medal of Freedom and the National Medal of Science.
Coons, who will co-host Collins' visit, has been a strong advocate for federal funding of basic research to keep the United States at the forefront of scientific discovery and technological innovation. He serves on the Senate Appropriations, Foreign Relations, Judiciary, Small Business and Entrepreneurship, and Ethics committees. He is the ranking member of the Senate Judiciary Subcommittee on Bankruptcy and Courts, and the Appropriations Subcommittee on Financial Services and General Government. Among his many honors, he has been recognized as a "Champion of Science" by The Science Coalition.