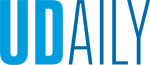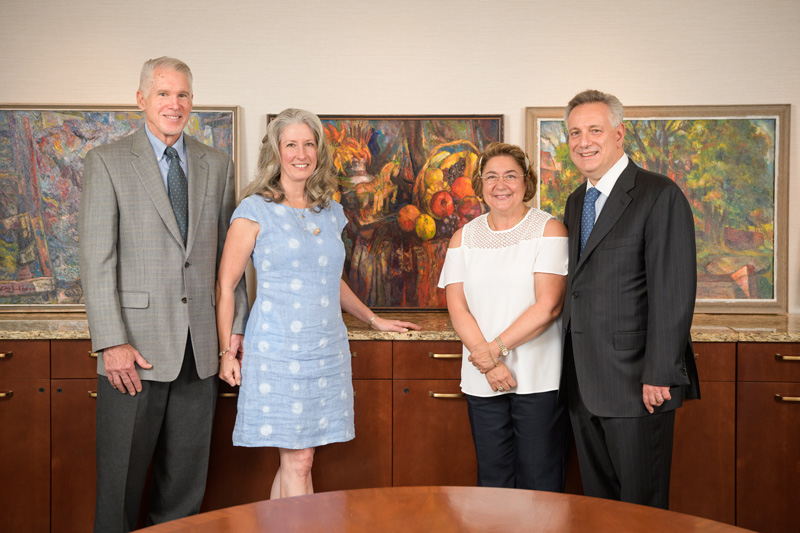 Providing vivid inspiration
Article by Dara McBride Photo by Evan Krape September 26, 2018
Gift of four Edward Loper oil paintings helps grow University's significant collection
An artist and teacher, Edward L. Loper, Sr., had a knack for encouraging viewers to see the extraordinary in the ordinary. His vibrant palette, juxtaposition of color and use of refraction created almost kaleidoscopic images in his paintings of city streetscapes, portraits of family and still lifes.
Just as he challenged viewers to see beyond what was expected, he encouraged students to break the mold. UD alumnus David Baldt, AS71, learned this firsthand when he took a group of underprivileged, inner-city youth on a trip to Loper's Wilmington studio, where the charismatic artist challenged their expectations. For Loper, a simple scene was never simple, but full of a rainbow of colors and myriad hues — from purple and red to orange and yellow — that other viewers may never consider.
"He had them look out on the trees and the grass and quizzed them as to what colors they could see," Baldt recalled. "And, as you'd expect, they said, 'I see brown. I see green, light green, dark green. I see gray.' And then he proceeded to say, 'No, see this color, that color,' and he listed another 30 colors."
The visit was one of the final interactions Baldt, a longtime follower of Loper's work, had with the late Delaware artist, who died in 2011. But Loper's artworks and teachings live on at the University of Delaware, in part thanks to a recent gift of four Loper oil paintings from Baldt and his wife, Sandra.
The works show an artist who did not limit himself to one subject. The gift from the Baldts includes a Wilmington cityscape called "Quaker Hill Area;" a close-up detail of a boat called "Door and Nets;" and two still lifes, "Still Life with Fruit Basket and Flowers" and "White Drapery with Fruit (and Flowers)."
On Wednesday, Sept. 5, UD President Dennis Assanis and his wife, Eleni, accepted the Baldts' gift in person on behalf of the University. They expressed excitement over the growth of the University's collection of Loper artwork and African-American art.
"Eleni and I have long admired the Loper pieces already in the University's collection, and we look forward to displaying these on campus, sharing Loper's talent with everyone," Assanis said. "We greatly appreciate David and Sandra's gift of paintings that will surely inspire our Blue Hen artists and others across campus and in the community."
The University is now home to about two dozen Loper paintings, with much of the collection bequeathed to the University through a gift from Loper and his wife, Janet Neville-Loper. The breadth of the collection puts an important spotlight on the artist and his role in Delaware art history.
"With the addition of these new paintings, I believe this is the single most extensive collection of Loper's work offered in one place," said Janis Tomlinson, director of Special Collections and Museums. "Delaware artists are certainly one of the focuses of Special Collections, and Loper stands alone in his significance as both a regional contemporary artist and as a groundbreaking African-American artist of the time."
In 1937, Loper's career was only beginning when he became the first black artist to have a painting accepted to a juried show at the Wilmington Society of the Fine Arts, which is now the Delaware Art Museum. Decades later, when the museum held a retrospective of Loper's work in 1996, James E. Newton, an artist and now professor emeritus of black American studies at UD, praised Loper for "selflessly and almost single-handedly opening the doors for diversity in the arts."
The Baldts hope the paintings will inspire art students and historians across campus, and help ensure Loper receives continued recognition for his barrier-breaking work that has spanned decades.
"I hope the University community will feel prideful in knowing the work of this Delaware artist is receiving the recognition it deserves, and that by having the original paintings here, students feel a deeper connection to Loper and his works," Baldt said. "For me, these works give a true sensation of the artist. It's like somehow his soul is in the room with you."
For more information about Special Collections and Museums, visit here.