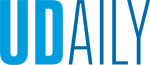 Interdisciplinary solutions to pediatric mobility
Article by Dante LaPenta Photo by Amelia Wellmon and Nemours/A.I. duPont Hospital for Children April 13, 2018
UD group showcases innovative solutions for children with impaired mobility at Nemours' event
The Move to Learn Innovation (M2L) Lab in the University of Delaware College of Health Sciences (CHS) and the interaction design graduate program (College of Arts and Sciences) were invited to Nemours/A.I. duPont Hospital for Children to take part in a unique event for children and adults with arthrogryposis multiplex congenital (AMC) and their families.
The 2018 AMC Mini Meet Up, organized by Nemours clinical specialist Reenee Donohoe, had a maker faire theme. Researchers, clinicians and students showed off wearable technology, sharing ideas to improve children's outcomes and quality of life.
The UD Assistive Medical Technology Club also attended. Using tools and basic supplies like strapping, foam padding, switches and PVC pipe, these undergraduate students demonstrated how to create a ride-on car for children with mobility issues.
"UD has a fine group of professionals who are invested in teaching, learning, and participating. They made a good day at the hospital into a great day!" Donohoe said. "Most importantly, the families and physicians appreciated their participation. The University should really be aware of the positive differences they make."
AMC is a non-progressive, neuromuscular disorder marked by joint contractures and associated muscle weakness. These people struggle with mobility of their limbs. And, looking at the pediatric population, without the full use of their arms, kids can't learn to crawl, walk, gesture, self-feed — the list goes on and on. These delays can escalate and put this population behind its peers throughout childhood.
Associate Professor Michele Lobo (Department of Physical Therapy) runs M2L Lab, which focuses on advancing activity, cognition and social interaction for individuals with movement impairments. Arthrogryposis is a disorder in which the UD research team carries great expertise, including developing an exoskeletal garment called the Playskin Lift; its flexible mechanical inserts made of piano wires slip into the vinyl tunnels under the sleeves, providing the child's arms with additional support. This increases the child's reaching space while improving object exploration and learning outcomes. The garments are fashionable as well as functional thanks to Lobo's interdisciplinary team.
For the Nemours' event, Lobo gathered some members of her team, including Iryna Babik, Andrea Cunha and Ben Greenspan. The group is responsible for the Playskin Lift and several wearable technology innovations that improve outcomes for children facing arthrogryposis, cerebral palsy, stroke, brachial plexus palsy and other diagnoses.
Prior to the fall semester, Lobo began a collaboration with Associate Professor Ashley John Pigford (Department of Art and Design), who directs the Interaction Design (IxD) Lab and graduate program. Lobo and Pigford challenged the students to design and prototype assistive eating devices for one- to three-years-old children with AMC.
"I wanted people without a health background who knew nothing about disability or feeding," Lobo said. "They looked at the design space, the feeding materials and envisioned a different way that these kids can be more independent with feeding. The students came up will really cool ideas. The designs are super user-focused."
Kids with arthrogryposis have difficulty raising their arms and getting utensils to their mouths. Pigford and the interaction design graduate students tested their designs with attendees to the gathering — everything from a backpack with a pulley system to robotic devices and custom 3D printed spoons that better retain food. Robotic feeders are already on the market to help with these struggles, but prices start around $7,000; the UD students worked on do-it-yourself, inexpensive versions for the families.
"These students shares their prototypes with a wide range of individuals and get input on what would be helpful not only for children but also for adults," Donohoe said. "The adult input was helpful not only for the students, but also for the adults who have AMC."
Pigford added, "Over the last year the IxD students have gone through a laborious process involving user-centered research, design and prototyping these devices. It was wonderful to engage in user testing, which will continue through the relationships we have established at Nemours and elsewhere. Through this work the students have a real potential to make significant impact on the lives of people who need it, which is the goal of the IxD program at UD."