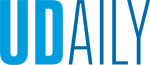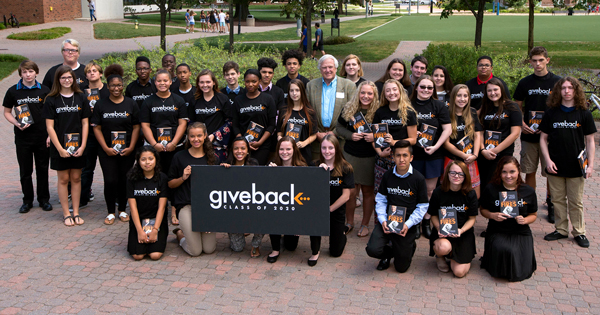 Give Back Scholars
Article by Development and Alumni Relations Staff October 13, 2017
Give Something Back hosts event for scholarship recipients
The first group of high school students selected for the Give Back Scholarship Program gathered Sept. 9 on the University of Delaware campus for a fall kickoff event with their families, mentors and friends of Give Back.
These 38 ninth graders from across the state of Delaware were paired with mentors – many of whom are UD faculty, staff and alumni – to support them throughout high school. Upon graduation, these students will have the opportunity to attend UD. In the spring of 2015, Give Something Back donated $3 million to UD to help 150 students in Delaware graduate from the University debt-free.
"You have been given a blank check for your future and now it's your job to fill in that blank check with your hard work," said Darrell Edmonds, UD Class of 2002, Give Back's regional director of mentoring and partnerships, in his address to the new scholars.
Edmonds noted that Give Back's mentoring program has evolved this year, with mentors having an active role in helping scholars develop college plans.
"We want you to be ready for college when you arrive on campus so you can graduate in four years and get a job that you will enjoy and that will provide you with financial stability," he said.
The scholarships would have not been possible without the generosity of Robert Carr, founder and chairman of Give Something Back.
"Give Back provides bright, talented students with an opportunity to realize their dreams of graduating from college — an opportunity they would not likely have otherwise," said Carr.
About Give Back Scholarships
Give Back requires scholarship recipients to maintain a 3.0 GPA, take college prep courses, and demonstrate admirable character. Upon high school graduation, these students must meet the standard admissions requirements of the University of Delaware.
To learn more about Give Back visit https://www.giveback.ngo/. Those interested in volunteering their time as a mentor can apply at http://www.giveback.ngo/mentors/.