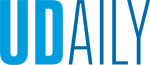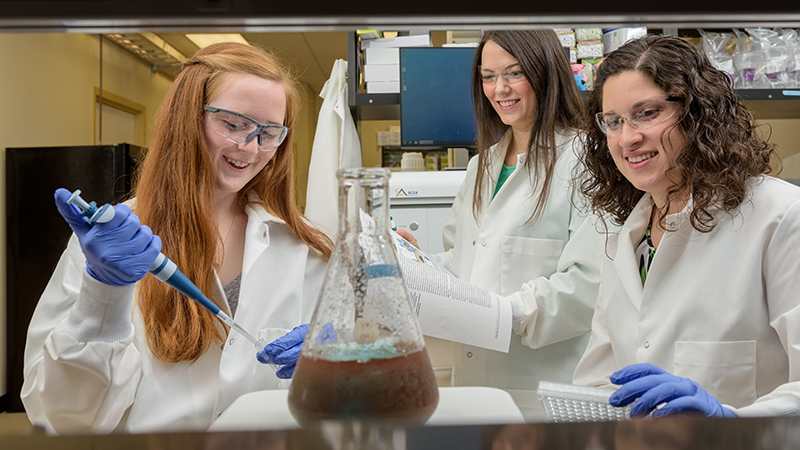 Improving cancer detection
Article by Diane Kukich Photo by Evan Krape May 25, 2017
Undergrad biomedical engineering student is lead author on PLOS ONE paper
Accurate detection of antigens — receptors that are overexpressed on diseased cells relative to healthy cells — is imperative for clinicians to diagnose disease, assess treatment success and predict patient outcomes.
The most common technique used to detect disease-associated biomarkers is known as ELISA, short for "enzyme linked immunosorbent assay."
The assay involves incubating primary antibodies with biological samples containing the biomarker of interest. Then, detectible secondary antibodies conjugated with an enzyme found in the roots of horseradish are used to bind the primary antibodies. When a color-changing substrate is added, the samples provide a signal that directly correlates to the targeted biomarker concentration.
However, while ELISAs are effective for analyzing samples with high biomarker content, they lack the sensitivity required to analyze samples with low antigen levels.
Now a team of researchers at the University of Delaware has found a way to increase the signal and improve detection. Their findings are reported in a paper, "Antibody-Nanoparticle Conjugates to Enhance the Sensitivity of ELISA-Based Detection Methods," published in PLOS One on May 11, 2017.
The lead author on the paper, Margaret Billingsley, is an undergraduate biomedical engineering major.
Billingsley joined the lab of Emily Day, assistant professor, as a freshman and was introduced to work that Day and graduate student Rachel Riley were doing on cancer detection. The two had hypothesized that the sensitivity of ELISAs could be enhanced by replacing freely delivered primary antibodies with antibody-nanoparticle conjugates that provide excess binding sites for detectible secondary antibodies, ultimately leading to increased signal.
With some initial mentoring from Riley on the scientific method, the project was handed off to Billingsley.
"I wasn't just given tasks to carry out," she says. "They really gave me a lot of responsibility."
"As Rachel and I observed Maggie in the lab and in our group meetings, it became apparent that she is extremely mature and has a natural affinity for research, and that she would be able to lead her own independent project," says Day.
Riley and Day's confidence in Billinsgley paid off, as the work she has done over the past three years has confirmed their hypothesis.
The team investigated the use of nanoparticles called nanoshells decorated with antibodies specific to epidermal growth factor receptor, an important biomarker in a number of diseases. They probed to see whether these conjugates could enhance the detection of breast cancer cells relative to a traditional ELISA performed with freely delivered antibodies.
Their results demonstrate that antibody-nanoparticle conjugates lower the detection limit of traditional ELISAs and support further investigation of this strategy with other antibodies and nanoparticles.
"With this enhanced sensitivity, we anticipate that nanoparticle-modified ELISAs can be used to detect low levels of biomarkers found in various diseases, such as cancers, tuberculosis and rheumatoid arthritis and may ultimately enable earlier diagnosis and improved treatment monitoring," Day says.
"I am incredibly impressed by Maggie's accomplishments in this work," she adds. "For an undergraduate student to tackle a research question and become lead author on a scientific paper is extremely rare, and this stands as very strong testimony to Maggie's outstanding promise as a scholar."
Future studies will include investigating the use of this technology to detect diseased cells in complex solutions, such as urine and whole blood, to validate it in point-of-care detection.