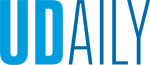 : youtube.com/watch?v=_nJes-vj6NA
STAR Tower topped off
Article by Andrea Boyle Tippett Photo by Aaron Davis August 22, 2017
Video by Ashley Barnas and Paul Puglisi
The 10-story building is a partnership between UD and private firms
A steel beam locking into place completed the framework of the newest building on the University of Delaware's Science, Technology and Advanced Research (STAR) campus Tuesday morning, Aug. 22. The 10-story STAR Tower was "topped out" as a crowd of 150 looked on.
The building, like nearly everything on the STAR Campus, is a collaboration, built by a private developer on land belonging to UD. Its tenants will include UD's College of Health Sciences and outside businesses whose missions complement those of the University.
"Partnerships make all of this possible," UD President Dennis Assanis said. "Partnerships are essential for a modern research university like UD. They link our scholarship to action and they extend our reach into the world."
The College of Health Sciences will occupy roughly two thirds of the 120,000-square-foot STAR Tower with spaces focused on two letters – co – as in collision, collaboration and community.
The best healthcare education rarely happens inside a traditional classroom, said Kathy Matt, dean of the College of Health Sciences. STAR Tower includes few spaces for sitting in a chair and passively learning and a multitude of areas that support hands-on experience and collaboration, including a makerspace, demonstration kitchen and a virtual reality cave.
Just as in the existing CHS facility on STAR, labs will feature windows so students, faculty and visitors can view what's happening inside. Matt says physically seeing patients every day strengthens students' and researchers' connections to the communities of people they want to help.
The outcomes of health-related research notoriously take years to reach patients.
"There's a pipeline that many times takes 10, 20, 30, 40 years," Matt said. "The whole idea of STAR is to cut down the timeline. It should be discovery and delivery happening simultaneously."
Community members with a variety of medical issues, such as Parkinson's disease, speech disorders and kidney disease, may one day find themselves inside one of STAR Tower's suites.
"All of this bodes very well for us to be able to come up with solutions to some of our greatest challenges that affect Delawareans' quality of life as well as the state's economy," Matt said.
The governor agreed.
"This is ground zero for the new economy in the state of Delaware," Gov. John Carney (D-Del.) said.
Carney noted STAR Campus' transformation from a shuttered Chrysler factory, which during its time in operation employed thousands of people and pumped millions of dollars into the local economy. He said those sorts of good paying manufacturing jobs are now scarce in Delaware and the nation. The future, Carney said, is about innovation.
"Our institutions of higher learning are more important than they have ever been," he said. "The states that win will be the ones that have the strongest, most innovative, best-educated workforces."
Carney said he has high hopes that research will drive the development of start-up companies and STAR Campus will attract existing high-tech, new economy businesses.
Private developers are financing and constructing the building. Tuesday's topping out ceremony was arranged by developer Delle Donne & Associates and builder Bancroft Construction.
"When you look at what a topping out is, the completion of a skeletal frame of a building with steel, no place is better suited to produce that steel frame on which build a career, a family, a livelihood than the University of Delaware," Ernest Delle Donne said.