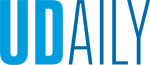 Delaware Innovation Space Inc.
Article by UDaily staff Photos by Kathy F. Atkinson April 26, 2017
UD, state and DuPont join forces in new incubator
In a strategic effort to amplify and accelerate innovation and entrepreneurship, the University of Delaware is partnering with the state and DuPont to establish a new business incubator and unlock new opportunities for entrepreneurs.
UD President Dennis Assanis joined Delaware Gov. John Carney as well as business leaders from DuPont to announce the establishment of the Delaware Innovation Space, a nonprofit partnership established by the three entities, on Monday, April 24.
"UD fosters a strong, productive and longstanding relationship with the state and DuPont. Our new partnership will advance scientific inquiry and translate discoveries into innovation to strengthen our economy and improve the lives of Delawareans," Assanis said. "The Delaware Innovation Space represents a new and exciting chapter in our journey together, one that will benefit our community for many more decades ahead."
"We should do everything we can to support innovation and partner with the private sector to drive business and job growth," Carney said. "DuPont and the University of Delaware have long histories of innovation and remain crucially important to the future of our economy and our state. This partnership will draw upon the resources of those institutions to help science-based businesses grow here in Delaware and connect Delaware's students to the work of our most talented innovators."
Delaware Innovation Space Inc. (DISI), located at DuPont's Experimental Station facility in Wilmington, will act as a catalyst for the growth of science-based businesses, spurring job creation. Entrepreneurs will rent lab and office space, giving them room to test their ideas in a collaborative environment full of other innovators with support from professionals and educators with experience in bringing products to market.
"DuPont's vision for the Experimental Station is to harness the power of collaboration to drive innovation," said Doug Muzyka, DuPont senior vice president and chief science and technology officer. "Together with the state of Delaware and the University of Delaware, DuPont will create an innovation space where entrepreneurs, scientific leaders and businesses can benefit from the best-in-class talent, resources and culture at the Experimental Station."
The 100,000-square-foot space will include a mix of large shared laboratories, smaller individual labs, private offices and semi-private workspaces.
DISI will focus on key science, technology, engineering and mathematics (STEM) areas that align with strengths both DuPont and UD bring to the venture. They include: biotechnology; renewable energy; advanced materials; chemical ingredients; agriculture; nutrition and healthcare.
A time of transition
Delaware's economy is in a time of transition. In recent years many large Delaware companies have reduced their regional research footprint.
Charlie Riordan, UD vice president for research, innovation and scholarship and a member of the DISI board, sees an opportunity to stem the exodus of individuals with technical talent from the state and to turn the First State into a new sort of Silicon Valley.
"Other parts of the country innovate in the IT and pharmaceutical sectors well," Riordan said. "The Delaware Innovation Space will become a vibrant center for startups who are making products – materials and chemicals – and need access to these sort of laboratories and the tremendous human talent available in the region."
Projections show DISI will support as many as 2,165 jobs, created directly by tenants in the space and those that outgrow it and graduate to larger facilities in the region, as well as indirectly through construction and other companies within the tenants' supply chains. It is expected that at maximum capacity, DISI operations will support more than $20 million in state and local tax revenues and $43 million in federal tax revenues annually.
Each of the three partners will contribute to the entity. The state will provide $5 million in startup funding over three years and key support in attracting companies to Delaware. DuPont is donating a building at the Experimental Station, valued at $15 million, $2 million worth of laboratory equipment and $1.25 million in startup funding. UD will contribute $1.5 million in startup funding over three years and will provide a variety of services to the space's occupants. DISI entrepreneurs can take part in on-site workshops and seminars led by UD faculty members, access grant writing support and work with student interns. UD's Horn Program in Entrepreneurship will have direct ties to the space. Organizers foresee a robust internship program run in conjunction with DISI's various startups.
DISI will also provide an outlet for UD's faculty, staff and students to see their ideas move towards commercialization. The need is clear: The 10,000-square-foot incubator on UD's Science, Technology and Advanced Research (STAR) Campus was fully occupied upon opening last fall. DISI will afford students hands-on learning opportunities in entrepreneurship, product development, business and marketing, giving them the experience and confidence to become future business innovators.
"As they enter and then influence the workplace of tomorrow, our students will need a strong entrepreneurial mindset so they can see obstacles as opportunities and can imagine possibilities instead of dwelling on limitations," Assanis said. "The Delaware Innovation Space will help UD students become the next generation of entrepreneurs in our state."