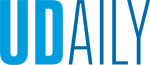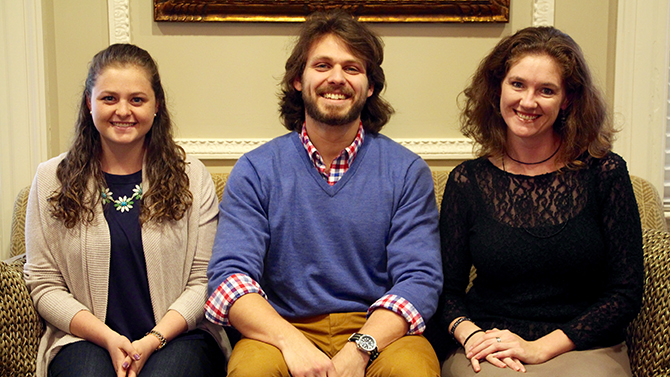 FULBRIGHT AWARDS
Article by Nikki Laws May 27, 2016
UD students, alumna win Fulbrights to teach, study across the globe
Three University of Delaware students and an alumna have received word this spring that they will travel abroad as part of the newest class of Fulbright Student Program award winners beginning in the fall.
The students are Rebecca Jaeger, Shane Sanders and Will Lescas, and the alumna is Brighid Scanlon, who received a master's degree in 2012.
For Jaeger, a senior biology, history and Spanish major and this year's Emalea Pusey Warner Award recipient, the good news came unexpectedly after an exam. "I will forever remember the moment I checked my email," she said. "I was shaking. I read the email, and I must have looked crazy walking from Gore through Mentors' Circle. I was like, I'm going to Spain!"
Jaeger will spend the next year in Spain as a Fulbright English teaching assistant (ETA), conducting English instruction at the university level.
According to Jaeger, while her interest in the Spanish language dates back to her first classes in elementary school, it was a study abroad experience to Granada during her sophomore year that convinced her to apply for a Fulbright award.
"When I was abroad I taught English one day a week to seventh through ninth graders, and it was very much on my own. They threw me in with a different group of five students each day, coming up with different activities to get them to talk about themselves," she said. "I think that was one of the more impactful experiences that I had while in Spain, seeing that while these students live in a completely different culture and speak a completely different language, really their interests are the same, that certain things span oceans and continents."
Jaeger plans to attend law school and work in the criminal justice system once she returns to the United States in 2017. "Any time you are working with other people and are put in an environment that pushes you outside of your comfort zone, it is going to be a great experience," she said, adding that she also hopes that by becoming fluent in Spanish she will be able to work with non-native English speakers.
Scanlon, who graduated from UD in 2012 with a master's degree in foreign language pedagogy, will also embark on an ETA.
"As long as I can remember, I've dreamed of living in Brazil," she said.
Scanlon studied Portuguese during her undergraduate studies at UD, and now teaches courses in that language, among others, at Eagle Rock School in Colorado.
For the veteran teacher, a Fulbright is the next logical step. "It seems to me like sort of a natural progression to apply the skills that I've learned from my master's program and in the classroom to start my career in teaching English," Scanlon said. "I am hoping this takes me in that direction and to teach English in the future as well."
Of the Brazilian culture and people, Scanlon is looking forward to knowing and becoming part of a widely diverse community. "I think it is really fascinating how ethnically and racially diverse Brazil is, and how the country has integrated the histories of each individual ethnic group."
Sanders, who will graduate from the same master's program during the May 28 Commencement, will arrive in Senegal this September to begin her own English Teaching Assistantship.
While Sanders has lived and taught English in France, Italy and China, this will be her first time on the African continent. During her residency, she will teach English to university students in Dakar or Saint-Louis.
Each Fulbright English teaching assistant must complete an add-on service project in addition to their 20-30 hours in the classroom each week. Sanders hopes to volunteer with Bridge Kids International, a non-profit organization dedicated to helping youth unleash their social entrepreneurial skills, or at an equestrian center, teaching local children English vocabulary related to their passion for horses.
"This will be the first time I am living in a predominantly Muslim culture," she said, adding that "it will be very interesting to see how that culture reflects in daily and academic life." While in Senegal, Sanders also hopes to learn Wolof, a local language, from her new community.
Lescas, a senior Honors Program student and international relations major, has been awarded a Fulbright for graduate study at the University of Aarhus in Denmark. There, he will take on a master's in political science, concentrating on the integration of Denmark into the European Union.
Of the unique perspective his Fulbright will allow him, Lescas said, "It's all about context. When you are there, you start to see patterns that you wouldn't see just from literature. After reading books and being removed from the world, I'm going to be taking classes with the authors. It is so cool. I've read what they have spent years of their life doing and now I actually get to sit down and talk with them regularly. It's the real deal."
Lescas was first introduced to Denmark through an education abroad program with the University of Delaware and the Danish Institute for Study Abroad. "DIS was the program I wanted, but not necessarily the location. All of that changed. I have a host family that I still keep in close contact with, and I went back to Denmark for my senior thesis work over the winter. That kind of was the start of it, realizing it was this wonderful place."
According to Jaeger, applying for and receiving a Fulbright award is not a solo journey. "It really was the experiences I had here and the people I worked with here that empowered me both to apply and be selected."
For those planning to apply for a Fulbright Student Program award in September, Jaeger advised to put forth a quality application and look to mentors for encouragement. "No matter what, keep looking at it and ask for help. If you are stuck, there is a network of support that is going to be able to help you move forward in a direction where you are proud of the work you are submitting."
Lescas said that students should not allow the prestige of the award to stop them from applying. "The program is accessible to those who have a good plan and a passion," he added.
The students will Join Allison Karpyn, associate director of the Center for Education Research and Social Policy (CRESP) and associate professor of education and behavioral health and nutrition, as the newest members of the UD Fulbright Society, established to honor members of the University community who have won the award.
In addition to the newest Fulbrighters, two students were chosen as alternates and will learn later this summer whether they will begin a global journey of their own.
About the Fulbright Program
The Fulbright Program annually provides 8,000 grants for research or teaching in one of over 140 countries throughout the world. Established by U.S. Sen. J. William Fulbright in 1946, the program seeks to foster international partnership and cultural exchange by funding research and teaching opportunities worldwide.
More than 150 members of the University of Delaware community have received Fulbright Awards.
In addition, the University welcomes Fulbrighters from around the world for research and graduate study, with students hailing from Afghanistan, Colombia, Egypt, Iraq, Mexico, Spain, Tunisia and Turkey.
This summer, the University will welcome students from around the world for a week-long Fulbright Gateway Orientation administered by the Institute for Global Studies.
For more details on Fulbright at the University of Delaware, visit the Institute for Global Studies website or contact Lisa Chieffo, associate director for study abroad and UD's Fulbright Program adviser.