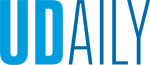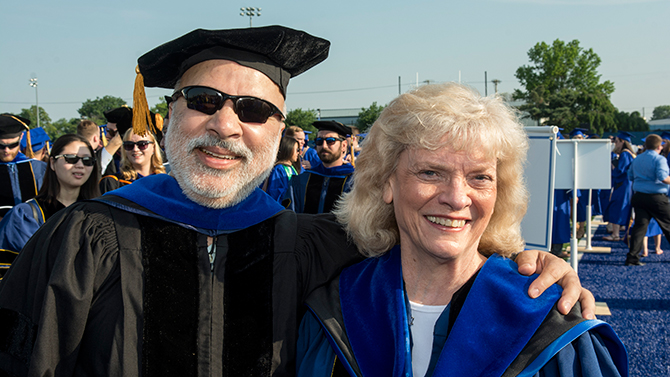 From the graduates and faculty
Article by Jerry Rhodes Photo by Doug Baker May 28, 2016
Graduating students, faculty members share feelings about Commencement
As it neared time for the processional to open the University of Delaware Commencement ceremonies on Saturday morning, graduating students and faculty members shared their feelings about what the event means to them.
Laura Velarides, an English major from Marlton, New Jersey, said, "It feels amazing. It hasn't really hit me yet. I love UD and I will miss being here, but this is the perfect time to move on to the next thing in my life. I've enjoyed the camaraderie among students and faculty and becoming involved with many different people."
Velarides has accepted a full-time position as a technical editor, a goal she has had since coming to UD.
Amanda Abron, an English major from Lancaster, Pennsylvania, said all her studying really paid off. "The Class of 2016 will never be back here as a group like today, but we can celebrate what we did here today," she said. "I like all the friendships and other opportunities that I have had and I will miss talking with the students and faculty."
Abron, who began her studies at UD as an economics major, is headed to Chile to teach English and said she hopes to push herself to new goals while learning about another culture.
Alex Schilder, an exercise science major from Dresher, Pennsylvania, said graduating from UD and going to graduate school is something he has wanted to do, even before enrolling at UD. "For me, the end goal is pediatric physical therapy," he said. "I think helping kids who are challenged is one of the most important things I can do."
Schilder begins graduate school next week to pursue a doctorate in physical therapy at Emory University in Atlanta.
Jillian Noto, a psychology major from Trumbull, Connecticut, said she is both excited and sad at the same time. "I'm excited that the four years are coming to an end, but I'm sad that I'm not going to see my friends anymore," she said. "The best part about UD was meeting all these people who will be my friends for life and also getting to new people from all over the East Coast."
Noto will be entering Fairfield University to pursue a graduate degree in clinical and mental health counseling and hopes to work helping military veterans who have post-traumatic stress disorder. "They give their lives to protect us, and I'm passionate about helping them," she said.
Jake Calder, an exercise science major from Goshen, Connecticut, is headed to the New York Chiropractic College in Seneca, New York. "I like helping people," he said, adding, "I really enjoyed the people I've met at UD — this school has everything, the whole nine yards. I also would like to thank my mom and dad and my little brother Jesse who have all been my biggest supporters."
Tyler Barbarich, an exercise science major from Martinsville, New Jersey, said his UD experience has been awesome and he is sad that it's over. He is staying at UD for a master's degree program in exercise science.
"My sister was a science person, so I just stuck with the sciences," he said. "I also played lacrosse for four years and helped coach this year."
Mary Martin, associate vice provost for graduate and professional education, said she was here as a follow-up to the doctoral hooding ceremony held Friday morning on The Green. "It's a way to recognize all the great accomplishments of our students, and we look forward to their future endeavors," she said.

Ismat Shah, professor of materials science and engineering and of physics, said that coming to Commencement is a way of helping the newest doctoral graduates get out into the real world.
"This is really something, when you take somebody who comes in green, and you train them to think independently," he said. "The technical part is easy, but the training is so important because we are training these individuals to pass this on and do the same things for others. We have this responsibility to pass off the torch to the next generation as others have done before us."
Additional articles and resources
Commencement 2016
Commencement honors
Doctoral hooding
Facebook
YouTube video
Storify
UD in Photos