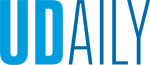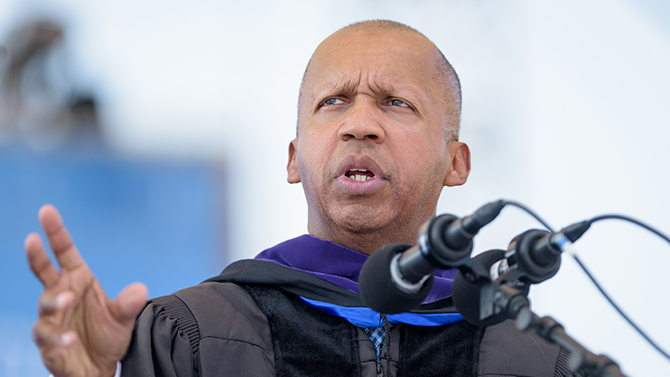 167th Commencement
Article by Jerry Rhodes Photo by Evan Krape May 28, 2016
Social justice advocate Bryan Stevenson urges grads to change world with hope
Under clear blue skies on a warm morning, graduates and their families and friends were among the crowd of 23,000 celebrating the University of Delaware's 167th Commencement held Saturday, May 28, at Delaware Stadium.
Commencement speaker Bryan Stevenson, an author and advocate for social justice, was introduced by University Provost Domenico Grasso.
Stevenson is the founder and executive director of the Alabama-based Equal Justice Initiative and author of the author of Just Mercy: A Story of Justice and Redemption, the University's 2015 First Year Common Reader selection.
"Mr. Stevenson is not just a visitor to the First State – he is a proud Delaware native, having grown up outside the small town of Milton," Grasso said. "It was that childhood in a poor and racially segregated community that helped form Mr. Stevenson's view of the world. He knew poverty firsthand. He saw how those around him worked hard but remained marginalized and excluded from the rest of society."
Grasso also noted that "Mr. Stevenson defends those who need it most – the poor, the wrongly condemned, and the women and children trapped in the forgotten corners of the American criminal justice system."
Stevenson, who earlier in the ceremony was awarded an honorary doctor of laws degree, congratulated the graduates and urged them to carry their passion and dedication forward to address issues of social injustice and income inequality.
"I'm so thrilled to be officially certified as a Blue Hen," Stevenson said. "I can't tell you how much pride I have to be here on this really pleasant day."
Stevenson also reminded the Class of 2016 that their achievements were made possible by the investments of time, money and encouragement from families, friends and faculty members who supported them during their undergraduate experience.
"Now, it's time to give something back," Stevenson said. "I want to urge you to change the world when you leave here."
Over-incarceration and excessive punishment as a result of bad policy decisions has caused the number of people in jails and prisons to rise from 300,000 in 1972 to 2.3 million today, Stevenson said.
"There are 6 million people on probation and parole, and there are 70 million Americans with criminal records," Stevenson said. "This means that when they apply for a job or try to get a loan, they are going to be distinctly disqualified."
Stevenson also noted that the problem of mass incarceration and excessive punishment has been caused by the war on drugs.
To begin to address such large numbers of individuals caught up in the criminal justice system, those who want to effect change have to get closer to the problem.
"People will tell you that you shouldn't go here and you shouldn't go there, but I am here to tell you we need to do the opposite and get close to the people in these communities," Stevenson said. "There is power in proximity."
Next, the narrative of fear and anger that has created these problems needs to be changed if social justice is to become a reality, Stevenson said.
"There is a power in hope, and we have to be more hopeful and we have to change the narrative of race," Stevenson said. "We will not be free in our own country until we have addressed the issue of racial inequality."
Getting close to the situation, changing the narrative and sustaining hope also means that people must sometimes be willing to confront situations that may be unpleasant, Stevenson.
"Sometimes you are going to have to do uncomfortable things, but when you do this, you change the world," Stevenson said. "We need to judge character not by the way we interact with people with power and money, but how we interact with the poor and the underrepresented. I wish you the best in that pursuit."
Commitment to excellence and service
Earlier in the ceremony, University President Nancy Targett extended a Blue Hen welcome to the families, friends and guests celebrating the achievements of the graduating members of the Class of 2016.
Targett thanked special guests including distinguished faculty, trustees and honorary degree recipients, and saluted the Class of 2016.
"You finally made it to graduation," Targett said. "You're here! Let me be the first to congratulate you."
While getting a UD degree involved a lot of hard work, it also afforded the graduates the opportunity to grow as individuals and form lifelong friendships, Targett said.
"You've changed over the past four years," she said. "If you don't believe me, ask your families. They've seen it. You're more mature, more sure of yourself, ready for the next chapter in your life."
Targett also reminded the graduates that theirs is a journey that began on a warm summer evening 1,370 days ago on The Green outside the Morris Library and Memorial Hall where they were welcomed by then-president Patrick Harker.
"That was our very first Twilight Induction Ceremony," Targett said. "What is now a proud Blue Hen tradition began with you."
Recalling the occasion, Targett reminded the graduates that she spoke to them then as the dean of the College of Earth, Ocean, and Environment, and that she wore her full academic regalia of black robe, tam and doctoral hood — the complete outfit.
"I did it on purpose, to distinguish myself from the others, to stand out from the crowd that night," Targett said. "I remember asking you, 'How will you distinguish yourself over the next four years?'"
Targett lauded several members of the Class of 2016 who stood out from the crowd though academic excellence, business savvy, caring for creatures, and helping others with service and compassion. They included:
• Nate Matherson, in the Alfred Lerner of College of Business and Economics, an entrepreneur who, despite a first venture that fell apart, had the vision to see opportunity where others saw failure.
"Nate and his UD classmate Matt Lenhard are now developing LendEDU, an online marketplace for student lending and refinancing, kind of like Lending Tree for student loans. They'll be running LendEDU from their new offices in Hoboken, New Jersey, and they've got five fellow Blue Hens working full-time for them already."
• Jamila Blake, a Florida native and wildlife conservation major in the College of Agriculture and Natural Resources, loves animals and teaching others about nature.
"Last summer, Jamila worked with park rangers in India to care for animals and protect their habitats," Targett said. "Now, she's combining all those interests, and just this week Jamila got a job as a conservation advocate with the American Bird Conservancy in Washington, D.C."
• Chloe Ng, a student in the College of Earth, Ocean, and Environment, was picked to be an ambassador for UD's Delaware Environmental Institute (DENIN), helping to make science accessible and interesting to non-scientists.
"Chloe has focused her studies and activism on one of the world's most important but overlooked resources, clean water," Targett said. "She's now looking at a career in sustainability and environmental education."
• Ellie Wallace, as a freshman in the College of Arts and Sciences, got involved with UD's mock trail team, which requires students to have the "technical skills of an attorney, the theatrical skills of an actor and the public speaking skills of a political leader," Targett said, adding, "During their first year, Ellie and her team finished at the regional level. They continued to work hard and practiced four hours a day, six days a week for months. During the past two years, they finished among the top 10 nationally out of more than 650 teams, and also earning for Ellie an All American Attorney award and a tie for the best collegiate mock-trial attorney in the nation.
"Now, Ellie wants to be a museum curator, teaching kids about history and historical objects. This fall, she'll pursue here master's degree in museum education at the University of the Arts in Philadelphia."
• Ashley Johnson decided she really liked electrical engineering. She also tutored fellow students in math, while holding leadership posts in the National Society of Black Engineers, the Electrical and Computer Engineering Honor Society and her sorority, Alpha Kappa Alpha.
"Ashley interned at PPL Electric Utilities and had a chance to go back but she wanted to try something new, so she jumped into research, working on UD's Electric Vehicle-to-Grid Project. Like many of our students, Ashley had never considered research but fell in love with the chance to do something so rewarding."
• Kevin Bessone started working at Walt Disney World after high school in 1971, but soon enlisted in the military and enjoyed a 20-year career in the Air Force. He then earned an associate's degree and enrolled UD's College of Education and Human Development, where he earned a bachelor's degree in human services.
"Today, at age 63, Kevin is one of five graduates in our Over-60 program, and is the first in his family to graduate from college," Targett said "He now plans to become a grief counselor, continuing his lifelong commitment to serving others."
• Brianna Hafetz came to UD to study nursing in the College of Health Sciences. Having seen her little sister suffer from a chronic illness, she grew up seeing the amazing impact a good nurse could have on a patient. At UD, she volunteered with Lori's Hands, a service organization where students help chronically ill people in the community with household chores like cleaning and shopping.
"Brianna was assigned to work with Edna and Warren, a local elderly couple. She formed a strong bond with them, growing to think of them as an extra set of grandparents," Targett said. "During a stressful finals week last year, she made time to visit Edna and Warren. They talked, they prayed and later that night, Warren passed away.…
"Brianna has continued visiting Edna every week, and they expect to stay in touch… Earlier this week, Brianna got the news that she and Edna had been hoping for: Brianna landed a nursing job in the Pediatric Intensive Care Unit at Johns Hopkins Hospital in Baltimore."
Targett concluded her sharing of these stories of excellence, commitment and service by praising everything that all of the graduates have accomplished since that very first Twilight Induction Ceremony.
"I am so proud of how you've distinguished yourselves as individuals and as the Class of 2016," Targett said. "I'm honored to call you fellow Blue Hens. Now, on to your future – thank you."
At the start of ceremonies, the presentation of the colors by cadets from UD's Army and Air Force ROTC units was followed by the singing of the national anthem by Cara Ferro and Kameron Ghanavati, both members of the Class of 2016 and co-recipients of this year's F. Warren James Memorial Award.
Targett also welcomed the UD alumni delegates representing classes from 1950 through 2013, part of the 170,000 living alumni worldwide living in the United States and 75 countries around the globe.
Robert Opila, professor of materials science and president of the UD Faculty Senate, congratulated the Class of 2016 and urged them to keep in touch with faculty after graduation.
"You have been involved with faculty on research projects, and you learned how to learn, and you have just heard a great talk by Bryan Stevenson about social justice," Opila said. "After you graduate, please keep in touch with social media, email and telephone. Also, you will be able to meet some of us during alumni weekends. "
Anne Giacoma Barretta, a member of the Class of 1983 and president of the University of Delaware Alumni Association, welcomed the newest members and urged them to continue their association with their alma mater.
Barretta also invited members of the Class of 2016 to participate in the annual alumni pinning ceremony.
"Stay in touch with us and remember that you will find Blue Hen alumni events all across the country," Barretta said. "You are now members of the Blue Hen Family and you will be Blue Hens forever."
Additional articles and resources
Commencement honors
Commencement thoughts
Doctoral hooding
Facebook
YouTube video
Storify
UD in Photos