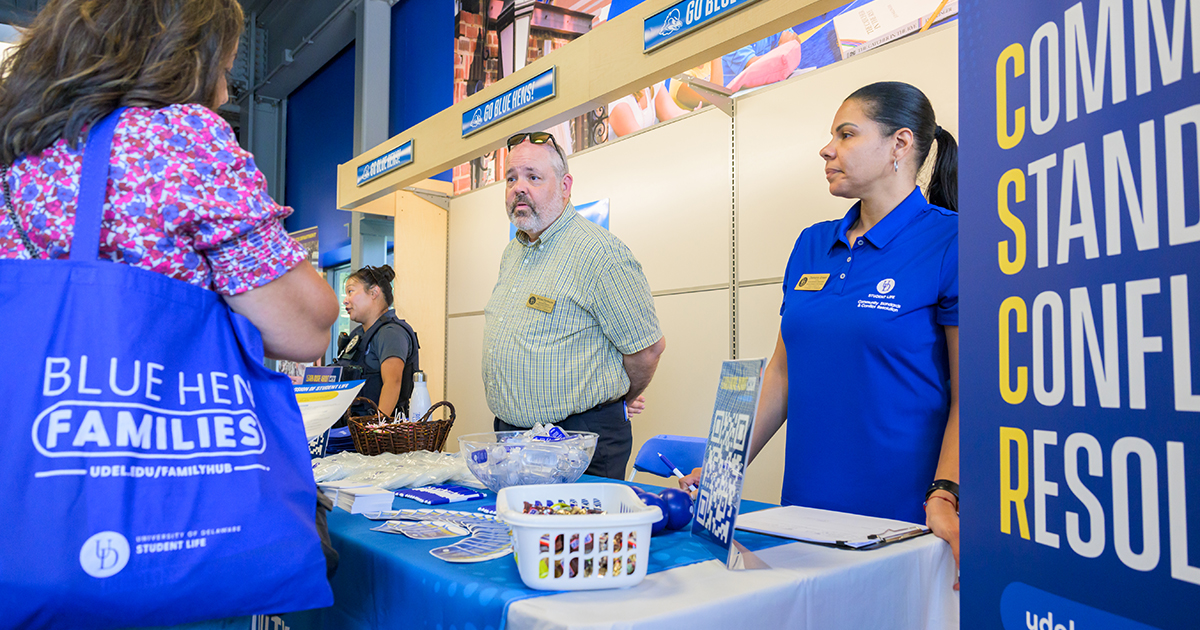 5 Myths About Amnesty
September 11, 2023 Written by Jessica Downey | Evan Krape
The second annual Amnesty Awareness Week starts on Monday, September 11. Hosted by Community Standards & Conflict Resolution (CSCR), the week educates students on the amnesty and "Good Samaritan" process, which allows students to seek help or medical assistance due to intoxication, alcohol or drug overdose or hazing activities without repercussions.
The week isn't just for first-year students and new Blue Hens; many UD students still have misconceptions about how the amnesty process works. Below are five amnesty myths busted by CSCR.

MYTH #1: You can "call amnesty"
"Amnesty isn't a person that you call," said CSCR Assistant Director Vincent Jackson. "When you call for help, amnesty is applied after—if you follow the right protocols."
The process for receiving amnesty is call, stay, help. First, call 911 or a University official when you have a concern. Next, stay with the person who needs help if you're calling on behalf of someone else, or stay in a safe location where you can be found. Finally, help by cooperating with emergency personnel by answering questions and following instructions. Remember, amnesty means conduct charges will not be filed, so answer honestly about alcohol or drug use so that the right measures are taken immediately.
Please note that amnesty will not be granted if you don't stay with the student for whom you requested help OR if you don't cooperate fully during the medical and investigative process.

MYTH #2: Amnesty only applies to one person at a time
The "Good Samaritan" clause of the amnesty protocol states that students that contact a University official and provide active assistance will not receive conduct charges related to behaviors associated with the granting of amnesty. That means if you're drinking and you seek help on behalf of another student who has also been drinking, amnesty can be granted to both of you.

MYTH #3: You can only use amnesty on campus
When seeking help during a medical emergency, immunity is granted, even off campus. Amnesty is not only applied to the city of Newark, but in the state of Delaware; the "Good Samaritan 911 law" grants criminal immunity for those who report drug overdoses.

MYTH #4: A drunk person can just "sleep it off"
Putting a drunk friend to bed to "sleep it off" could be putting them in danger. A person can vomit while still asleep and suffocate, and sleep doesn't remove the undigested alcohol from their system—their blood alcohol can still rise and lead to alcohol poisoning.
"You can't know their medical history or how their body is responding," said Jackson.

MYTH #5: You automatically go to the hospital
Some students assume that calling for help automatically means a trip to the hospital, which can be scary. However, that's not always the case.
"A medical response is not an automatic trip to the ER," said Jackson. "Emergency responders will evaluate and determine the best course of action. It could result in being transported to the hospital for observation to make sure nothing worse happens, and that you're going to be okay."

To learn more about amnesty, look out for CSCR tabling events on campus starting Monday, and head to the Central Green on Thursday, September 14 from 11:30 to 2:30 p.m. for Amnesty Awareness and Risk Reduction. CSCR will have free snacks, t-shirts and reusable water bottles for participants in helpful activities like Naloxone training, impairment goggles with UDPD, a bystander intervention exercise and much more. CSCR will also be at The Barn during the football game versus Saint Francis on Saturday, September 16 starting at 3:30 p.m.
For more information, visit udel.edu/students/community-standards and check out the amnesty page.