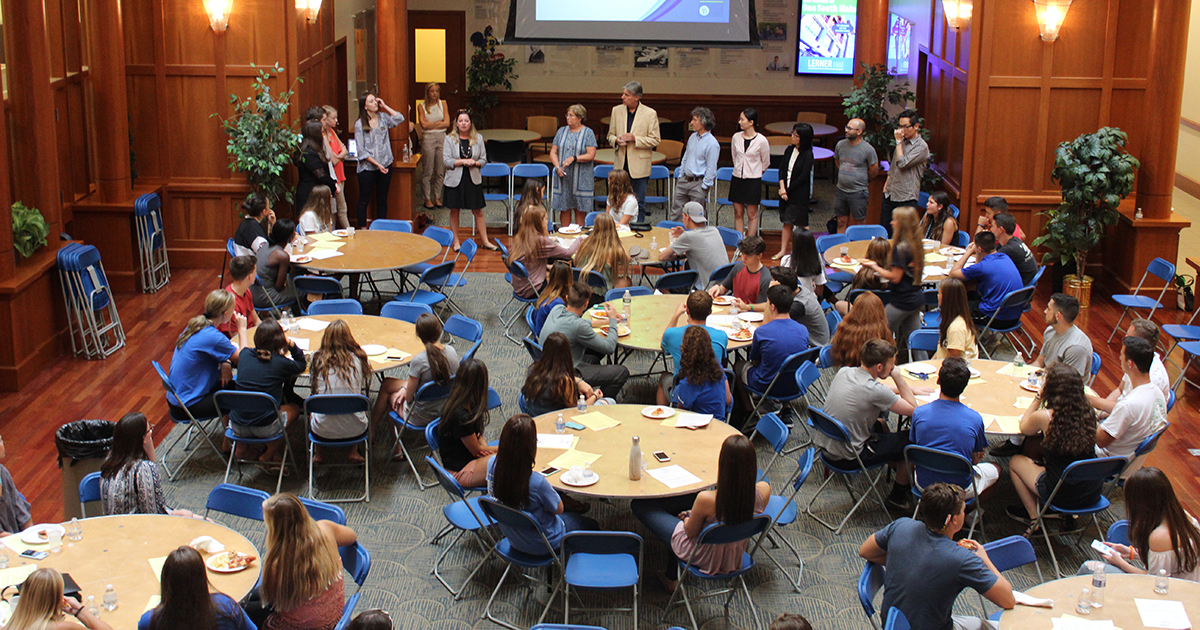 Blue Hen Marketing Club is for Everyone
September 06, 2022 Written by Jessica Smith | Photo provided by Shayna Durkin
Former HubSpot Vice President of Marketing Joe Chernov once said, "Good marketing makes the company look smart. Great marketing makes the customer feel smart."
The Blue Hen Marketing Club has put that principle into practice since its founding in 2009.
"The Blue Hen Marketing Club aims to offer great resources and learning opportunities to students interested in marketing," said senior marketing and management major and BHMC president Shayna Durkin. "We host speakers, panels, workshops and networking events to connect students with other peers, faculty and professionals while providing an atmosphere to develop professionalism."
As one of UD's largest RSOs, BHMC boasts about 200 registered members and meets several times per month, including general meetings, coffee chats and speaker events with local business owners and marketing professionals. Past speakers have included representatives from Iron Hill Brewery & Restaurants, the Philadelphia 76ers, The Archer Group and more.
"BHMC provides a relaxed, social environment to learn and grow professionally," said Durkin. "Our events and resources also give members the opportunity to develop a variety of skills and relationships that they can carry with them beyond college."
In her fourth year with the club, Durkin said she credits BHMC with helping her find her place on campus and on her career path.
"As a member since my freshman year, BHMC has allowed me to form friendships and connections while encouraging my growth as a student and professional," said Durkin. "I've been able to grow my marketing knowledge outside of the classroom, develop my professional presence and gain leadership experience."
BHMC is also a college affiliate of the American Marketing Association and Durkin said the club has plans to attend the annual AMA International Collegiate Conference in Spring 2023 in New Orleans.
Durkin said it's never too early (or too late) for any UD student to join.
"I wish more students knew that BHMC accepts all years and majors," she said. "You don't have to be a marketing or business major—all are welcome to join and explore marketing and professional interests from as early as your first semester at UD."
Join the Blue Hen Marketing Club mailing list by emailing bluehenmarketingclub@gmail.com and follow them on Instagram @bhmarketingclub.