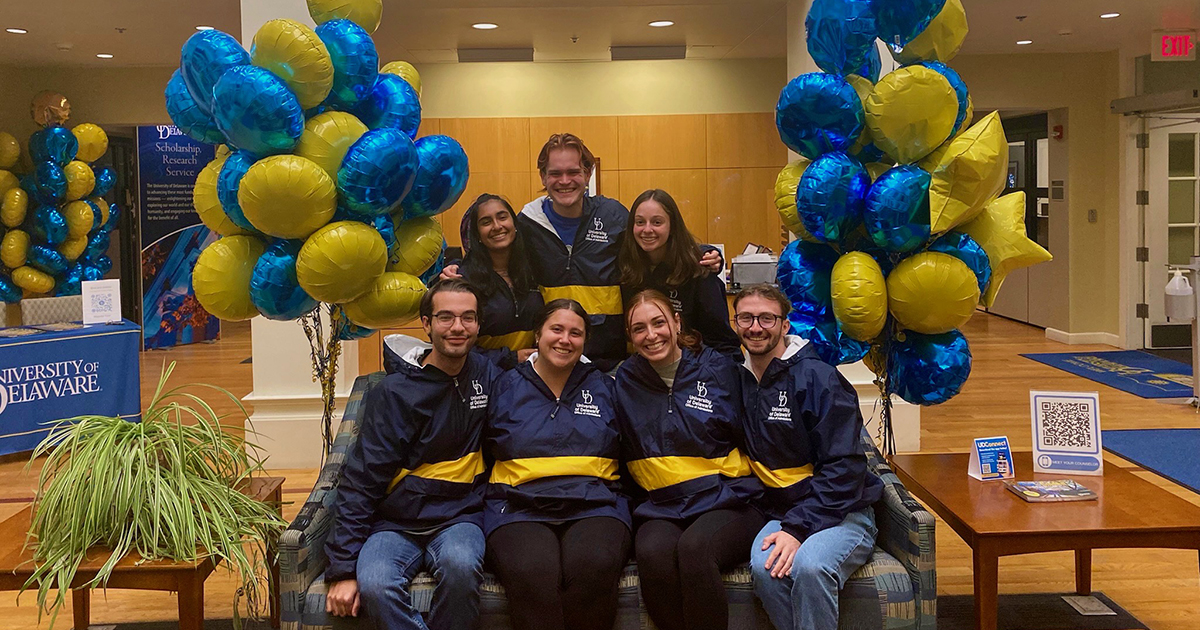 Blue Hen Ambassadors Help Students Find Their Home
November 02, 2022 Written by Esha Shah | Photo provided by Esha Shah
If you've seen students wearing khakis and UD gear on around campus talking all about their college experience, then you've seen Blue Hen Ambassadors.
BHAs are paid employees of the Office of Admissions that primarily give tours on campus during all times of the year (fall, winter, spring and summer) and talk about how much they love being Blue Hens. And that could be you—they're hiring! Applications are due Tuesday, November 8.
BHAs have the ability to help to positively impact prospective students' experience and build a strong legacy for the university.
"I love being a Blue Hen Ambassador because I knew from the start how a tour guide can make or break your opinion of a school when you visit," said Elyse DiPisa, student coordinator of returning training. "I wanted to provide a great experience and insight to prospective students, so they could get a great feel of what it is like to be a Blue Hen."
The job is bigger than simply giving tours. It becomes a built-in family of students who are passionate, diverse in interests and care about one another.
"BHA is what gave me the college experience I always dreamed of," said John Eichler, student coordinator of recruitment. "I was able to make such great friends, find a roommate, support myself and grow as a leader!"
Elliot Dobson, a junior BHA hired in Summer 2022, has been the center of recruitment under Eichler's leadership, single-handedly running the social media for BHA.
"Just in my few short months as a BHA, I feel that I have fully rounded out as an individual," said Dobson. "Professionally, I've gained priceless skills of public speaking, networking and connecting with like-minded individuals who share my passions. Individually, I've had the opportunity to meet some of the most amazing people, and have truly met some of my best friends."
Not only are BHAs an extended family, they also receive free customized merchandise and participate in Blue and Golden Days and Decision Days. These days are the most unique and rewarding aspect of being a BHA.
As a BHA hired in Spring 2021 leading tours for the summer, winter and now fall, I have loved sharing my unique experience at the University and encouraging prospective students to find their right fit. I remember my own Decision Day at UD and being able to see the behind-the-scenes today feels full circle in hindsight.
If you're interested in applying, BHA looks forward to your application by Tuesday, November 8. Look out for more events by following @ud_bha on Instagram.
This blog post was written by our Division of Student Life student intern Esha Shah.