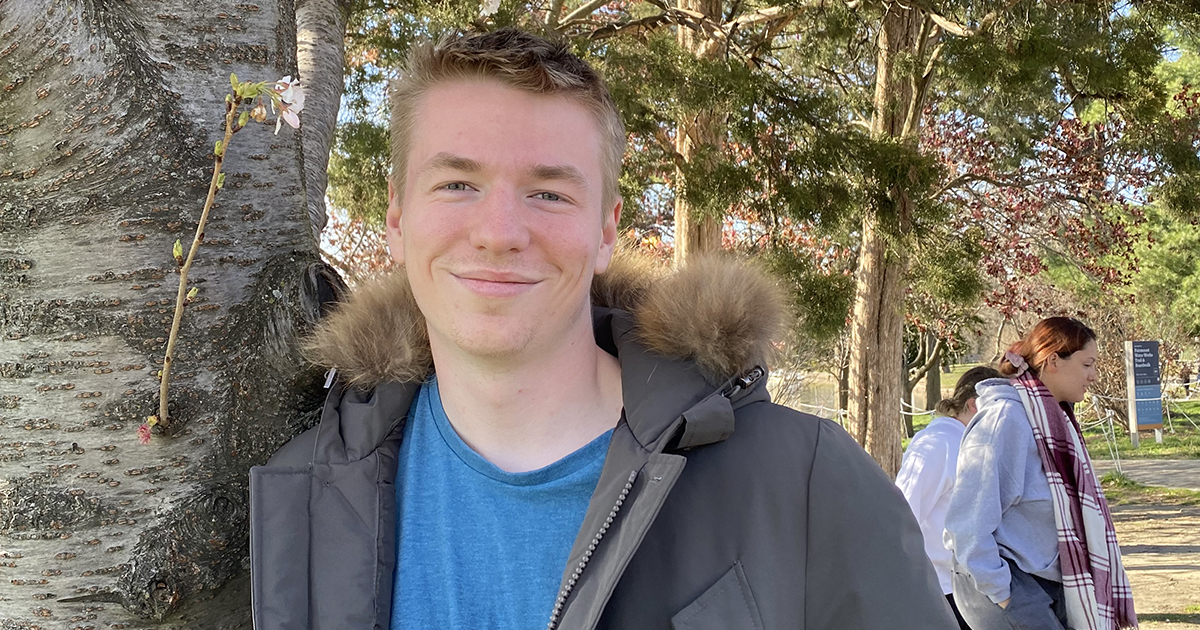 From the graduation stage to the workplace
May 23, 2022 Written by Jessica Smith | Photo provided by Aidan McCann
Senior finance and international business major Aidan McCann is hitting the ground running this summer. Only one week after graduating from UD, he'll start his first full-time job as a client service associate at JPMorgan Chase & Co.
"I begin my new rule on June 6," said McCann. "I will be a hybrid employee at the location by the Christiana Mall."
McCann initially heard about a different position at the company through a friend before finding this role on their website.
"The application process was quite painless," he said. "Everyone I interacted with was incredibly helpful and eager to assist me in any way. The whole ordeal only took a few weeks from application to notice of hire. I could not have been more pleased with everything."
McCann's duties will include serving as a primary point of contact for clients that are assigned to him.
"I will maintain the same client base and build meaningful connections with them in efforts to grow their investment portfolios at a high level of client satisfaction," he said. "I am really excited that I will be working with the same clients and have the ability to build a close relationship with them. I can't wait to be part of a team that is actively engaged in helping our clients."
As a former peer consultant at the UD Career Center, McCann said assisting students helped prepare him for how to deal with clients in the workplace.
"My time as a peer consultant enabled me to engage in a variety of customer service experience across multiple mediums," McCann said. "This position helped me build the soft skills necessary to interact with customers and make sure their needs are being met."
It also helped that he was trained on how to create the perfect resume.
"Thanks to my time at the Career Center, I feel I was able to build a stellar resume that was custom tailored to my desired position with the help of the wonderful career counselors and my peers," said McCann. "I would like to thank everyone that assisted in my professional development at the Career Center."
McCann advises fellow students and seniors still searching for jobs to stop by the Career Center for resume, cover letter and LinkedIn profile help, as well as industry advice.
"The services we provide are truly exceptional and you will walk out with a better foot forward in the professional world," he said.
As McCann prepares to cross the graduation stage and toss his cap in the air, he is grateful for the connections he made as a Blue Hen and looks forward to the future.
"I am so excited to begin this next chapter of my life," he said. "I would not be in this position without all the kind people I've had the pleasure to meet during my time at UD."