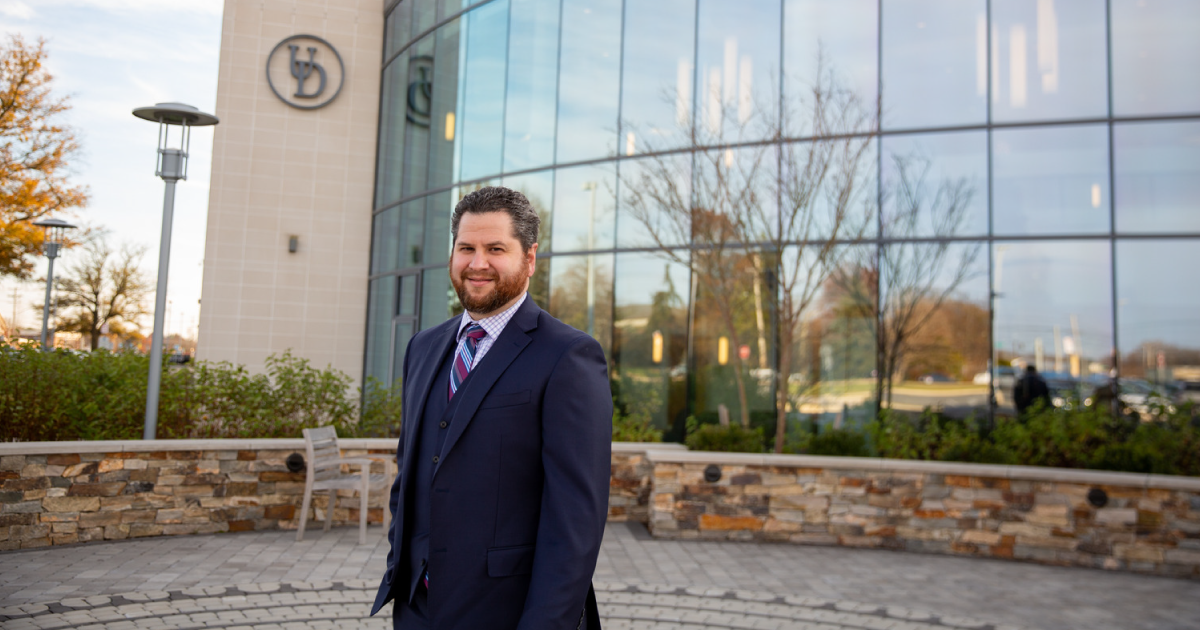 UD Welcomes Jed Castellucci as Chief Clinical Operating Officer for UD Health
December 10, 2021 Written by Colin Heffinger | Photo by Ashley Barnas
The University of Delaware has announced that Jed Castellucci is to serve in the role of Chief Clinical Operating Officer over the clinics in UD Health at the College of Health Sciences. His effective start date was on Monday, November 15.
Castellucci brings fifteen years of extensive healthcare and operational experience with prior businesses including the University of Maryland and Saint Joseph Medical Center. His most recent role served as Senior Director for the University of Maryland Medical Systems, where he was operational lead on a variety of high priority projects and managed a budget of over $2 million. He was chosen for the position because of his experience in academics and clinical operations.  His expertise shines in balancing clinical educational needs with need for a strong financial infrastructure that reduces cost, improves efficiency, and increases overall patient satisfaction.
"We are thrilled with the hire of Jed Castellucci as COO over our clinical enterprise in the College of Health Sciences," stated Kathleen Matt, Dean of the College of Health Sciences. "The clinics have greatly expanded over the years to meet the educational, research and clinical needs of our teams of the various health professionals that are trained in our college. It has always been a strong focus of the college to serve the community and improve health outcomes for Delawareans by providing access to state of the art healthcare delivery at STAR. It is an opportunity for us to translate the science into impact, and to enhance the training of our students. Jed will help us strengthen the financial base of the clinics and help us continue to grow and expand our services to students and patients."
As Chief Clinical Operating Officer, Castellucci manages the activities of all operational, business, billing, and financial components with the priority of ensuring that the clinics meet individual and collective objectives. He also serves as a resource to the Dean of the College of Health Sciences by assisting in the management of complex multi-clinic, interdepartmental and interdisciplinary relationships for effective educational collaborations and research efforts.
Castellucci reflected on the importance of "consistent growth" to drive forth his success. "My willingness to adapt to where an organization is going in the future has been critical. It's always about learning and getting to know the individuals I work with. This affords me the opportunity to continuously learn new things."
"Employees provide meaningful feedback," he continued. "One suggestion could bring upon a future improvement within a process."
"The experience in my previous roles working in a large facility as well as other clinics gave me the opportunity to mesh these capabilities together. It allows me to be an excellent fit for this role at UD in helping clinics strive for excellence while also leading us into exciting new directions."
About Jed Castellucci
Castellucci acquired his Master of Business Administration at Millersville University in 2005. Two years earlier, he received his Bachelor of Science in Business Administration. Castellucci currently serves as a member of the Healthcare Financial Management Association as well as the American Association of Healthcare Administrative Management.