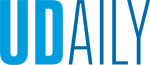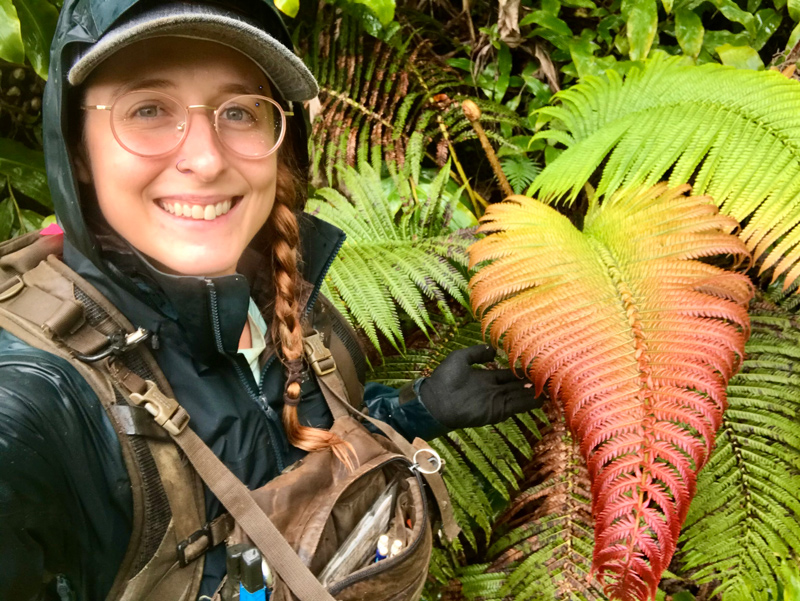 The wildlife grind
Article by Dante LaPenta Photos courtesy of Lizzy Baxter September 20, 2023
Hardworking UD alumna Lizzy Baxter embodies the essence of a wildlife ecology and conservation professional
If you're going to succeed as a wildlife biologist, adaptability, positivity, problem-solving and a willingness to be uncomfortable are essential traits.
Meet Lizzy Baxter. Over the past decade, the University of Delaware Class of 2012 alumna trotted the globe that she's sworn to protect. Despite an incredible list of destinations, don't expect the work of a wildlife biologist to be glamorous. Instead, it's a grind. And Baxter has the mettle for the profession.
From conservation of wolves to fighting for endangered birds to battling invasive species, the northern Virginia native traveled to what seems like an endless list of locations to make her conservation dreams real.
"Wildlife is all over the world. As long as you are willing to put yourself out of your comfort zone, you can see the furthest corners of our planet," Baxter said. "But, when you are in the field, nature doesn't follow your list. You cannot be rigid. Flexibility and adaptability are huge. If you are, for example, out in the mountains, it's just you. When something goes wrong, you have to come up with the solution."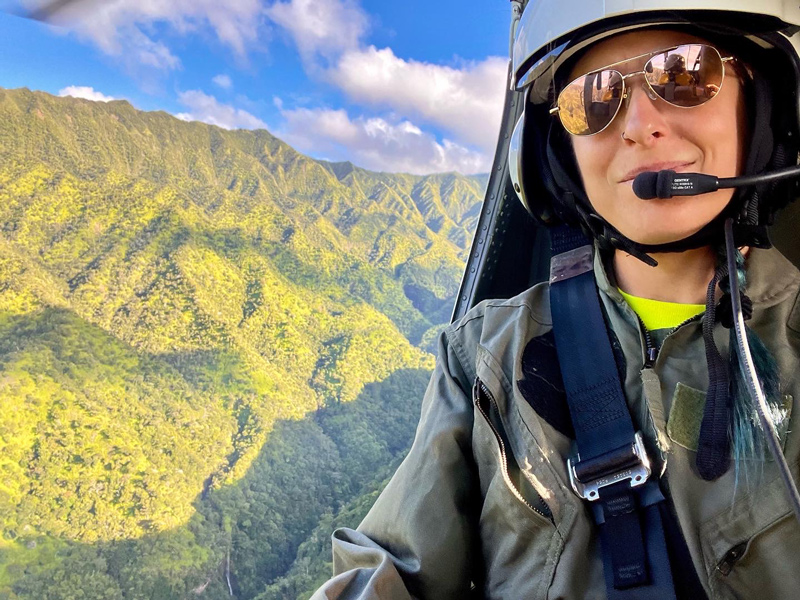 Over the past few years, she finally settled in the location that kept calling her back — the mountains of Hawai'i. After spending her entire twenties on the move, this Blue Hen craved stability and the chance to build long-term relationships in one location.
"I love the Hawaiian mindset. I love the people. I love the community feel," Baxter said. "I got lucky with Kauaʻi because of the small island vibe. I felt the most at home."
Kauaʻi is a 45-minute plane ride from Maui and the recent deadly wildfires.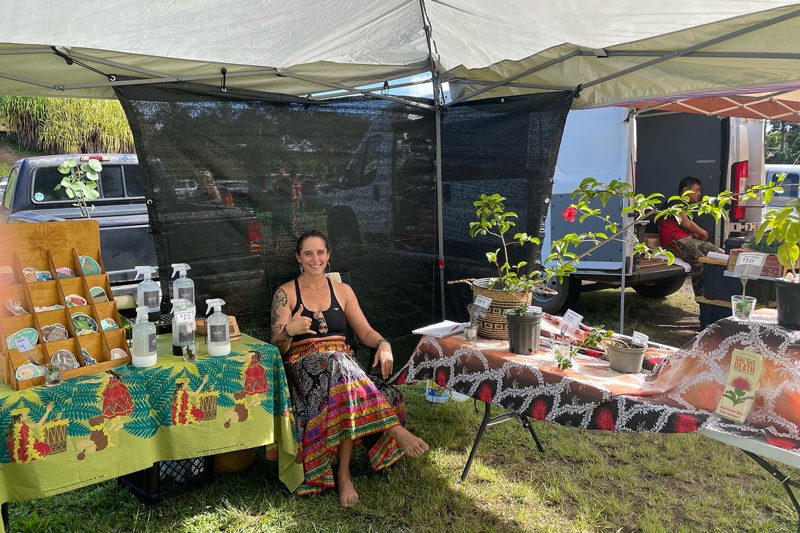 In her first position in Kauaʻi, a helicopter dropped Baxter in a remote, mountainous area of the Hono O Nā Pali Nature Reserve. The terrain is notoriously difficult to traverse. In her spiked boots over long workdays, Baxter scaled ridgelines and navigated drainages working on predator control.
"There are unique birds and plants that exist nowhere else in the world. Most are critically endangered," Baxter said. "For example, sea birds like the Hawaiian petrel and Newell's shearwater are ground nesters; they are extremely susceptible to introduced predators like feral cats."
During her time in the mountains, Baxter fell in love with Hawai'i's native plants. With a lifetime interest in animals, Baxter admits that she was not always a plant person.
"It's like a Dr. Seuss wonderland up here," Baxter said. "With all of my conservation connections, I knew people who could teach me the intricacies of Hawaiian biodiversity."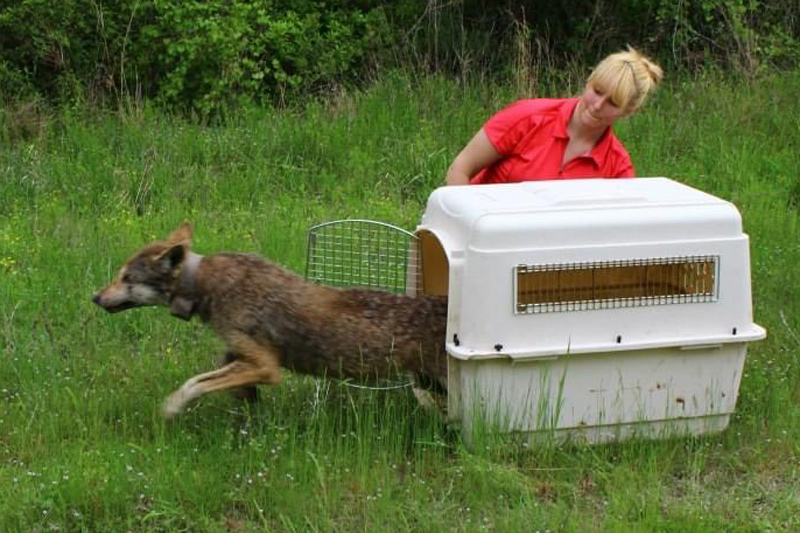 After the predator control role and a year working as a kayak tour guide, Baxter decided it was time to work for herself. Baxter mapped out a plan focused on native plants, which, ironically, are not accessible to many native Hawaiians. So, she started a business — 'Āina Akua Plants — from scratch. 'Āina Akua translates to "Land of the Gods." Through the business, she brings access and awareness of important native fauna and flora back to local communities. Her multitude of experiences in nature education makes Baxter an ideal candidate to teach this forgotten knowledge.
"In addition to many of the plants living in mountainous areas outside of sight, the knowledge is poorly shared," Baxter said. "The people who grew up on Kauaʻi hear me talking about these native plants and they are flabbergasted when, to me, this should be basic knowledge. They are so excited that I can teach it to them." 
If you haven't yet learned why native plants are so critical, pick up one of the bestselling books written by UD Professor Doug Tallamy. Native plants are important in Delaware, Hawaii and any of the many locations that Lizzy Baxter has called home. Baxter is always sharing knowledge of native species on the @ainaakuaplants Instagram page.
When tourists arrive in Hawai'i, they look out and see a tropical paradise and assume that greenery all belongs on the islands. But, if you look closer …
"Nearly everything that you see in town — in suburbia — has replaced the plants that are supposed to be there," Baxter said. "'Āina Akua Plants really snowballed. People are getting exposed to plants that they've never seen before."
The Blue Hen alumna built relationships with nurseries and propagation-loving locals throughout Hawai'i to source her plants. Her business quickly built a name for itself. Customers flocked to get in on the trendiness of Hawaiian native plants, but the interest runs deeper. Baxter said she sees a major growth in interest from native Hawaiians, who see these plants as a connection to their culture.
"Because of the historical suppression of indigenous cultures, many people don't have the level of knowledge that they would like," Baxter said. "For Hawaiians, these plants are their connection to the past."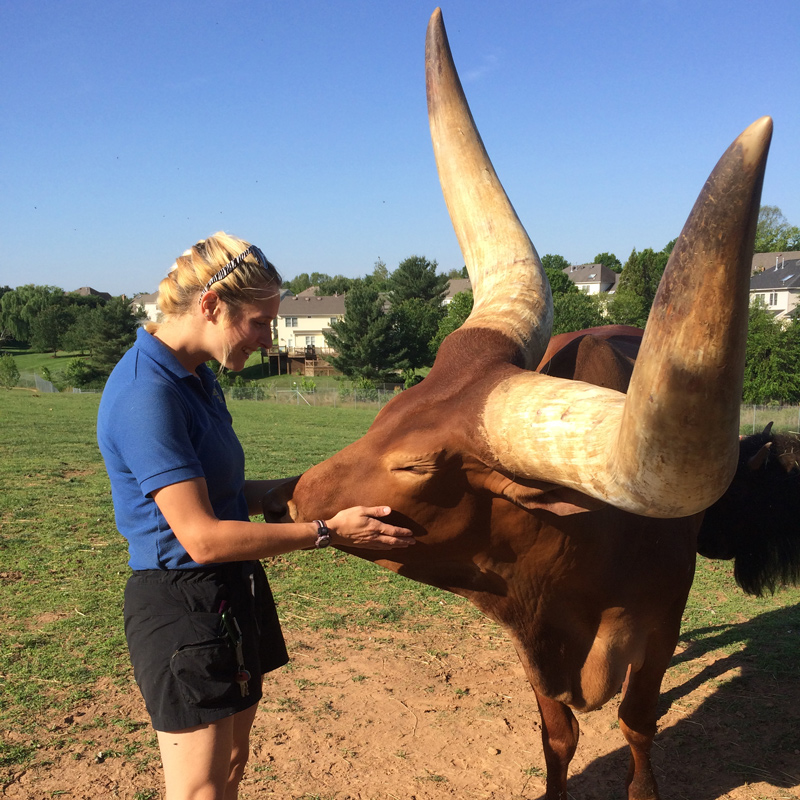 On top of her business, Baxter now applies her conservation expertise as a forest response technician for the Kauaʻi Invasive Species Committee (KISC). A major focus is ʻŌhiʻa trees — the most important tree in Hawaii.
"ʻŌhiʻa trees are the life of the forest," Baxter said. "The entire ecosystem relies on them."
She is mitigating the spread of a fungus appropriately named Rapid ʻŌhiʻa Death, which ominously turns the entire tree canopy brown.
"They control water tables, and provide food and habitat," Baxter said. "Without them, the ecosystem would collapse."
Baxter's journey to Hawaii was long and circuitous. Like many future wildlife biologists, she always wanted to be outside in nature and close to animals. Once she discovered that you could major in wildlife ecology and conservation, within the College of Agriculture and Natural Resources, Baxter never looked back. Her visit to Newark sealed the deal that she would become a Blue Hen.
"In addition to the campus, UD offered a study abroad course to Tanzania that no one else had," Baxter said. "At UD, I not only studied conservation and learned taxonomy, but also got the chance to see charismatic megafauna like elephants, giraffes and lions."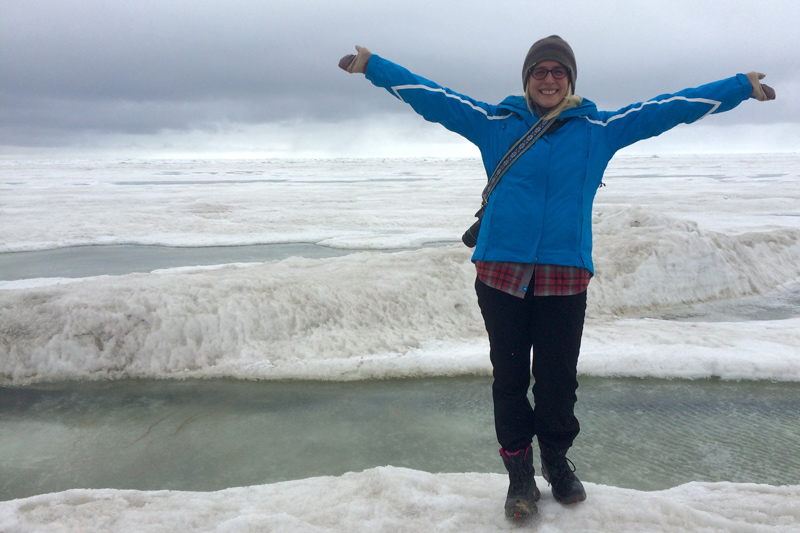 Back in the U.S., Baxter relentlessly pursued a childhood goal of studying wolves.
"Wolves were reintroduced to Yellowstone right after I was born, so I grew up with wolves as a major news topic," Baxter said.
As she built connections with other UD alumni leading up to graduation, Baxter landed in Idaho as a Wolf Education and Research Center intern, followed by a caretaker role in the U.S. Fish and Wildlife Service's Red Wolf Recovery Program in North Carolina. Baxter then made her first professional foray abroad, working at the Wolf Science Center in Austria. At the world-renowned institution, she worked on animal behavioral studies — an essential skill of a wildlife biologist.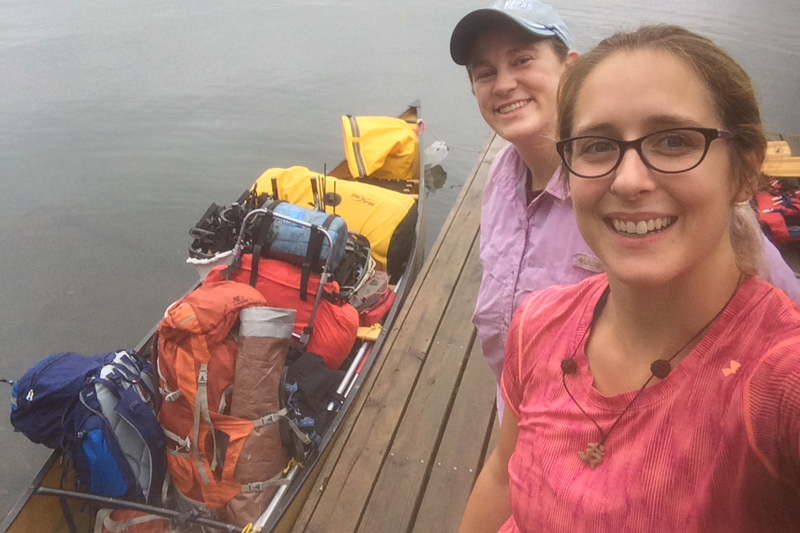 Baxter returned stateside in September 2014 to work as a zookeeper at the Reston Zoo, near her childhood home in northern Virginia.
"Talk about animal behavior. We had a lot of exotic creatures, and you get to know their individual personalities," Baxter said. "You build intimate connections and be hands-on with the animals, so I really enjoyed that experience."
Baxter then earned her first ornithology position, working with birds in a U.S. Fish and Wildlife role in Utqiagvik, Alaska — one of the northernmost cities on Earth. She studied Steller's eider, a migrating Arctic diving duck.
"In northern Alaska, the wildlife is incredible," Baxter said. "It was a dream to get to go there. You see unique pelagic birds that exist nowhere else in the world."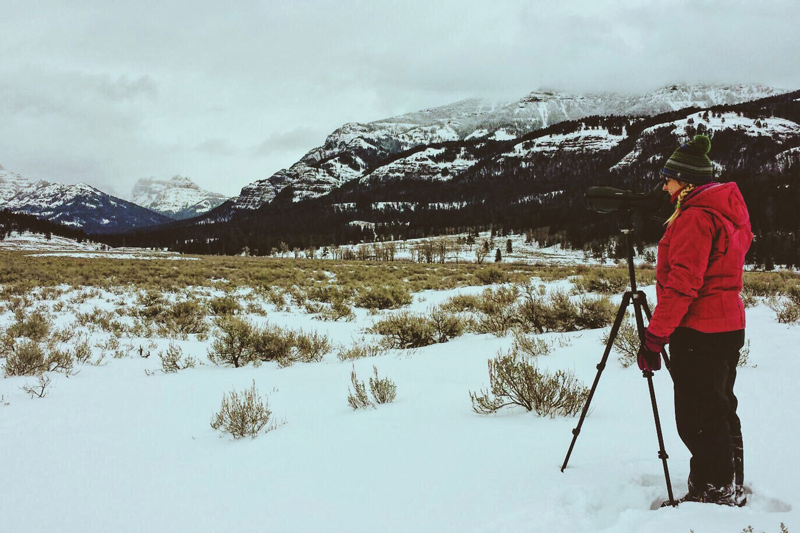 After living in the cold, Baxter got a glimpse of her future home, working on organic farms and traveling across the Hawaiian Islands.
"That experience made me fall in love with Hawai'i," said Baxter. "I knew the wildlife was cool, but I had no idea at that time just how incredible it was."
With a Hawaiian return in the back of her mind, Baxter again braved the cold, this time on the Minnesota Wolf Project. She trapped and collared gray wolves for the United States Geological Survey (USGS) in Superior National Forest and Boundary Waters Canoe Wilderness Area. Some trips lasted more than two weeks at a time.
"That was my most intense gig. I was camping out on boundary waters," Baxter said. "In addition to items like your bag and camping equipment, you have to portage everything, even carrying your boat on trails between lakes."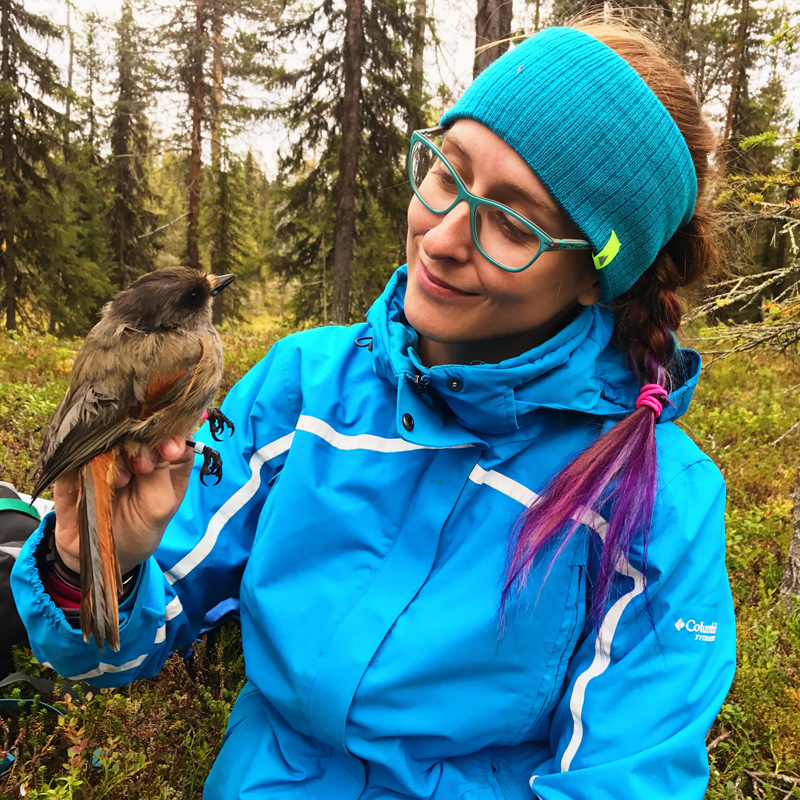 The experience put Baxter in line for the famous Yellowstone Wolf Project. From sunrise to sunset every day of the harsh Yellowstone winter, researchers are out observing wolves and their predator-to-prey relationships.
Having achieved a lifelong goal in wolf conservation, Baxter once again packed her bags for international work. She studied the family units of Siberian jays in northern Swedish Lapland. Following Sweden, the next research was on street dog behavior in Taghazout, Morocco.
"Comparing things like evolution and brain function, we investigated how free-roaming dogs differed from pets and wolves in the wild," Baxter said of the project, which was for Austria's Wolf Science Center and University of Veterinary Medicine Vienna.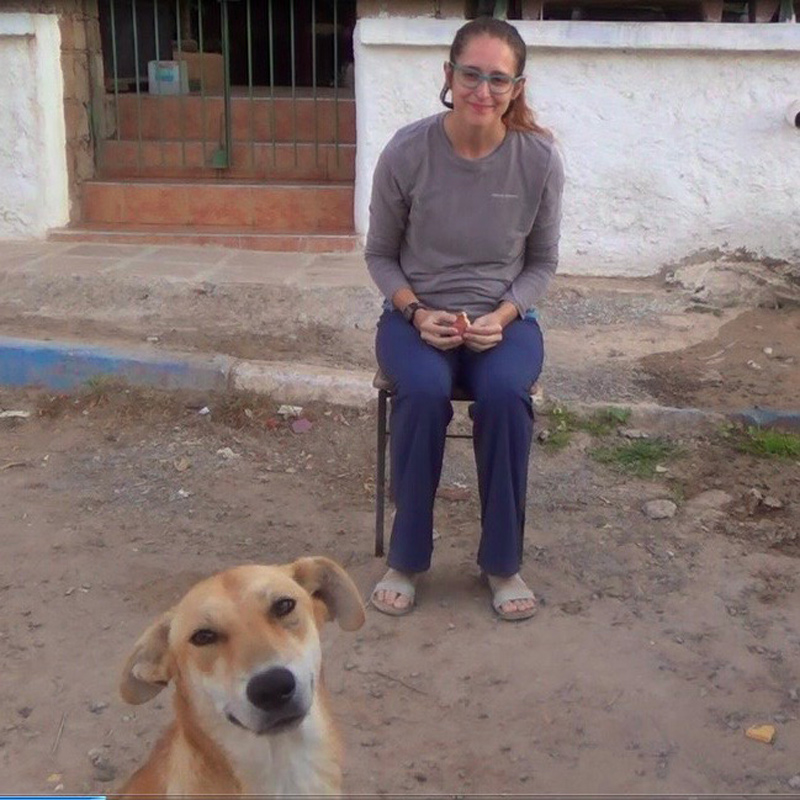 With a plan for graduate school, Baxter set her sights on studying urban coyotes in Colorado. But, after frustrating, unsuccessful attempts at procuring master's funding, Baxter did what has always done — adapted. The Blue Hen alumna heard the call of Hawai'i; she dropped into its mountains and hasn't looked back. Her positive attitude and comfortability with the uncomfortable allowed her to thrive in the field. 
"The reason why I've gone to all these places is my dedication and perseverance," Baxter said. "Other people might be scared. They prefer consistency — a safe space, something that they know. But I've always found comfort outside my comfort zone."
From Delaware to the World
2023 marks the 100-year anniversary of study abroad, pioneered at the University of Delaware in 1923 when UD language professor and World War I veteran Raymond Kirkbride took eight students to France for their junior year. Today, UD boasts more than 100 study abroad programs in 40-plus countries and has an international student population that hails from over 100 countries. Learn more at www.udel.edu/studyabroad100.