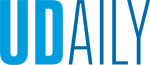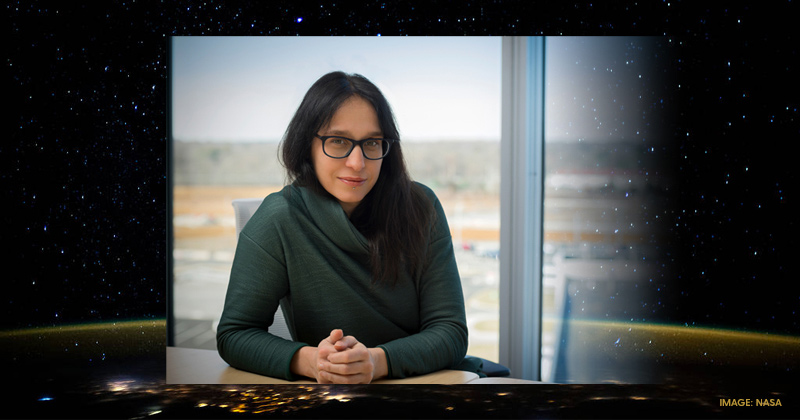 UFOs to UAPs
Article by Beth Miller Photos by Kathy F. Atkinson and courtesy of NASA | Photo illustration by Jeffrey Chase September 15, 2023
UD physicist Federica Bianco brings data analysis expertise to NASA panel
Capture good, useful data and University of Delaware astrophysicist Federica Bianco will dig deep to help analyze it. It's what she does with great expertise as a scientist and associate professor of physics and astronomy and it's a big reason why she was among the 16 people selected to serve on a NASA-appointed panel studying Unidentified Anomalous Phenomena (UAP).
UAP is the official term now applied to what many used to call Unidentified Flying Objects (UFOs), things spotted in the sky that could not be correlated with an airplane, satellite or some other known aerial phenomenon. The new term includes all manner of anomalous phenomena — whether detected in the air, in space, even under the ocean.
NASA says UAP are of interest for reasons including national security and air safety. Access to extensive data sets are required to verify or explain observations and the panel has focused on what data could be collected to scientifically discern the nature of UAP.  
But there has been precious little useful data to go on, as the panel reported in its four-hour publicly accessible meeting on May 31. Now the panel has released its final report.
During a media briefing on Thursday, Sept. 14, astrophysicist David Spergel, who chaired the independent study panel, was clear.
"It is essential to clarify that we find no evidence that UAP are extraterrestrial in origin," he said. "Most events are explainable as planes, balloons, drones or weather phenomena."
A small fraction of reports are anomalous, however. So far, for lack of adequate data, scientists cannot explain them.
"If you see something, collect high-quality data on it," Spergel said. "Then we can learn."
Theories and conspiracy theories often swirl after reported sightings of such anomalies. Images captured on smart phones or other video devices can be impressive and even seem persuasive at a glance.
Scientists, though, rely on data and bring careful, rigorous processes to the questions they consider.
"There's a lot of folklore out there," said NASA Administrator Bill Nelson. "We want to shift from sensationalism to science."
To that end, NASA now has appointed a director of UAP Research, said Nicola Fox, the head of NASA's Science Mission Directorate.
Bianco brought high-level data analysis skills and expertise in astrophysics to the interdisciplinary panel, which also included other experts in the scientific, aeronautics and data analytics communities.
"The reports we have cannot be studied scientifically," Bianco said. "That's not a dismissal of people's experiences. It just doesn't rise to the level of evidence of extraordinary phenomena. If people see things in the sky that they can't explain, that doesn't mean there was a phenomenon in the sky. But with the capabilities they have for observation, it is not explainable by anything they know."
This is exactly what astrophysicists investigate, she said. If someone says they saw something in the sky that was brightening up and then dimming and they think it must be a new kind of star, she will have a lot of questions.
"If they come to me and tell me what they saw, first I want to go and measure it quantitatively," Bianco said. "Where is it? How much does it brighten? What is the color that tells me about the physics? Are these characteristics something I've never seen? Is it something the person has perceived correctly?"
The questions examined by the panel certainly fall within NASA's wheelhouse. Exploring space and the atmosphere is central to all NASA does. And while NASA is always looking for signs of life elsewhere in the universe, it does not actively search for UAPs. NASA has said it has found no credible evidence of extraterrestrial life and there is no evidence that UAPs are extraterrestrial.
The UAP study panel was led by Spergel, president of the Simons Foundation in New York City and previously the chair of the astrophysics department at Princeton University in Princeton, New Jersey. Daniel Evans, assistant deputy associate administrator for research at NASA's Science Mission Directorate, served as the NASA official responsible for orchestrating the study.
Bianco has known Spergel for several years and was glad to join the study.
"I like interdisciplinary groups and the composition of the panel was so intriguing," she said. "And aliens, right? That's an interesting thing to think about and to work on. So yeah, I didn't hesitate much before agreeing to that."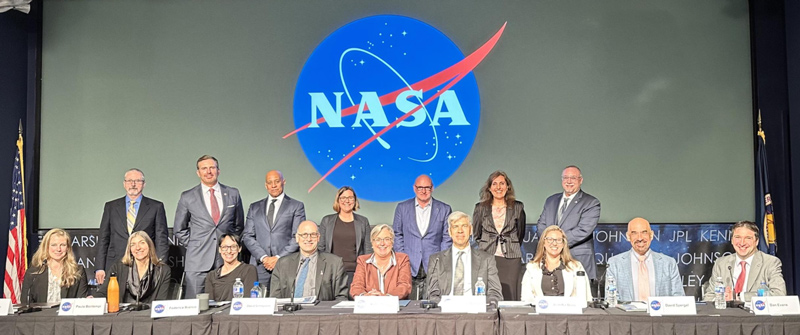 Public interest has been high, too. And recent Congressional hearings have drawn more attention to the issue of UAPs. Some interest has carried sharp political barbs, with accusations that NASA and several U.S. government agencies are hiding important evidence of extraterrestrial life, including recovered parts of alien spacecraft and even live aliens themselves.
"Really, none of the eyewitness testimony — even those by the military that we have seen — has associated data that is of good enough quality," Bianco said. "If the videos were shot by people's phones, what were the lighting conditions? How sensitive is the instrument? If you cannot say these things, you cannot know quantitatively. When we were able to do that — in a couple of observations with multiple sensors — in fact, the characteristics were not unique."
The data available now are mostly of limited value.
"The current status of data is inconsistent, largely incomplete and not systematically retrievable," she said during the panel broadcast on May 31. "That causes problems in the automation of analysis. Machine learning and artificial intelligence cannot be applied until the data meets that standard. Organized repositories are needed."
In addition, the data must be collected by calibrated sensors, with information about the brands, characteristics, instrument sensitivity, circumstances, locations and the condition of the sensors. At the time of data collection, she said.
Bianco finds the quest for useful data essential, but recognizes that not everyone agrees with the need for facts. Some will never accept that their beliefs, based on something other than sound data, may be incorrect.
"I could spend my life trying to convince some people — and they are clearly not my target audience," she said.
Those who think the scientists on the panel are there simply to give plausibility to a greater government cover-up may not really understand the scientist's quest for knowledge and disseminating that knowledge.
"As a scientist, if I find evidence of extraterrestrial life, I have not only an obligation to publish the findings but — while there is no board that requires it — spiritually, I have taken an oath to adhere to the truth and propagate the truth that I find. That's my job," she said.
"I don't work for the government. I understand the government may have security issues that I don't understand. But I'm a scientist. If this panel showed me evidence of extraterrestrial life, I'd be writing about it."
Among Bianco's suggestions is a crowd-sourcing application that allows people to submit data about things they have seen and allows others to examine and assess that data. It could include camera information, audio, pixels, resolutions, sensitivity of the instrument and the wavelengths it captures.
"Part of the problem is that if you really want to look at this data in context, you need all of this information," she said. "One gets a blurry picture, another gets a sound recording and another gets a photo but doesn't know why the colors look the way they look."
Crowd-sourcing projects have their own set of challenges, but she sees potential value for those who want to understand and participate in the quest in some way.
"You have three types of audiences — people who care, people who don't care enough to do the work or be active, but can listen to you, and people who are adversarial," she said. "It might be more satisfying to fight a battle with the adversarial, but it's not most productive. There are people who have completely bought into the idea that NASA is hiding aliens and is part of some dark forces that sell a lie for reasons I don't know. That's not my audience, but they are kind of dominating the discussion."
She likes the idea of an app that gives people information about things that exist in the sky and allows them to submit data from their own devices.
"It could help people become part of this conversation," she said. "It would help us communicate the understanding we have and what the process looks like."
Panelists talked with many agencies to explore the way they collect data, curate data and retain data.
The Federal Aviation Administration, for example, can tell you that about 880,000 small drones are registered in the United States and thousands are operated on a daily basis. Almost 100 weather stations release balloons on a daily basis, with requirements on how they report timing and tracking data.
While some may be convinced that what they saw must have been extraterrestrial, scientists don't start there.
"I can't just take your word," she said. "That's not how we make decisions. We make decisions based — traditionally and aspirationally — on evidence and fact, not the hunches and feelings of individuals.
"We have to start from the skeptical point of view. We take the scientific approach, where I first falsify the most unusual explanation and try to explain things in ways that are usual. We have hypotheses and we rule them out. What is left is what we currently believe. Our current understanding of the physical world comes from ruling things out until the things we have found no longer fit the better data that we now have."
Any alternate route should be considered with great skepticism.
"If you're trying to actively collect exceptional and specific pieces of evidence that support your ideas but don't look at the larger context, you are trying to make a name for yourself," she said. "That is not the correct scientific approach.... I would not have been on that panel."
Among Bianco's research interests are technosignatures, which are defined as any detectable sign of extant or extinct life. They are part of UAP studies because they are a sign of technology that can be used to infer the existence of civilizations elsewhere in the universe —including large orbiting structures, atmospheric pollution, narrow-band radio signals or pulsed lasers.
The panelists started their work on Oct. 24, 2022. All panelists had to submit financial disclosures and have a comprehensive government ethics briefing. Each was appointed in accordance with the Federal Advisory Committee Act, ensuring independent and objective advice.
With its final report, the panel now has mapped out how data gathered by civilian government entities, commercial data and data from other sources can potentially be analyzed to shed light on UAPs. The study focused solely on unclassified data. 
About the researcher
Federica Bianco is an associate professor of physics and astronomy at the University of Delaware, with a joint appointment in the Biden School of Public Policy and Administration. She is also a senior scientist at the Multi-city Urban Observatory and deputy project scientist for the Vera C. Rubin Observatory, which this year will start the Legacy Survey of Space and Time to study the night sky in the southern hemisphere and discover new galaxies and stars.
Her research uses data science to study the universe and find solutions to urban-based problems on Earth.
She has been published in more than 100 peer-reviewed papers and received the Department of Energy's "Innovative Development in Energy-Related Applied Science" grant. Bianco also is a professional bantamweight boxer and a TED Fellow.
Born in Italy, Bianco earned her bachelor's degree in astronomy at the University of Bologna and her doctorate in physics at the University of Pennsylvania. Before joining the UD faculty in 2019 she did postdoctoral research at the Las Cumbres Observatory and at the Center for Urban Science and Progress at New York University.
The full list of panelists is available on NASA's website.