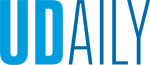 'A prepared campus is a safe campus'
Article by Christopher A. Vito Photos by Evan Krape September 14, 2023
Three summer training opportunities focused on University's preparedness, response and recovery following a simulated active assailant
Fire trucks and police cruisers lined College Avenue. Yellow tape cordoned off an area near the Bob Carpenter Sports Building. Close to its main entrance, police, paramedics and other first responders huddled. They strategized their next moves. They awaited word, then made their way into the building.
This was only an exercise. It was an effort to simulate how emergency personnel from the University of Delaware, the city of Newark and other municipalities and organizations might approach an active-assailant situation on the UD campus.
During the summer of 2023, UD Police and UD's Office of Emergency Management partnered to coordinate three days of active-assailant exercises, educational sessions and preparedness training. These multi-day activities provided training for UD Police and other University leaders to assure a coordinated and effective response that prioritizes the safety of UD community members in the event of a major incident on campus.
The seminars and exercises brought together more than 200 participants — from UD employees in various functional areas and dozens of first responders and University partners from the Newark Police Department, the Delaware Emergency Management Agency (DEMA) and Aetna Hose, Hook and Ladder Company.
The goals were clear: To examine and evaluate the University's response and recovery plans, policies and procedures for an active assailant incident on campus.
"Historically, we know that active-assailant situations have the tendency to be resolved pretty quickly and the threat can be eliminated, but there is still a need for an organization or an institution to work through and manage incident response," said Patrick Ogden, associate vice president and chief of UD Police. "How do you handle the aftermath? How and to whom would you communicate? How do you meet the immediate and long-term needs of the UD community? These training exercises provided opportunities to, importantly, think through and prepare for the absolute worst-case scenario."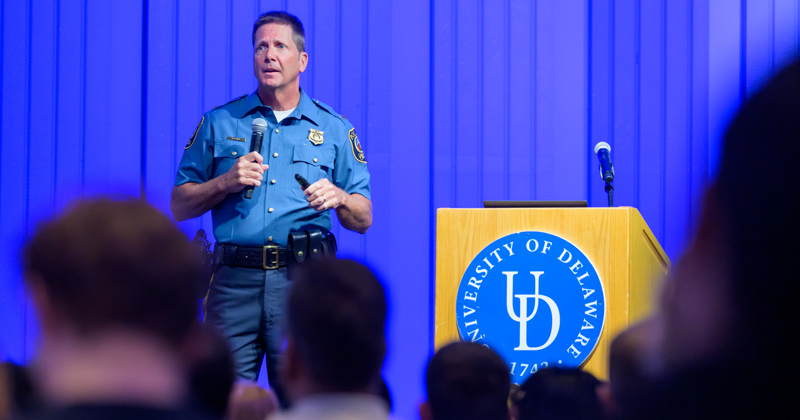 UD Police regularly engage in crisis and emergency-response training exercises and simulations in compliance with the federal Clery Act. This summer's three-day exercise was UD Police's first training on this scale in several years.
The significance of these exercises has grown in recent years.
A mass shooting event, by definition, is an incident in which the lives of four or more victims are claimed through gun violence. Since 2006, a database maintained by The Associated Press and USA Today, in partnership with Northeastern University, has tracked such events. By the midpoint of 2023, there were 27 mass shootings in the U.S. — more than in the full calendar years of 2007, 2012, 2013 and 2020.
UD Police began discussing the need for a large-scale active-assailant preparedness exercise more than a year ago, Ogden said, when he and his colleagues recognized the increase nationally in mass-casualty incidents. UD obtained support from DEMA, allowing them to commission an outside agency — Virginia-based Olson Group Ltd. — to help deliver the emergency management exercises.
"The Olson Group is nationally recognized and respected for its work with universities and other partners in the areas of emergency management preparedness, response, and recovery," said UD's Mark Seifert, associate vice president of emergency management and environmental health and safety. "Their team of experts brought incredible value and support to our exercises and seminars."
A daylong seminar, held July 26, officially launched the series of preparedness events. The first installment provided an educational base upon which the two later functional exercises were based. It centered on review of and establishing familiarity with the University's emergency operations plan, as well as its utilization during an active campus threat. In the seminar, leaders focused on the need for organized and succinct crisis communication and discussed available law enforcement response tactics, among other areas of focus.
What followed two weeks later, on Aug. 8–9, were a tactical exercise for police and other first responders and a simulation of that emergency for University leaders and select staff members.
The tactical exercise summoned more than 100 police and city- and state-based first responders to the north end of the Newark campus for a simulated active shooter entering a building. There, and across several hours, officials served as observers, evaluators, support staff, and active participants in the simulation. Those who participated were tasked with assessing the simulated incident with a priority of protecting human life and removing the threat.
"In a real situation, you have agencies mixing in and so many people actively responding," Ogden said. "A simulation helps us understand how we can work together and, essentially, work from the same sheet of music during a period of chaos."
Building and strengthening these partnerships "is critical," said DEMA director AJ Schall. DEMA is Delaware's lead agency for coordination of comprehensive emergency preparedness, training, response, recovery and mitigation services.
"While this exercise focused on an active-assailant threat, the benefit to the University is that the experience and lessons learned are useful in any type of emergency," Schall said.
The next day, participants experienced a similar emergency simulation from the safety of the campus' General Services Building. UD Police and Olson Group officials provided piecemeal details in real time as a way to test and evaluate participants' respective roles and responsibilities either during or after an incident on campus. Participants included University leaders and staff members from the Offices of the President, General Counsel, and Communications and Marketing; and the Divisions of Student Life and Facilities, Real Estate and Auxiliary Services, among others.
Based on their leadership levels or functional roles at the University, participants were assigned to one of three roles: policy group, making policy-level decisions; operations group, making incident-based tactical decisions; and emergency responders, making field-based decisions.
"The violent intruder training was a unique opportunity to use a 'building-block' approach to ensure realistic and compelling training modules over three days," Seifert said. "Working with our first responder stakeholders, we started with the basics of incident command in a classroom setting. From there, we transitioned to a more complex full-scale exercise on the campus, emphasizing tactical response and critical decision-making by incident commanders. On the third day, we activated the University Emergency Operations Center where the multi-agency personnel collaborated on mitigation, response, and recovery challenges.
"It is evident to me that we have an exemplary response system on the campus, but we embrace the challenge of exceeding expectations. Our goal is to provide continuous training to address new challenges, new plans and procedures, new technologies, and individuals to the UD community."
At UD, with a new academic year under way, Ogden said he has had time to reflect on the impact of the summer exercises. When considering their value, he shared an analogy: his department often places door-hanger information cards at residences on and around campus. Often, naysayers tell him the effort is in vain and that people will simply throw away the cards.
"But here's what people should consider," Ogden said. "If we reach one person, if there's one valuable takeaway with one individual, our effort was worth it. That's how I view these exercises, too. A prepared campus is a safe campus. And even if every participant came away with only one valuable piece of information, we as a University community are much-more prepared than we were before."
Would you like to learn more about available training opportunities and educational resources? Visit the homepage for the UD Office of Emergency Management, view UD Police's active shooter preparedness page, take the "Surviving an Active Shooter or Similar Emergency" course in ConnectingU, and contact UD Police at police@udel.edu.